Cuba Beats Australia in 2-1 Duel
By Circles Robinson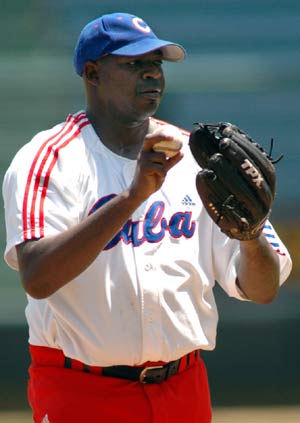 HAVANA TIMES, Sept. 22 – Australia's starting pitcher Dushan Ruzic went the route and didn't give up an earned run, while holding Cuba's feared lineup to zero hits in the last five innings of play… but he lost 2-1.
In the bottom of the first inning lead off hitter Giorvis Duvergel reached first on a fielding error by the Australian first baseman.  Two outs later Alfredo Despaigne hit his seventh home run in 11 games of the World Cup to give his team a two-run lead that proved decisive.
The only other hits by Cuba came on a two-out single by catcher Ariel Pestano in the second and a one-out double by Hector Olivera in the third, neither resulting in scoring.
Meanwhile, veteran Norge Luis Vera pitched brilliantly for 6.2 innings to make Cuba's lead hold firm.  Australia's only run came in the third when Vera walked the leadoff batter centerfielder Nicholas Kimpton and allowed a hit to catcher Andrew Graham.  After DH Daniel Berg struck out swinging, shortstop James Beresford reached first on a fielders choice and went on to second on a throwing error by Cuban shortstop Navas.  Graham was thrown out at second on the  play but Kimpton scored.  And that was it for Australia.
In the top of the 7th the Aussies mounted a threat on a one out double by first baseman Stefan Welch and with two out an intentional walk to Kimpton.  Cuba's manager Esteban Lombillo, didn't hesitate to bring in his top closer, Pedro Luis Lazo, who struck out Graham -who had two hits earlier in the game off Vera- on a full count.
In the ninth, Australia threatened once again; on back-to-back singles with two out putting the tying run on third and the go-ahead on first.  After a visit from the pitching coach Lazo beared down and struck out Graham swinging to end the game.
Box Score of Cuba-Australia game.
USA, Canada and Netherlands Roll
The defending world champion team USA defeated Venezuela 6-3 on Tuesday, with a four-run third inning that proved sufficient.  Brad Lincoln went 6.2 innings allowing two runs on six hits to get the win.
Meanwhile, The Netherlands had an easy time with Chinese Taipei with a big seven run fifth inning in route to the final 11-2 score.  Holland had 15 hits to Taipei's seven.
In the other pitching duel of the day, Canada shut out Puerto Rico 3-0 on one hit pitching gem from four pitchers.  Starter Nick Bucci pitched five hitless innings but did allow three walks.  Trystan Magnuson came on to pitch two innings allowing the Puerto Ricans only hit and Dustin Mollekin and Jimmy Henderson finished the masterpiece, each with a no-hit inning.
Meanwhile Puerto Rico's starter Mario Santiago and relievers Alexander Woodson, Miguel Mejia, Nelvin Fuentes held Canada in check.  In the ninth Orlando Roman was touched up for two runs and Melvin Pizarro for another to complete the scoring.
On Wednesday Cuba plays Chinese Taipei, Canada-Venezuela, USA-Puerto Rico and The Netherlands plays Australia.