Cuba Loses 4-1 to Upstart Israel in WBC
By Circles Robinson
HAVANA TIMES – Cuba has more than a century of baseball tradition; people in Israel have little interest in the sport. When the two teams met earlier today in the Tokyo Dome, it was the upstarts that outplayed the weakened Cuban team by a score of 4-1.
With a squad of former and current Minor and Major League Jewish-USA baseball players, the Israelis are clearly the Cinderella team of the 2017 World Baseball Classic. After defeating Cuba 4-1 in the first game of Round Two of the tournament they continued their undefeated run at four straight games.
The only bright spot for Cuba's hitting was a solo homer by Alfredo Despaigne, the same slugger who got the team into the Second Round with a grand slam a couple days earlier against Australia.
While Cuba matched Israel in hits with five, once again control problems plagued the island's pitchers issuing a total of eight walks.
Cuban starter Noelvis Entenza had a much better outing than he did in round one against Japan.  He went 4 innings allowing one earned run on one hit while walking three and striking out two. After Entenza came a parade of four relievers, Yera, Jose Angel Garcia, Liván Moinelo, all ineffective, and Yosvani Torres, the bright spot, only faced one batter forcing a double play in the last Israeli at-bat.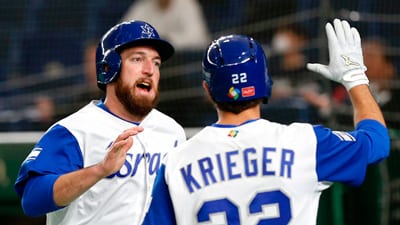 Israel starter Jason Marquis, a 38-year-old Major League veteran of 15 seasons only made one mistake, the homer by Despaigne in the second inning which gave Cuba a brief 1-0 lead.  He went 5.2 innings allowing one run on four hits, a walk, and striking out four.
Three Israeli relievers, Zack Thorton, the winning pitcher, Brad Goldberg and Josh Zeid, teamed to shut down the Cuban offense on one hit over the last 3.1 innings.
Cuba now has its work cut out for it if it wants to move on to the semifinals of the tournament.  To do so it will most likely need to defeat Japan on Tuesday and the Netherlands on Wednesday both considered stronger teams.
Well over a hundred Cuban baseball players have abandoned the island in recent years and many have landed contracts in the US Major or Minor Leagues or on professional teams in other countries.  Unlike the rest of the teams in the Classic, who can use their national players in the different leagues for the tournament, the Castro government prohibits players who no longer live on the island to represent Cuba in international events.