Cuba Squeaks by Spain in Baseball
By Circles Robinson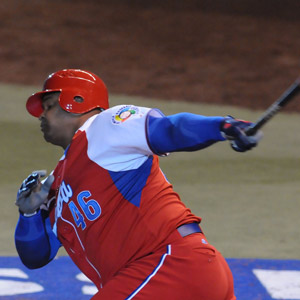 HAVANA TIMES, Sept. 13 – If someone said Cuba was threatening to defeat Spain in soccer no one would believe it.  Likewise, a tale that Spain could came close to beating Cuba in baseball would be received with equal incredulousness.
But exceptions are just that and on Saturday Cuba came close to losing its undefeated status at the 2009 World Cup Baseball Tournament in Barcelona.
The game was a 0-0 pitching duel into the fifth inning when both starting pitchers, Spain's Ivan Granados and Cuba's lefty Michael Folch were pulled for relievers.
In the top of the sixth Spain jumped out to a two nothing lead with a walk and three singles against Cuba's Yonder Martinez.  In the bottom of the inning the tables turned with Cuba scoring three runs led by an RBI double by Yoenis Cespedes and a two-run pinch hit single by Ariel Borrero.
Reliever Yadier Pedroso also had troubles in the seventh, giving up a triple, hitting a batter and allowing an RBI single with still none out.  Vladimr Garcia was brought in by Cuban manager Esteban Lombillo to try and put out the fire that was threatening to spread.
However a bases loaded hit batter drove in a run and put Spain ahead 4-3.  Garcia struck out the innings final two batters to limit the damage.  He went on to pitch a scoreless eighth and ninth innings to get the win.
In the eighth popular Pinar del Rio catcher Yosvani Peraza was brought in to pinch hit and did so belting what proved to be a game-winning two-run homer.  Peraza had done the same thing in a key game against Australia in the second World Baseball Classic.
Cuba finished the first round of World Cup play undefeated (3-0) in Group B against South Africa Puerto Rico and the Netherlands.
Cuba plays Great Britain at 2:00 EST on Sunday in its first second round match, followed by Nicaragua, a tougher rival at 1:00 PM on Monday.