Cuban Sluggers Come Alive
By Peter C. Bjarkman*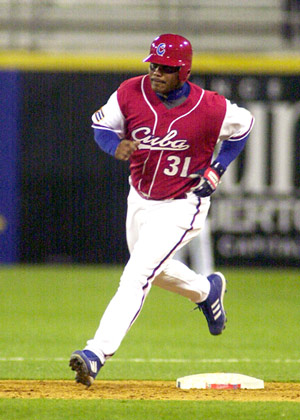 HAVANA TIMES, April 5- Alfredo Despaigne's record-tying string of six consecutive home run games finally came to a rude end in Granma on Wednesday evening, but there has been plenty of other robust hitting featured across the opening week of the final third of the Cuban Baseball League season.
On Friday evening Despaigne crushed round tripper number 22 of the season versus visiting Sancti Spíritus, now leaving him only nine short (with 25 games remaining on the calendar) of tying Alexei Bell's single-season mark set only last winter.
Despaigne has not been the only Cuban League batsman on fire during this first week after the WBC hiatus, as indicated by Sancti Spíritus's 20-2 Thursday night knockout of host Holguín, Ciego de Avila's similar 17-7 pasting of Metros in Latin American Stadium Saturday evening, and the dramatic 14-13 Matanzas-Villa Clara slugfest also staged Saturday in Victoria de Girón Stadium.
The last of these matches ended with a 5-run home team uprising in the bottom of the ninth, capped by Yoandy Garlobo's dramatic walk-off grand slam. Garlobo–last year's batting champ at .398–has, for his own part, now surged back into this season's league lead with a lofty .404 mark. If he maintains the pace he could become the sixth Cuban batting champion of the current decade to top the mythical .400 standard. Four of those hefty hitting seasons have been posted by Osmani Urrutia (2001-2004), and the other by Michel Enríquez (2006).
The biggest offensive outburst of the spectacular week, however, came and went largely unnoticed on Wednesday evening in Las Tunas (the same night that Despaigne's string finally ended). In the course of a spirited 12-10 Pinar del Río triumph over the host Magos, Pinar leadoff batter Jorge Padrón enjoyed a perfect six-for-six evening that featured three doubles and a homer, in addition to four runs scored and another pair knocked home.
Padron is this season's current base hits leader with 96 (he tied for fifth last season with 117)–and now also batting a hefty .364 (tied for eighth)–the lefty-swinging outfielder-first baseman managed to barely slide into the Cuban League record book with his never-topped but often-matched perfect-night performance.
The record for most hits in a single Cuban League game is indeed the six-for-six feat now equaled by Padrón. The 6-hit outing has already been accomplished on 22 different occasions, however, over nearly five decades of league play.
First to reach that level was Andrés Telemaco of the now defunct Mineros (Santiago) ball club, who ironically turned the trick on February 12, 1969, against none other than Pinar del Río. An additional occasion (#23) occurred on May 4, 1974, when Gerardo Rionda smashed out six safeties for Henequeneros (Matanzas) in an eleven-inning match with Orientales.
Padrón's three doubles also fell short of the league standard which is currently four in a single contest and has been achieved on eight different occasions. The earliest hitter to turn the trick was Agropecuarios outfielder (and current Metros manager) Juan Carlos Millán (versus Las Villas on March 9, 1989); the latest was Las Tunas shortstop Danel Castro (against Santiago on December 20, 2005).
One result of all the hefty hitting has been a pair of considerable leaps in the league standings, with both Sancti Spíritus and Ciego de Avila making significant surges in the Occidental and Oriental league standings respectively.
The SSP Gallos have now run off seven straight wins (all on the road) since action resumed and have bounced back into a tie with Metros for the fourth and final western playoff slot. Ciego de Avila meanwhile has now surged into first place in the east, opening up a two-game cushion over the now-fading Villa Clara club that had been the league's biggest winner before the mid-year break.
If the current standings hold up for another month, the opening playoff round in the east would feature Ciego against Holguín, alongside Villa Clara versus defending champion Santiago. In the west it would be pacesetter Habana Province matched against either Sancti Spíritus or Metros, with Pinar taking on Isla de La Juventud. The race of a final playoff slot in the west, however, is especially tight between Isla, Metros and the resurging Gallos (all separated by a mere two games), so anything might well happen over the course of the season's final month.
*To read more from Cuban baseball expert Peter C. Bjarkman visit: [email protected] and www.bjarkman.com For Bjarkman's Havana Times World Baseball Classic Diary see: http://havanatimes.org/?p=5062