Cuba's Astro Buses, Quite an Experience
Dariela Aquique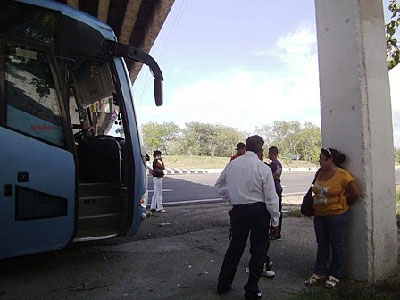 HAVANA TIMES — Cuba's public transportation system – arguably close to the top of that long list of things that work badly or do not work at all in the country – is one of our pending public discussions.
If public transportation within city limits is "terrible", we would need a particularly harsh adjective, something along the lines of "disastrous", to capture the experience of those longer journeys, known as "interprovincial trips", which Cuba's coach company Astro has been offering for a number of years now.
The company had justified its ticket prices, quite high for Cubans living on measly State salaries, through promotional references to the excellence of its services, which included movie screenings, air-conditioning, a drinking fountain and bathroom, and guaranteed punctual departures and arrivals and…well, "a comfortable journey" through and through.
But Cubans have long ceased to enjoy such "benefits" in these journeys. With the exception of air-conditioning, no other on-board service continues to be offered. The bathrooms have all been locked up, the DVD players have stopped working, the drinking fountains are broken and departures and arrivals are fairly off schedule.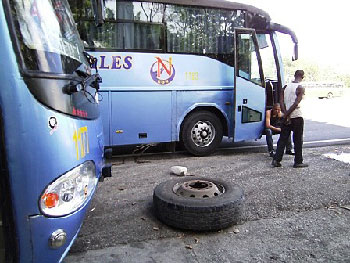 This makes for a rather uncomfortable situation, if we bear in mind that an interprovincial trip of this nature (from Santiago de Cuba to Havana, for instance), can last around 13 or 14 hours – or perhaps 18, even 20, if the bus suffers any kind of mishap. The cost of the tickets, however, remains the same.
My recent return trip to Havana was made possible by an Astro bus. I chose this means of transportation, first of all, because it was cheaper than flying (where you can also meet with all sorts of accidents) and, second of all, because it is supposedly faster than the train (which is also a real mess).
Beyond the discomfort caused by the fact most of the things on the bus aren't working, my trip over was uneventful. This was simply too good to be true and, on the way back, my co-travellers and I suffered the calamity that was in store for us all along.
A mere 10 kilometers from Havana, one of bus' rear tires burst. The driver immediately turned off the AC, claiming he could not use up the fuel to keep the bus cool while we waited. Luckily, we were near a bridge. We all got off the bus and went under the bridge, to shield ourselves from the sun.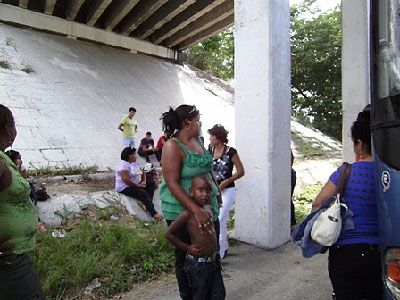 On more than one occasion, we had to lend one of our mobile phones to the driver so he could call the bus terminal, because, according to him, he had no means of his own to do so. We waited for the repair crew from 1 until 5:30 in the afternoon.
They changed the tire begrudgingly and without the slightest haste, telling us there were no backup buses we could be transferred to. When we finally managed to get out of that place, we were all exhausted and starving, and some had urgent physiological needs to attend to.
Someone asked the driver if the "disturbance" entailed any kind of partial reimbursement of the price of the ticket, to which the driver somewhat sarcastically replied: "we were still in Cuba, last time I checked."
That's the way the cookie crumbles: always the same, never different. "We're in Cuba", this is the reply you get whenever you complain about something that doesn't work. Here are some pictures for you to see, to get a sense of my atrocious journey on an Astro bus.