Cuba's Baseball League Takes Break
By Circles Robinson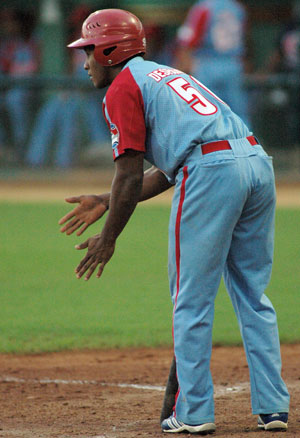 The Cuban baseball season was suspended after Sunday's games until March 27, allowing the players selected to compete for the 28 slots on the national team to play in the 2nd World Baseball Classic (WBC) to immediately begin training as the national team.
Nearing the two-thirds mark of the 90-game season La Habana has a big 8.5 game lead in the Western Division while Villa Clara clings to a two-game lead in the more competitive East. The top four teams in each division will qualify for the first round of playoffs to take place in May.
With a few last minute changes allowed by the WBC rules, a roster of 43 players begins training Tuesday. These include: Catchers Ariel Pestano, Rolando Meriño, Yosvany Peraza and Yunier Bello and Infielders Alexander Malleta, Yoandry Garlobo, Joan Carlos Pedroso, Ariel Borrero, Hector Olivera, Yulieski Gourriel, Eduardo Paret, Yadil Mujica, Rudy Reyes, Yorelvis Charles, Luis Miguel Navas, Michel Enriquez and Jose Dariel Abreu.
The outfielders competing are: Alfredo Despaigne, Frederich Cepeda, Alexei Bell, Leonys Martín, Giorvis Duvergel, Yorelvis Fiss, Leslie Anderson and Yoennis Cespedes.
The all important shortlist pitching staff is: Pedro Luis Lazo, Norge Luis Vera, Luis Miguel Rodriguez, Jonder Martinez, Yadier Pedroso, Miguel Lahera, Ciro Silvino Licea, Aroldis Chapman, Yulieski Gonzalez, Yunieski Maya, Norberto Gonzalez, Ismel Jimenez, Maikel Folch, Reinier Roibal, Yaumier Sanchez, Vladimir Garcia, Yolexis Ulacia and Vicyohandri Odelin.
Two inter-squad games will be held open to the public on Sunday February 15 at 3:00 p.m. and Tuesday the 17th at 7:00 p.m. both in Havana's Latinoamericano Stadium.
According to Cuban baseball officials the players will travel to Puebla, Mexico on February 20 to prepare for the 2nd Classic. The final roster must be announced a couple days before the tournament begins.
Cuba was the runner-up in 2006, losing 10-6 in the finals to Japan.
Standings and Leaders
According to the http://www.baseballdecuba.com website the batting leaders for players with at least 151 at-bats are: Yorelvis Charles (Ciego de Avila) with a .390 average, Yoandry Garlobo (Matanzas) .385, Yusniel Ibañez (Cienfuegos) also .385, Giorvis Duvergel (Guantanamo) .378 and Yoelvis Fiss (Ciego de Avila) .375.
Alfredo Despaigne (Guantanamo) leads in homers with 16, Joan C. Pedroso (Las Tunas) and Yosvany Peraza (Pinar del Rio) have 15 and Rolando Meriño (Santiago de Cuba) 14. Despaigne also leads in the RBI category with 58, ahead of Vladimir Garcia (Isla de la Juventud) with 52 and Yorenis Fiss with 51.
Among the pitchers La Habana's Yadier Pedroso (6-2) leads the league with a 1.37 ERA, followed by Yuniesky Maya (Pinar del Rio) 9-2 and a 1.51 ERA. Maikel Folch (Ciego de Avila) is third with a 2.20 ERA and a 7-2 record, Wilber Perez (Isla de la Juvenutd) .239 ERA and 8-3 and Yuliet Lopez (Villa Clara) .264 ERA and a 6-1 record.
The standings as the baseball season takes a long break are:

—————————————————-

—————————————————-