Cuba's Hinojosa Makes Baseball History
Peter C. Bjarkman (*)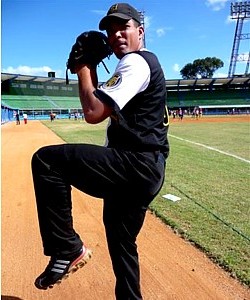 HAVANA TIMES, Oct. 28— The professional baseball world was all abuzz a few weeks back (October 6, 2010) when Philadelphia right hander Roy Halladay tossed a playoff game no-hitter versus the Tampa Bay Devil Rays during Game 2 of the American League Division Series matchups. "Doc" Halladay's rare "no-no" was only the second such "masterpiece" ever performed in major league post-season play, and it transpired more than a full half-century after Don Larsen's historic but no longer unique "perfect" outing versus the then Brooklyn Dodgers (on October 8, 1956).
See Cuba Opens Round-2 at Intercontinental Cup with 6-3 Win over Holland
More special still was the notable fact that Halladay's hitless effort was actually his second such "perfecto" of the 2010 big-league season.  Back on May 29 of this year the former Toronto Blue Jays ace tossed the twentieth "perfect" game (with no base runners allowed and thus only the minimum 27 batters faced) in major league baseball annals. The current Phillies star thus joined an extremely small group of pros (only five to date, the last being Nolan Ryan back in 1973) to throw multiple no-hitters during the same big-league campaign.
Of course Halladay's achievement was perhaps in need of some kind of qualifying asterisk mark in the baseball record books. A post-season no-hitter is admittedly the rarest of achievements (only two so far since World Series play began back in 1903), and yet Halladay's "date with destiny" doesn't quite measure up to the earlier Larsen achievement. For one thing, it did not occur in the World Series, that highest and most exclusive level of championship competition. The constant expansion of the MLB post-season tournament has led to the obvious cheapening of many playoff records.
It is now commonplace to speak of post-season marks as though they were the same thing as World Series records, and of course they certainly are not. (If Bernie Williams, say, hit more October homers or knocked home more October runs than either Mickey Mantle or Duke Snider, it is only because Williams and others now have numerous more cracks at expanded post-season action.)
Regular season expansions of teams, rosters, and games (alongside the consequent watering down of big-league talent levels) have also had an undeniable impact on the record books; witness the six no-hitters tossed during the just-completed 2010 MLB campaign, the most in two full decades. The two "perfect" games of the current campaign (the other by Dallas Braden of the Oakland A's) make this the first modern-era (post-1901) season to witness more than one. Nonetheless, Halladay has most certainly earned a solid degree of baseball immortality with his rarest of October masterpieces.
Two starts, two perfect
But now a previously unheralded pitcher for the Cuban national team has seemingly topped even Roy Halladay's heroics. On a far smaller stage—admittedly—and with possibly even more necessary asterisks (or disclaimers) than those attached to Halladay, 24-year-old Guantánamo righty Dalier Hinojosa has now thrown his second perfect game in international tournament competition. Rarer still, Hinojosa's second "perfecto" in a span of less than three months has come in only his second international tournament start.
Two such perfect games during international tournament competitions by the same pitcher is something never before witnessed in the almost three-quarters-of-a-century history of such matches. That these unique games occurred in that pitcher's first-ever two starts is far more significantly ground-breaking still. Literally overnight Dalier Hinojosa has already established his mark as perhaps the most storied and most special hurler in baseball's international tournament annals.
I have twice mentioned those dreaded asterisks—marks (*) in the record books suggesting that some achievement may need to be qualified or perhaps tagged as a mere oddity—and there is certainly a handful of these in the case of Hinojosa. Of course Hinojosa's no-hit achievements can never be ranked with those of Halladay (or any other major leaguer) in terms of pure talent-related difficulty or tension-filled circumstances. Neither no-hit game thrown by the new Cuban ace occurred in a tension-packed tournament championship round. Both outings occurred against very inferior opposition provided by a pair of under-talented teams that were also regularly blanked, even if not no-hit, by all the rest of the tournament field.
Hong Kong, for example, was overwhelmed by a composite 43-2 score in its first three Taiwan contests and had also amassed only 10 base hits in three contests before facing Hinojosa. Both Hinojosa no-hitters were also of very short duration (7 innings and 5 innings, due to the international ten-run-margin KO rule) and by that measure would not even qualify as no-hitters under rules now governing such games in big league play. The two shortened games (totaling 12 innings, or 36 batters faced) in reality only add up to a little more than one legitimate regulation contest if measured in terms of actual outs recorded.
But all that being said, to toss a "perfect" game against any opposition in any level of competition is about as difficult an achievement as the sport of baseball has to offer. Such an event has occurred on only 20 previous occasions in nearly a century and a half of major league play (home to the sport's most dominant and accomplished pitchers): it has been done only 18 times in the post-1900 modern baseball era, 14 times in the past half-century. There have been but three such games in IBAF-sponsored senior international tournaments (dating back to the early 1940s)—all three by Cuban hurlers, and two of course by Hinojosa himself.
How special is a true "perfect" game? An unlucky bounce off the bat, a fielder out of position or perhaps careless in his movements, a briefest spell of wildness resulting in four wide pitches to the same enemy batter—any of these normal baseball events will spell doom to any dream of perfection (with every single batter faced also retired without reaching the base paths).
One has to be not only dominant but also quite lucky to author such perfection against even the most inept contingent of enemy batters: shutouts are common enough; no hitters are rare but not unique; perfect games are the sport's most notable rarity. Achieve such perfection as a pitcher even once in a full career and you stand among the immortals. Do it twice and you have no equal in the realm of baseball's long and storied history. No big league pitcher has ever tossed two such perfect games in an entire career. No previous international tournament pitcher (as far has can be determined) owns a pair of no-hitters (let alone a pair of true "perfectos") in top-level tournaments. Dalier Hinojosa has now started only two international matches and has already become truly "one of a kind" among his peers.
Hinojosa enjoyed his first brush with lasting fame during his maiden tournament outing late last summer in Tokyo. On August 16—during the opening round of the World University Championships—Dalier whitewashed the admittedly inept forces from Sri Lanka by a 14-0 count, after being staked to an immediate 7-run lead in the first frame. Pitching with no obvious healthy opposition and even less visible pressure, the 6-foot fast-baller gunned down 16 of 21 batters faced on strikes, whiffing every batter in the lineup at least once. Earlier this month in Puerto Rico—making his second national team appearance during the recent Pre-Mundial event—Hinojosa was used sparingly in a handful of late-inning relief roles. He was again effective if not always dominant, working three frames against both the Dutch Antilles (4 hits and 2 runs allowed) and Americans (2 base knocks and an unearned tally), and shorter stints versus Nicaragua (one walk and one strikeout in a single inning of work) and Dominicana (2 frames, one hit, one run, one walk and one K).
Then in his first fall start yesterday afternoon during an Intercontinental Cup preliminary round game, the Guantánamo flamethrower again worked has magic (7 Ks versus the minimum 15 batters faced) against a severely outclassed team representing Honk Kong. Cuban scoring in each of the first four frames and an 11-run third-inning outburst built a whopping 20-0 margin and shortened the game to 4 1/2 frames (the international knockout rule involves a 15-run lead after five innings, as well as a 10-run margin after seven). Throwing Guantánamo's Dalier Hinojosa into a starting assignment against any of the more lackluster Asian or Oceania teams, in games played on Asian soil, seems to be a sure-fire recipe for diamond pitching drama of the highest order.
Dalier Hinojosa's Current International Pitching Record
World University Championships (Tokyo, August 2010)
Games W-L      Starts   Saves   Innings Pitched             Hits      Runs    Earned Runs     BB-SO  ERA
2             1-0        1          0                    7.0                               0                0          0                          2-16      0.00
Pre-Mundial (World Cup Qualifier) (Puerto Rico, October 2010)
Games W-L      Starts   Saves   Innings Pitched             Hits      Runs    Earned Runs     BB-SO  ERA
4             0-0          0          0                   9.0                               7             4          3                            4-7       3.00
Intercontinental Cup XVII (Taiwan, October 2010) *To Date (Tournament Incomplete)
Games W-L      Starts   Saves   Innings Pitched             Hits      Runs    Earned Runs     BB-SO  ERA
1              1-0           1          0                   5.0                               0            0                0                      0-7       0.00
International Tournament Totals
Games W-L      Starts   Saves   Innings Pitched             Hits      Runs    Earned Runs     BB-SO  ERA
7              2-0         2          0                  21.0                             7               4               3                      6-30      1.28
This week's Cuba-Hong Kong game represented the fifth no-hitter in Intercontinental Cup history, a fact that takes on some special poignancy given that this is likely the last hurrah for what was once a front-line IBAF event. Three of the five have now been authored by Cuban hurlers, and two of those have been perfect games. Hinojosa's Taiwan outing also represents the sixth-ever no-hitter by a Cuban hurler in senior-level, front-line international events.
The first six were scattered across a thirty-seven-year span, beginning with a Juan Pérez masterpiece tossed on native soil against Mexico at the 1973 Amateur World Series (now known as the IBAF Baseball World Cup). Pérez's historic blanking of the Mexicans in Latin American Stadium ironically remains the only such Cuban-authored "no-no" to stretch a full nine innings; all the others have been KO-shortened contests. Hinojosa is now the only Cuban pitcher with a pair of such international gems, and indeed the only pitcher to be found anywhere around the globe who can make that unique claim.
Six International Tournament No-Hitters by Cuban Pitchers
1| Juan Pérez Pérez—no-hitter versus Venezuela (4-0, in 9 innings), the first-ever Cuban no-hitter in international events (IBAF World Cup XXI, Havana, November 29, 1973)
2| Pablo Miguel Abreu—no-hitter versus Mexico (10-0 KO in 7 innings), the first-ever no-hitter in Intercontinental Cup history (Intercontinental Cup VIII, Havana, October 12, 1987)
*3| Lázaro Valle­—perfect game versus South Korea (11-0 KO in 8 innings), with 13Ks of 24 batters faced (Intercontinental Cup IX, San Juan, August 22, 1989)
4| Jorge Luis Valdés—no-hitter versus Canada (14-0 KO in 7 innings), the first-ever no-hitter in Pan American Games history (Pan American Games XI, Havana, August 6, 1991)
*5| Dalier Hinojosa—perfect game versus Sri Lanka (14-0 KO in 7 innings), with 16 Ks of 21 batters faced (World University Championships V, Tokyo, August 3, 2010)
*6| Dalier Hinojosa—perfect game versus Hong Kong (20-0 KO in 5 innings), Hinojosa's second perfect game (Intercontinental Cup XVII, Taiwan, October 27, 2010)
There have been a number of landmark and even quite unforgettable hurling feats by Cuban pitchers in top level international contests. Norge Vera is the only mounds-man to win both the semi-final and final games of the same World Cup event, a feat accomplished in Havana in 2003 with credited victories over both Chinese Taipei (7 innings as starter in the October 23 semifinals) and Panama (7 innings as reliever in the October 25 finals). Lázaro Valle authored a true masterpiece against pesky South Korea at the midpoint of pool-round play in the 1989 San Juan-based Intercontinental Cup.
Future big leaguer José Contreras never lost an international contest, ringing up a perfect 13-0 mark before his 2003 departure from the island. The late José Antonio Huelga earned immortality back in his homeland as the "Hero of Cartagena" during a tension-packed 1970 Amateur World Series, turning in brilliant performances as both starter and reliever versus the rival Americans during a dramatic best-two-of-three championship round. Included was a now-legendary 11-inning dual with future big-leaguer Burt Hooton. And more recently Miguel Alfredo González was nearly untouchable in perhaps the most exciting USA-Cuba game ever played during the final match of this past summer's World University Games in Tokyo. But none have quite matched the rare and even unparalleled set of games now owned by newly arrived Cuban no-hit ace Dalier Hinojosa.
—
(*) Peter C. Bjarkman is the author of A History of Cuban Baseball, 1864-2006 (McFarland, 2007) and is widely recognized as a leading authority on Cuban baseball, both past and present. He has reported on Cuban League action and the Cuban national team for www.BaseballdeCuba.com during the past three-plus years and is currently completing a book on the history of the post-revolution Cuban national team.