Cuba's Pitching Key to World Port Title
Peter C. Bjarkman* (Special from Rotterdam)
HAVANA TIMES — The "wicked orange-clad witch" is finally dead and Cuba reigns yet again as champion of the Rotterdam World Port Tournament. Sunday's second-straight 4-0 shutout victory over the Dutch seemed to put an end to a run of almost uninterrupted recent Orange successes against Cuba.
The string started with two victories (including a gold medal triumph) at the 2011 Panama IBAF World Cup, nip-and-tuck wins earned on the strength of solid pitching by Rob Cordemans and Orlando Yntema.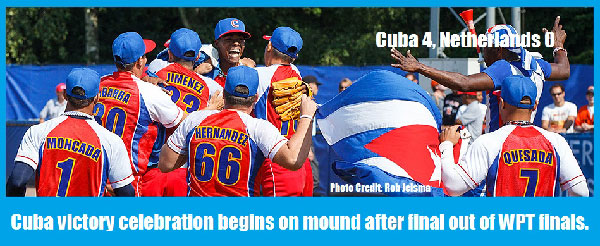 Dutch mastery was then punctuated with an additional pair of successes during round two of the recent WBC third edition in Tokyo and included a heart-wrenching late-inning loss that kept Cuba out of a second appearance in the WBC final round.
The only interruption to the string of Orange successes came in last year's Haarlem Baseball Week when Vladimir García shut down the host Netherlands squad 4-0 en route to Cuba's gold medal triumph over Puerto Rico.
Some will of course argue that this week's double shutout victories over the Dutch forces are shallow because this is not the same Dutch team that boasted top AAA prospects and a handful of big leaguers in both Panama and Tokyo.
But that is a lame comparison at best. While this Cuban team did feature 13 WBC holdovers, it did not have the best of its WBC pitchers on board (namely Freddy Asiel Alvarez, Vladimir García, Norberto González, and Diosdani Castillo), while the current Dutch squad did display the better part of its Tokyo pitching contingent (Cordemans, Yntema, Diegomar Markwell, David Bergman, Leon Boyd, Kevin Heijstek and Berry van Driel).
If the Dutch didn't have the likes of Andrelton Simmons, Jonathan Schoop, Kalian Sams, Roger Bernadina and Andruw Jones in its Rotterdam lineup, it also must be remembered that in Tokyo Cuba never had the luxury of calling upon such big league reinforcements as Alexei Ramírez, Yunel Escobar, Dayan Viciedo, Yoennis Céspedes and Leonys Martin.
In short, the only truly fair comparison between Cuba's and Holland's international teams is one that matches native Cuban Leaguers against a squad representing those currently playing in the domestic Dutch professional League. Leave the exported professionals now laboring in the big leagues out of the equation. That was the matchup we had here in Rotterdam this week.
And in point of fact it was Cuba and not Holland that was never at full strength since this Cuban squad was merely this year's Occidentales All-Star Game winners and not a full Cuban national team. With a more level planning field here in Rotterdam, the Cubans roared back from a Game 2 7-0 setback (again at the hands of Cordemans) to dominate the final two meetings and finally put to rest the growing legend of a Dutch international dominance.
The victory was sweetened for the Cubans by the fact that the two 4-0 whitewashings came against their two earlier nemesis foes from Panama 2011 – namely Orlando Yntema and Rob Cordemans.
Cuba won this tournament squarely on the shoulders of truly brilliant pitching, which is a great irony in the end. The Occidentales squad playing here boasted some of the island's best sluggers but only a trio of its better pitchers.
Since the Cuban brain trust was adamant about not supplementing the original Occidentales roster (despite the absence of Freddie Cepeda due to injury) the team arrived with only twenty-three players and seven pitchers (after Odrisamer Despaigne's mysterious disappearing act in the Paris airport).
With no more than seven available arms (all three opponents boasted ten) Cuba seemed in hot water from the very start. But such are the ironies of baseball that in the end the handicapped Cuban pitching overwhelmed this tournament and far outmatched even the celebrated Dutch mound staff headlining a full seven veterans of the March WBC squad that made it all the way to San Francisco.
In the seven-game event (including the finals), Cuban arms posted four shutouts; and two of the three remaining games were a 3-1 victory and 2-1 defeat (both against Chinese Taipei). The team ERA for the six-game round robin was a sensational 1.73 compared to 2.15 for the runner-up Dutch. Add on the final title game that the ERA comparison widens to 1.48 for Cuba and 2.43 for The Netherlands.
On only two occasions did manager Yovani Aragón have to use as many as three pitchers; Cuban starters worked at least into the seventh frame on four occasions; veteran Wilber Pérez was the surprise of the week with two brilliant starting efforts and a perfect 0.00 ERA over 12.2 frames; and late bullpen relief provided by Duniel Ibarra and Raciel Iglesias didn't allow a single tally across 9 full innings of mop-up duties.
Cuba's highly successful run down the stretch started on Saturday with a 11-0 romp over Curacao that saw the Cuban offensive finally come alive after two troubling tight matches with Taiwan.
Aragón's crew had failed to clinch a spot in the finals on Friday when they squandered multiple opportunities and left the sacks jammed in both the first and ninth frames of a 2-1 loss to the opportunistic Taipei ball club.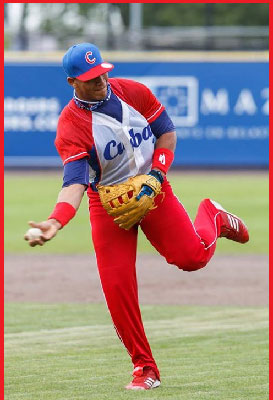 Forced therefore to call on ace Ismel Jiménez for the must-win Saturday rematch with Curacao, Cuba jumped out early with four tallies in the third and another pair in the fourth; it was only a downhill joyride after that and a "mercy rule" knockout was assured when four singles and a hit batsman produced 3 final runs in the top of the eighth. Andy Ibánez was the offensive hero with his second straight three-hit afternoon against rather mediocre Curacao pitching.
Sunday's game provided one of the best-ever Cuba-Dutch matchups as the Dutch again sent Cuba-killer Cordemans to the mound and Aragón was forced to come back with 36-year-old Wilber Pérez for the second straight time against the host club.
Pérez nearly matched his early outing, but this time lasted only until the fifth frame despite allowing only two safeties. Cuba took early command in the third when Mayeta opened with a double but seemed destined to be stranded on third until clutch two-out singles by Yulieski Gourriel and Eriel Sánchez produced a two-run cushion.
The game turned in the home half of the sixth when with two retired and two aboard clean-up hitter Brian Engelhardt smashed a deep drive to right that appeared on route to sail out of the park. Cuban right fielder Yasmani Tomás raced more than forty feet to the wall and leaped to spear the drive off the top of the fence and thus preserve the slim Cuban lead. It was one of the most sensational defensive plays ever witnessed by this writer, especially given the tense circumstance of a championship match.
After Tomás had robbed the Dutch of the potential go-ahead runs, manager Steve Janssen appeared to leave a tiring Rob Cordemans on the hill one inning too long, which provided a second irony of sorts.
Cuba had lost the fateful final meeting in Tokyo (a game which Cordemans had started for the Dutch) when skipper Victor Mesa left Norberto González on the hill just long enough to surrender a game-turning homer to Andrelton Simmons.
A similar scenario unfolded Sunday in the Cuban eighth when the already spent Cordemans allowed a two-double to Alexander Mayeta that plated the all-important pair of insurance runs and salted away victory for the Cubans.
Final World Port Tournament Standings (Round Robin)
Through Saturday, July 6
Teams                   Record Points  Runs (For-Against)
Cuba                              4-2           8          22-10
Netherlands                 4-2           8          24-13
Chinese Taipei            3-3         6          14-18
Curacao                        1-4          2          11-30
Championship Game (July 7): Cuba 4, Netherlands 0
On top of their superb team effort, the Cuban forces also walked off with the bulk of the tournament's top individual prizes. As the week's fifth leading batter (.304) among those with the minimum required 20 plate appearances, and as author of some sterling glove play at third, Yulieski Gourriel was tabbed the WPT 2013 MVP.
With the only fence-clearing shot of the entire event Alexander Mayeta walked off with the trophy as tournament "home run king" while Ismel Jiménez (with a perfect 0.00 ERA over a tournament leading 15.2 innings) was an easy choice for "Top Tournament Pitcher."
Holland's Dwayne Kemp was named top hitter with a .400 average across 20 at-bats, but the true hitting star was indisputably Cuba's Andy Ibáñez. Appearing in only three games (2 starts) during the six-game round robin, Ibáñez posted a .667 BA (six-for-nine) and then kept up the pace with another three-for-five afternoon as the Cuban DH in the Sunday championship match.
Individual Tournament Awards
MVP – Yulieski Gourriel (Cuba)
Batting Champion – Dwayne Kemp (Netherlands)
Home Run Champion – Alexander Mayeta (Cuba)
Best Pitcher – Ismel Jiménez (Cuba)
Press Award (Most Popular Player) – Michael Duursma (Netherlands)
Several young up-and-coming stars were showcased in this event, the group headlined by Ibáñez, Raciel Iglesias, and Johan Moncada.
Twenty-year-old Ibáñez made his National Team debut (outside of a token appearance in the March MLB Classic) in sensational fashion with a solid three-hit performance as opening game starter at second. Reinserted in the DH slot for the final weekend Andy continued an offensive display that resulted in a final sizzling .643 BA and also played a major role in regenerating an earlier dormant Cuban offense.
Iglesias (age 23) shared the pitching heroics with Ismel Jiménez and Isla teammate Wilber Pérez by saving four of the five Cuban victories. The wiry Iglesias worked 7.1 innings (3.2 in the finale), allowed no runs and a mere 3 hits, and struck out eleven enemy batters.
Eighteen-year-old Moncada appeared only briefly in four games, had but two official plate appearances (one resulting in a touring fly ball to the warning track in left field), struck out twice, walked once, and executed a perfect sacrifice bunt late in the second meeting with the Dutch.
Moncada's long outfield out was only one of about a dozen lengthy flies that would normally have cleared the fences of most parks; but this tournament remained largely free of long balls due to the extremely soft balls employed for tournament play.
But his brief display of outstanding physical tolls as a switch hitter and agile infielder were the talk of "scouts row" and Moncada continues to generate most of the buzz among the MLB scouting fraternity as the most impressive current Cuban League prospect.
—–
(*) Peter Bjarkman is author of A History of Cuban Baseball, 1864-2006 (McFarland, 2007) and is widely recognized as a leading authority on Cuban baseball, past and present. He has reported on Cuban League action and the Cuban national team as senior writer for www.BaseballdeCuba.com during the past six-plus years and is currently writing a book on the history of Cuba's post-revolution national team.