Cuba's Rotterdam Success Reviewed
By Peter C. Bjarkman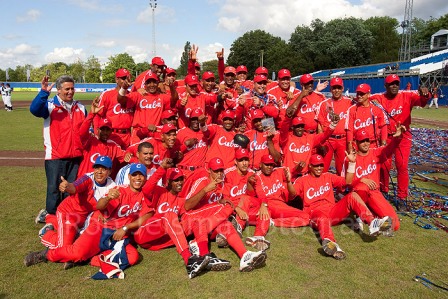 HAVANA TIMES, July 15 – Sunday afternoon's finals of the Rotterdam World Port Tournament proved to be a perfect mirror image of the entire twelve-day event, with Cuba tattooing Dutch pitching for an all-too-easy 9-3 victory. This, after all, was the same Dutch squad that received such rave reviews at the March World Baseball Classic, while the Cuban ball club was actually a line-up of national team second-stringers.
Cuba's top two hurlers-Miguel Alfredo Gonzalez (Habana Province) and Maikel Folch (Ciego de Avila)-both stymied Dutch batters for most of the afternoon, allowing only seven base runners and little damage beyond a single mid-inning homer. The only significant Dutch uprising came with a two-run blast by Sidney de Jong off Gonzalez in the top of the sixth. Folch then allowed but a single scratch hit and a lone base on balls over the final four frames to pick up the championship victory.
Cuba's own hefty attack was led by veteran catcher Eriel Sanchez (3 for 5 with a two-run homer in the fifth) and battle-tested first baseman Ariel Borrero (also 3 for 5 with two RBI). Lately relegated to B-Team status, both Sanchez and Borrero were members of island's inaugural 2006 World Baseball Classic roster. The title was Cuba's fourth straight in this event (following wins in 2001, 2003 and 2007) and eighth overall in twelve total WPT venues.
But the importance of this year's Rotterdam visit was not so much the garnering of yet another trophy to add to the huge collection of island baseball triumphs. It was instead the manner in which the Cuban forces performed both individually and as a cohesive unit under the guidance of rookie manager Roger Machado that was overly impressive. This was obviously not a top-of-the-line Cuban ball club on display, and therefore little was actually at stake as far as Cuba's ranking as the number one international baseball powerhouse was concerned.
And the Rotterdam event is certainly not one of international baseball's true glamour venues. This was merely a test run for a number of Cuba's more outstanding up-and-coming prospects, plus a final shot at reclaiming glory for a handful of fading veterans who have recently slipped from more prestigious A-Team assignments. It was also a trial balloon for manager Machado, who was making his own debut as team leader on the international tournament scene. On all of these latter counts-as much as in the final team standings-this particular Rotterdam visit has to be judged as one of Cuba's best showings of recent memory.
First there was the total dominance of the solid-but-not-spectacular Rotterdam field. In the nine games of round robin pool play the Red Machine outscored their opponents 53 runs to a mere sixteen. The Cubans were the only club with a winning record and the only team to score more runs than it yielded on defense. The team batting average was a sizzling .326 and the team ERA a stingy 1.48 (13 earned runs allowed in 79 innings).
The only two blemishes on the ledger were a 1-1 tie with Taiwan and a 2-1 loss to Japan, both coming after the ball club had already clinched a spot in the finals and was simply playing out the remaining round robin schedule with nothing really at stake.
Cubans Also Dominated Individual Player Stats
Cuban forces not only ran away from the field in head-to-head games but also dominated just about all individual statistical categories. Cubans paced every major individual offensive category except stolen bases; Cuban pitchers topped the pack in wins, ERA, strikeouts and lowest opponents' batting average. Adonis Garcia was the WPT batting champion, Yoelvis Fiss captured MVP plaudits, and Maikel Folch walked off with Best Pitcher honors. It was thus a virtual clean sweep.
A number of pressing questions seem also to have been answered in Rotterdam.  At the top of the list is the issue of the overall health of Cuban baseball. There was much complaining and many doubts cast on the island a few months back simply because Cuba did not reach the finals of the World Baseball Classic for a second straight time. Many among the Cuban press and more on Havana street corners sang the praises of the Asian style of baseball and called for an overhaul that might make the Cuban League look more like the Japanese product.
What was ignored in all this brow beating was the fact that Cuba actually played better (and certainly fielded a better team) than in the first Clasico, despite what the final standings of the two tournaments might suggest. The problem in San Diego last March was simply the pairings and the fact that Higinio Velez and company ran into a couple of superior pitching performance from a pair of Japanese aces at the top of their game at the very moment when they encountered Team Cuba. There was no red letter statement here of some type of hidden superiority in the Japanese baseball structure, or any portent of some severe falloff from past epochs of Cuban baseball greatness.
For those still lamenting WBC failures, this author recommends a much closer examination of what this month's Cuban team accomplished against almost the identical Dutch squad that had grabbed so much attention as a World Baseball Classic Cinderella in San Juan. Cuba rang up four straight wins against the host Netherlands on their own home grounds and did so by a composite 28-11 score.
This was not the Cuban lineup of Cepeda, Gourriel, Despaigne, Enríquez and Céspedes (with Maya or Lazo on the hill); it was the Cuban lineup of Fiss, Borroto, Borrero and Cerce, playing behind Miguel Alfredo, Yaumier Sanchez and Maikel Folch. But it was indeed the same veteran Dutch lineup stacked with veterans Sidney de Jong, Raily Legito, Eugene Kingsale, Vince Rooi, Bryan Engelhardt and Danny Rombley.
Yes, there were indeed a few Dutch pitchers missing from the WBC crew, but those pitchers were Sidney Ponson Leon Boyd and Juan Carlos Sulbaran, not Daisuke Matsuzaka, Yu Darvish and Toshiya Sugiuchi. The Japanese team in Rotterdam was hardly the Nippon outfit of San Diego, but the Dutch contingent was for all practical purposes one and the same in San Juan and again at the WPT venue.
What might Team Cuba have done in at WBC if they had played in San Juan and Miami with the Dutch, Venezuelans, Americans, and under-achieving, unmotivated Dominicans? It is all speculation, of course, but no poorer speculation than any assumptions about the superiority of Japanese training methods and Japanese league structures.
A Chance for Prospects to Show Their Stuff
Also to be noted are the performances of several bright prospects now waiting in the wings for future national team assignment. Foremost among these are a trio of infielders-Yorbis Borroto (shortstop), Yoilan Cerce (second base) and Adonis Garcia (third base). There is also multi-talented outfielder Leonys Martin, who not only cracked the top ten in hitting among the WPT field but is also one of the island's best outfield defenders at the raw age of twenty. And among the pitchers Miguel Alfredo Gonzalez and Freddy Asiel Alvarez now both seem to be can't-miss future prospects for national team status.
While the outside world lavished excessive attention on the departure of Aroldis Chapman (mostly speculating on the huge dollar amounts he might attract rather than assessing his actual mixed Cuban League achievements), serious Cuban watchers had to be more than just pleased with the promising pitchers who actually did perform in Rotterdam.
Yorbis Borroto, on the other hand, seems the brightest current prospect among the non-pitchers. Borroto certainly didn't hurt his chances any by batting above .300 and smacking a pair of ringing doubles in the championship contest.  Cerce and Adonis Garcia are large talents with future hopes, but their current route to frontline assignments still appears to be hopelessly blocked at the moment. With last season's batting champ Michel Enríquez anchored at third and Yulieski Gourriel at a fixture at second, plus Hector Olivera entrenched as a talent sub at all four of the infield slots, what is to be done with second sacker Cerce or third baseman Garcia? Leonys Martin is also faced with an equally jammed outfield, but his own prospects are brightened by his huge extra talents as a stellar defensive reserve.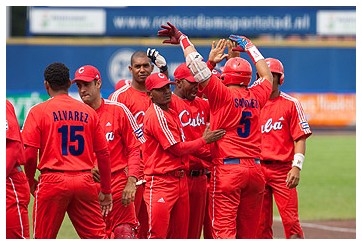 Since Paret has stepped aside and Luis Navas has not taken the national team scene by storm, there is indeed an opening for an additional infielder.  But only Borroto seems to have the required multiple tools and minimal experience at shortstop, the post Paret is abandoning and the one Navas has recently filled (during Paret's brief injury-induced absence during WBC action in Mexico).
The biggest questions surround Yoelvis Fiss, who batted .429 in Holland and slugged at a .657 clip (a shade ahead of Ariel Borrero in the latter department).  Fiss was the true "big basher" (along with Borrero) in the Netherlands, but his prospects for making the Cuba "A" squad still remain rather dim. He walked off with MVP honors after pacing the field with a pair of homers, a dozen RBI, and the top slugging mark, but how much did he actually do (or could he actually do) to bump aside the likes of Cepeda, Despaigne, Céspedes, or even Leonys Martin and Giorvis Duvergel?
Team Cuba is not at all desperate for big bats, of which there is a seemingly endless supply already in camp.  Fiss seems doomed to a fate that earlier plagued Lazaro Junco in the 1980s, Javier Mendez in the 1990s, and Ciego teammate Isaac Martínez during the current decade. All were talented heavy-hitting outfielders, but all were also a notable cut below true international tournament superstar status. There is just far too much of a log jam of talent ahead of him for any immediate promotion. And at 28, age also works against Fiss, who is more than a half-dozen years older than Despaigne, Céspedes and Martin, and more-or-less the same age as Freddie Cepeda.
An additional plus this past week, was obviously the solid performance of a handful of veterans on the scene in Rotterdam. Eriel Sanchez, Ariel Borrero, Giorvis Duvergel and Maikel Folch all made strong claims for a return to the top level. Duvergel is perhaps the best of the lot (a solid .300-plus hitter in several major international events and a prototypical lead-off man with his combination of speed, batting eye and occasional power) yet he faces the same overcrowded outfield problems confronting both Fiss and Martin.  Sanchez unfortunately holds slim prospects of cracking the trio of likely World Cup catchers, especially given the emergence of his Sancti Spíritus teammate Yenier Bello.  Pestano will still be there in September and so will Yosvani Peraza.
Folch, Likely Replacement for Chapman
Folch on the strength of his regular season (11-4, 2.69 ERA) and brilliant Rotterdam outing (no earned runs over 18 innings) stands by far the best chances of an immediate resurrection, especially after the permanent loss of promising southpaw Aroldis Chapman.
A final bright spot also emerged in Rotterdam in the figure of manager Roger Machado. Machado-a bullpen catcher on the 2006 WBC roster who retired from active play when not yet thirty-had already proven his bench skills during the most recent National Series with the stellar performance of his Ciego de Avila ball club.
No one considered the Tigers a championship threat last December and yet Machado's squad of young overachievers paced the entire circuit in victories as well as in team hitting, pitching and defensive numbers.  Many now assume that Esteban Lombillo (on the heels of Habana Province's first league title) will manage the World Cup team this September.
But that is far from a sure thing in light of the Rotterdam results. Machado demonstrated a fresh approach to wide-open offense by largely abandoning the overworked "small ball" sacrifice-bunting strategies that have plagued so many recent Cuban squads. His clever and innovative use of outfielder Jorge Pardon as a pitcher (in order to maintain a fresh contingent of aces) on the eve of the title match was also a thing of genius. Lombillo also lacks any significant international experience, something that no longer is a downside for Roger Machado.
Two years back the World Port Tournament served as something of a coming out party for the next generation for Cuban international stars. Despaigne, Olivera, Bell and Peraza (the 2007 WPT MVP) all used this tournament as a springboard to frontline team status. This year we may well have witnessed a similar event with Adonis Garcia, Yorbis Borroto, Freddy Asiel Alvarez and Yoilán Cerce serving notice that significant national team careers were about to be launched.
The significant difference is that back in 2007 there were more many openings at the top for hopeful newcomers. The current still-youthful status of Despaigne, Céspedes, Olivera, and even a recently injured Alexei Bell-plus the subsequent development of all four in international play-does not bode well for a similar influx of new faces this time around.
Only pitching and the shortstop post (on the heels of Eduardo Paret's retirement) seem to offer any current voids. Therefore Borroto, along with the hurling trio of Miguel Alfredo, Freddy Asiel and veteran Maikel Folch, are the strongest bets for a September return to Europe. And this author would put at even money on the possibility of all four of them being there.