Cuba's WBC Team Made Public
By Circles Robinson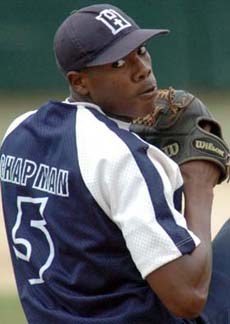 HAVANA TIMES, Feb. 19 – The Cuban Baseball Federation announced Wednesday its 28-man roster for World Baseball Classic II after some hard decisions that left off the squad numerous players from the first Classic when Cuba finished second to Japan
The Cuban pitching staff includes 10 right-handers: Luis Miguel Rodriguez, Pedro Luis Lazo, Norge Luis Vera, Miguel Lahera, Ciro Silvino Licea, Yolexis Ulacia, Danny Betancourt, Yunieski Maya, Vladimir Garcia, Ismel Jimenez and 3 southpaws: Aroldis Chapman, Yulieski Gonzalez and Norberto Gonzalez.
The island's team is managed by Higinio Velez, who takes leave from his administrative post to retake the helm for the WBC. His squad has a roster including three catchers (Ariel Pestano, Rolando Meriño and Yosvany Peraza) and seven infielders (Yulieski Gourriel, Hector Olivera, Eduardo Paret, Michel Enríquez, Alexander Malleta, Joan Carlos Pedroso and Luis Miguel Navas.)
The outfield is headed up by this season's HR and RBI leader Alfredo Despaigne and includes Frederich Cepeda, Yoenis Cespedes, Leonis Martin and Leslie Anderson.
Thirteen of Cuba's 16 national baseball teams have players on the WBC roster: Santiago de Cuba leads with 5, Villa Clara (4), Pinar del Rio, Granma and Sancti Spiritus (3 each), Holguin and La Habana (2 each), and Ciego de Avila, Industriales, Camaguey, Las Tunas, Isla de la Juventud and Cienfuegos with one.
After nine days of training and inter-squad games, 16 players were eliminated to reach the number allowed for the tournament. The renovated Cuban team has 11 returning veterans from the 2006 WBC.
The Cuban team heads for Pueblo, Mexico to train in the coming days in preparation for its opening round WBC play in Mexico City starting March 8, where it plays in a group including South Africa, Australia and Mexico. The top two teams will advance to the second round in San Diego, California.
The players who didn't make the final cut were pitchers: Vicyoandry Odelin, Yadier Pedroso, Jonder Martinez, Yaumier Sanchez, Reinier Roibal, and Maikel Folch; Catcher: Yenier Bello; Infielders: Yoandy Garlobo, Ariel Borrero, Yorelvis Charles, Rudy Reyes, and Yadil Muijica, and Outfielders Alexei Bell, Giorvis Duvergel, Yoelvis Fis, and Jose D. Abreu.