Danger's Homer That Wasn't
Peter C. Bjarkman*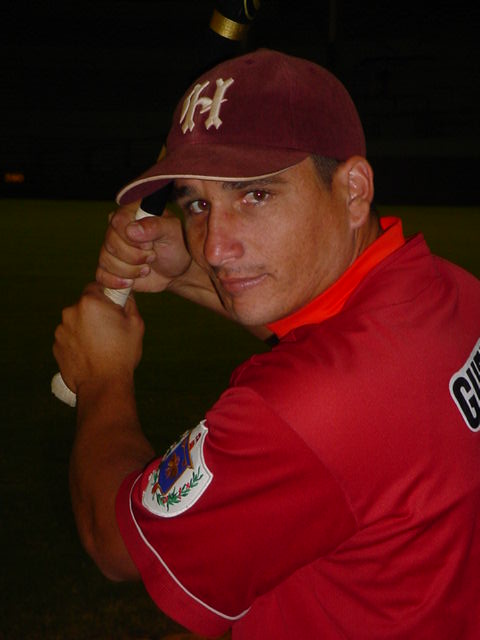 HAVANA TIMES, May 25 — We now have yet another reason for paying strict attention to Cuban League action, especially to the sometimes-chaotic and often precedent-setting Cuban post-season championship matches.
Cuban baseball is often full of the highly bizarre and the completely unpredictable—usually to a far greater extent than its North American counterpart. Last year's post-season, for example, witnessed a single batsman stroking three base hits in the same inning; and this year another opportunistic island slugger has already provided us with two round trippers in a single frame. Actually it was the second time such a pair of same-frame homers has transpired during recent Cuban post-season annals.
The very same Cuba League once even featured a rare triple play that somehow produced a game-winning run (circa 1970), and also an even more unparalleled unassisted triple play by a third baseman (at the outset of the current decade).
On Friday evening in Pinar del Rio's jam-packed Captain San Luis Stadium fans again witnessed "one for the record books"—and this time for the rule books to boot. It was a home run that wasn't a home run, or even a base hit, although the batter committed no infraction of the rules and no defensive player received credit for the put out. In short, it was the baseball trivia fanatics dream come true.
The raw beauty of baseball played in any league and at any level lies in the frequent appearance of the truly unanticipated. Any game might well offer something never before experienced by fans and players alike, or at least the unfolding of some rare event that seems to hold no parallel in living memory.
What occurred in Captain San Luis Stadium on Friday was a blast against the outfield fence with a pair of runners aboard which was erroneously ruled a homer by the confused umpire manning left-field territory. The phantom homer was followed by a heated debate between two managers and the six-man umpiring crew, and then a nearly fifteen-minute game-stopping consultation between the dazed umpires and several representatives of the league's technical commission. The ultimate result was a ruling that turned the towering hit into an unexpected out, and did so without any clear rule-book precedent.
A Bizarre Scenario
Here was the play as it actually transpired, during the early innings of one of the oddest post-season games on record and also one of the most vital contests of this year's rapidly closing National Series. In the top of the second frame, with runners on first and second and only one retired, Pinar ace Yunieski Maya faced Havana Province's number-eight hitter, the ironically named Danger Guerrero. The pesky catcher featuring the all-too-perfect given name smacked a towering drive that just eluded the glove of leaping left fielder Jorge Padron. The long fly caromed high off the top rail of the concrete wall before landing harmlessly on the warning track, several feet behind Pardon.
The closest umpire (the one assigned to the left-field line in the normal six man post-season crew) gave an immediate and apparently premature signal that the blast was indeed a home run. Guerrero thus circled the bases unmolested, with arms held high in celebration, while a stunned Pardon stood holding the ball he had quickly retrieved from the outfield grass. It was obvious to everyone but the badly positioned umpire that the fly ball had never left the stadium.
It was also obvious (even to left fielder Pardon, who thus made no attempt to throw to his infielders) that the ball was no longer in play, since a clear home run signal had already been given to create a "dead ball" scenario. The situation was quickly put beyond any easy solution. There was no homer, even though one was called. How many runs had actually scored? Should Guerrero be allowed to remain in the dugout, or must he be returned to the base paths? How was the play to be entered on the scoreboard or in the press box official score book?
The umpires had almost immediately realized the huge error involving the early home run signal, and thus confusion already reigned on the diamond and in the dugouts even before Guerrero had finished rounding the bases with his right fist still raised in apparent triumph. The scoreboard read 4-1 in favor of Havana, but the play could obviously not stand as called without a full game protest by Pinar skipper Luis Casanova and perhaps a full-fledged riot by the packed house of Pinar fanatics.
In the middle of it all was crew chief César Valdes, a veteran umpire most famous for his internationally televised body slam of a political protester that had intruded onto the Camden Yards diamond during a historic May 1999 Cuba-Orioles showdown.
During the lengthy and heated debate involving the umpiring sextet and both managers, stunned Pinar players milled on the field of play, while both benches collected in front of their respective dugouts. There seemed to be only one obvious solution to the bizarre home run ruling, at least to all seasoned baseball watchers.
Guerrero would have to return to second base, while a second runner (the one originally on first) should be returned to third. Under this ruling of a ground-rule double, only one run would score and one out would remain on the scoreboard. It was not a comfortable solution, since there was no obvious reason for a ground-rule two-bagger. No fan had touched the ball, and also the ball had bounced into the stadium and not out of it. But what was the alternative? Once the home run call was erroneously made by one umpire, a "dead ball" situation obviously existed, ruling out any further advances by any of the three runners.
Out by Umpire's Error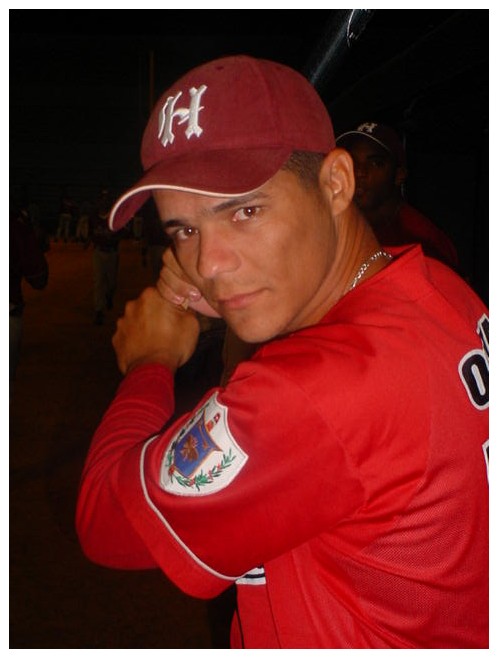 But that would not be the ruling as it was finally handed down. In what seemed to be an obvious attempt by embarrassed umpires and ill-prepared league technical commissioners to salvage a least damaging result for both clubs, a decision was made that completely threw the official rule book right out the window.
Two base runners ahead of Guerrero were both allowed to score, the logic being that both would have easily reached home with the ball remaining in play. But since Pinar would have been the clear victim of this ruling, it was decided to rule Guerrero out after his untouched line drive blast off the top of the fence. But under what rule book conditions, since the batter did not step out of the batters box, nor passed any runners on his trip around the bases, nor did he deviate from the base paths. How could the play be entered into the scorebook? Apparently the scoring could only be UU—out by umpire's error unassisted—an entirely unique ruling in all of baseball's seemingly endless history.
Of course a most dangerous precedent had now been set. Allowing umpires to seize the power to make decisions outside of the written rules destroys the entire fabric of the game. Yes the proper ground-rule-double call would have done most damage to Pinar, but then it was the Pinar hurler who had allowed the towering blast in the first place.
The game must be played strictly by the rule book and not by compromises to save face for erring umpires. In the end, this most bizarre of plays did not determine the outcome of a crucial championship match. Havana sealed the victory with a ninth-inning uprising that gave them a final wide 10-6 margin of victory and knotted the series. But the arbiters had somehow escaped determining the outcome only because Pinar's pitching was even worse than the shoddy umpiring. While Maya was saved from an early exit by an unorthodox umpiring decision, he could not stand prosperity and was knocked from the box by the middle innings, after his own disastrous throwing error opened the door in the fifth to several more Havana tallies.
So far the Occidental side of the playoffs has demonstrated two different faces of Pinar del Rio's Green Tsunami ball club. Solid pitching by Maya had staked Pinar to an early series lead during the rain-plagued opener last Sunday in San José's Nelson Fernandez Stadium. But the momentum was quickly lost with a Monday rainout and then a pitching meltdown in Tuesday's second contest.
Pedro Lazo failed in his bid for career victory 250 in a game featuring uncharacteristically sloppy defensive play by the Pinar forces. After the clubs split games three and four, Lazo suffered a second straight sub par outing on Saturday in a 6-1 loss featuring game-breaking home runs by Ernesto Molinet and Juan Carlos Linares. Thus Pinar must now claim two consecutive games back in Nelson Fernandez in order to survive into the final championship round.
While Pinar and Habana Province have been taking turns self-destructing, Villa Clara for its part continues to surprise everyone in the east. After a surprising success in the seven-game series with defending champion Santiago, the upstart Orangeman under veteran manager Eduardo Martin have quickly seized a hefty 3-1 advantage against the league's top outfit from Ciego de Avila.
Villa Clara posted a pair of rather easy victories (8-0 and 8-3) on enemy soil in José Ramón Cepero Stadium, topping Ciego aces Maikel Folch and Valeri Garcia in the process. The Oriental League series seemed to be all-but-over after Villa Clara's third straight win (4-3) on Thursday night, but then the rains became a noisome factor. Ciego first rebounded under Folch to breeze 8-2 on the strength of homers by Yoelvis Fiss and hot third base prospect Adonis Garcia. Two days of heavy rains then wiped out efforts to stage game five on either Saturday or Sunday. One wonders now if the interruptions might have stolen some momentum from an inconsistent Villa Clara club that slumped so badly after a World Baseball Classic suspension of regular-season contests.
Other Cuban Baseball Oddities
Friday night's bizarre and altogether unprecedented phantom homer by Danger Guerrero prompts another mention here of a few additional long-ball oddities spicing this year's Cuban League scene. Two weeks back (Sunday, May 10) we witnessed Havana's Ernesto Molinet smack a pair of homers in a single inning, an event never witnessed in the majors during playoff competition.
It might be noted that this is in fact the third straight year in which the Cuban post-season has produced just such an unparalleled feat. A year ago Santiago's Alexei Bell smacked three hits in a single Cuban post-season inning against Villa Clara; Bell's feat came in a 15-run third frame (with a homer and two singles) of a second semifinal match (April 5, 2008). Bell thus accomplished perhaps the rarest of all baseball feats—one that has occurred only twice in the majors (both times in Fenway Park, first by Gene Stephens in 1954 and later by Johnny Damon in 2005) and has never transpired in a big league post-season match.
But Bell also rewrote the record books a mere year earlier in the NS #46 playoffs (April 18, 2007), when he smacked two drives that both left the field in the same inning against a pair of Industriales hurlers (Frank Montieth and Sandy Ojita) in hometown Guillermon Moncada Stadium. Thus Havana's Molinet was not in fact the first Cuban Leaguer with a pair of same-inning homers during playoff action, as I had erroneously reported here and on other website pages a week or two back. This oddity has now occurred twice in Cuba, though never in the majors. If you want curiosities, Cuban playoff games are almost certain to provide them in abundant supply.
The event-filled Habana-Pinar series has also underscored another true oddity attached to the current Cuban championship season. Bulky Rafael Orta, anointed designated hitter who regularly occupies the prestigious fourth "power slot" in the Havana Province batting order, owns the physical appearance of a typical run-producing slugger.
But Orta's current season has in no way fit the mold of the prototypical "clean-up man" when it comes to season-long production. Orta has somehow managed to pass through a complete National Series campaign of 90 games, plus an additional ten post-season clashes (an even 100 games at this point) without stroking a single home run. He has in fact managed only 28 homers in ten full seasons and nearly 3,000 total at-bats. Last year (NS #47) Orta managed but a single long ball in 89 regular-season and playoff contests.
This is likely the first time in the modern era (including the post-1900 big leagues and post-1962 Cuban League) that any cleanup batter has failed to bang out at least one expected round tripper. But Orta nonetheless has had his moments to shine, and he did lash a booming and altogether crucial triple in the ninth-inning four run uprising of Friday's night's vital fourth game here in Capitan San Luis Stadium. If the surprising Cowboys—who receive most of their offensive punch from number-three hitter Ernesto Molinet, as well as Michel Rodriguez and Juan Carlos Linares, who follow Orta in the lineup—can continue their magic against Pinar del Río, then perhaps there is still time for a long-awaited four bagger from the ineffective Rafael Orta, baseball's most inexplicable clean-up slugger.
To read more from Cuban baseball expert Peter C. Bjarkman check out: www.baseballdecuba.com