"Defectors" Impact on Cuba's Squad
By PETER C. BJARKMAN*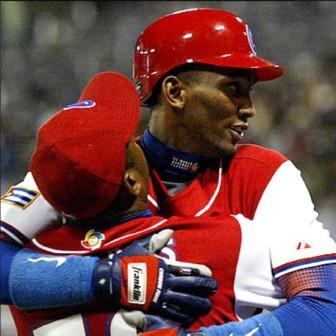 HAVANA TIMES, March 1 – I am every bit as excited as the rest of the world's fans about this week's opening of the World Baseball Classic. But as I contemplate a second tour of duty covering professional baseball's newest showcase event, I also must prepare myself for endless rounds of answering the same often-repeated and altogether exasperating question.
Since I am widely recognized by the North American press as "a guy who knows almost everything" regarding Cuban baseball, I am repeatedly approached by journalists seeking stories about Cuba's perennial world champions. And yet it is inevitably political intrigue rather than any hard baseball facts that these sleuths of the sporting press are repeatedly demanding.
The expected loaded question predictably came up again this week when I was interviewed by a representative of USA Today Sports Weekly for a report on Cuba's prospects in the upcoming WBC.
"How many ballplayers do you think will abandon the Cuban squad once they get to San Diego?" It is the favored starting point for just about every American, Canadian, European or Asian reporter. The political overtones of possible "defections" of Cuban ballplayers, in fact, seem at times to be the only burning issue for most in the North American press.
Few commentators outside the island care to write about the talented sluggers and hurlers that might make Cuba a legitimate tournament favorite. Fewer still care to examine how little-known Cuban League talent might actually stand up to the professional big league competition. Since few North American fans know the names or faces of top Cuban stars, there don't seem to be many enticing story lines to be presented there.
Given decades of propaganda from a mainstream U.S. press aimed at portraying Cuba as a virtual prison camp from which every last island resident is desperate to flee, it is not surprising that such a storyline attaches to the vaunted national baseball team.
Understanding What Motivates the Cuban Players
How could these top Cuban athletes not want to escape to the dollar-rich pro leagues, where untold material wealth surely awaits them? This media preoccupation with potential "defectors" also results, however, from fundamental misunderstandings about the nature of Cuba's baseball tradition, misunderstandings rather too complex to resolve in this brief diary entry.
Suffice it to say here only that the bulk of Cuba's baseballers are motivated by a set of values-patriotic spirit, love of the game itself, and a pride in their team-oriented accomplishments-that are indeed entirely "foreign" to North American athletes, fans, and press reporters alike.
Admittedly there have been those individual players-few of them top national team stars-who have chosen to risk life in a new land in order to pursue the dream of competing at a highest professional level represented by the U.S. major leagues.
And a handful of these Cuban ex-patriots have done quite well of late after reaching the North American big leagues, thus calling renewed attention to the potentials of Cuba as an uncharted talented font for salivating professional scouts.
Jose Contreras and Orlando Hernandez are a pair of ex-Cuban national team stars who made front page splashes as World Series heroes during the past decade on the big league scene. Alexei Ramirez-a former national team second baseman-enjoyed a phenomenal American League rookie campaign with last year's Chicago White Sox.
And Yunieski Betancourt and Yunel Escobar have emerged as surprising big league success stories after leaving the island very early in their budding Cuban League careers. Each has also repeatedly acknowledged his personal motivations for choosing to abandon his homeland, as well as his continuing respect for the Cuban baseball system which had nurtured him. Certainly none saw their choice as any kind of political statement.
Small Privileges and Bonuses
Undisputedly the life of a Cuban League ballplayer is not always an easy one. Life is not particularly easy for anyone in Cuba during these current days of accelerating economic stress on an increasingly impoverished island.
Top national team stars like Pestano, Paret, Lazo, Cepeda or Gourriel could be earning huge financial rewards elsewhere with their substantial athletic talents. Cuban Leaguers still endure tiresome bus travel to all their league games. Comfortable houses provided for some of the league's top stars are modest by any North American measure, as are the automobiles that some but not all of them own.
No one carries these players' equipment bags for them on road trips, and there are no talent agents or personal valets to negotiate their every financial and personal need. Cuban League teams reside in stark hotels that are often crammed below stadium grandstands. The fields on which league teams ply their talents are often gravel-strewn and primitive by North American standards.
But there are also plenty of upsides to the Cuban ballplayer's daily existence. National team stalwarts are genuinely beloved heroes to a nation of devoted fans. Baseball is everything in Cuba, in a way that it is in no other nation.
Cuba's all-stars maintain a level of national recognition that few big league celebrity ballplayers can any longer demand from jaded North American fans whose focus is distracted by an endless stream of televised sports and video entertainment.
Cuban stars play for national pride and glory and not solely to earn personal material rewards-the game on the island is still far more a satisfying end than an opportunistic means. And Cuban athletes still enjoy a genuine "sport" that has not yet been turned into a media-drenched "show business circus" tainted by the drug scandals, players' union strikes, commercial advertising, and constant contract bickering that continually frustrate cynical North American fans.
Anyone doubting that most Cuban players put their native baseball tradition and loyalties first need only look at the black-and-white record regarding so-called "defections" of national team stars.
While hundreds of athletes have indeed abandoned Cuba over the past two decades, few have been national team baseball stars. Only three players have departed the national team during major overseas tournaments since the early 1990s.
Rolando Arrojo left the national squad on the eve of the Atlanta 1996 Olympics; Danys Baez fled as a young pitching prospect during the 1999 Pan American Games in Winnipeg; Jose Contreras abandoned his teammates during a 2003 practice season in Mexico.
All others have departed under other circumstances, some after already having lost coveted national team slots (like Alexei Ramirez and Kendry Morales) or having found their route to national team stardom blocked by some superior rival talents (as was the case with Rey Ordonez in the 1990s, and more recently Dayan Viciedo).
The ballplayers choosing to depart have usually been those for whom challenging economic conditions were never balanced by the dream of someday playing with the celebrated national team.
Replacing the "Defectors"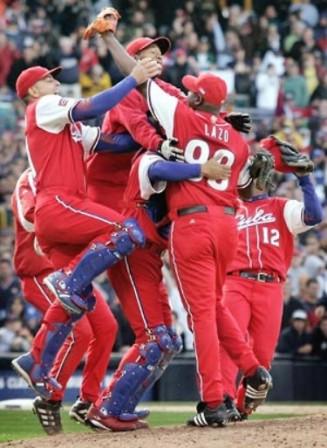 Another fact to bear in mind here is that ballplayer departures have never had much impact (if any, really) on the quality of the crack national squad. Contreras was quickly supplanted by Pedro Lazo as a national team ace, while the exit of Alexei Ramirez in 2007 simply opened the national team door for new phenom Hector Olivera.
Cuba has maintained its solid dominance in world tournaments despite any slow trickle of occasional headline-grabbing departures. And when Team Cuba has on occasion lately failed to win coveted gold-as in the 2007 Taiwan World Cup or 2008 Beijing Olympics-it has nonetheless always reached the prestigious gold medal round.
Occasional defections aside, Cuba still owns the remarkable record of 50 straight appearances in the gold medal finals of major international tournaments-a string which stretches back to 1961 and has brought 43 championships, as well as a phenomenal 542-32 record in individual games.
Between 1986 and 1997 there were 137 single-game victories in a row. Few would be willing to claim that the presence of either Contreras or Ramirez, or perhaps even Kendry Morales, would have altered the result on those few disappointing occasions when the ball bounced the wrong way during title games of the past couple years.
Twenty-eight Cuban ballplayers are now in Pueblo, Mexico preparing for a second showcase WBC. They will indeed be driven by a burning motivation in the first round (Mexico City, March 8-12) to reach the United States for the second to be played in San Diego (March 15-19) and the semifinals (March 21-22) and final (March 23) in Los Angeles.
Their collective hope is to return home with the victory their baseball-loving nation would cherish. Standing in their way will be a possible showdown with the Americans or Dominicans or perhaps the Koreans or Japanese.
*For more coverage on the World Baseball Classic see Bjarkman's site: http://www.baseballdecuba.com/WBC.asp.