Game One: Havana 4 Villa Clara 3
By Circles Robinson
HAVANA TIMES, May 30 — It wasn't easy, but Havana Province pleased their home crowd on Saturday with a 4-3 walk-off win over Villa Clara in game one of the Cuban Baseball League championship series.
Yulieski Gonzalez held Villa Clara hitless over six innings and cruised into the eighth with a one hitter and a 3-0 lead.
Then rookie Ramon Lunar opened the top of the inning with a homer followed by a triple from catcher Yulexis La Rosa and an RBI single from pinch hitter Yandy Canto. In a blink of an eye the score was 3-2. The inning then ended with a double play.
Havana had taken the lead with two unearned runs in the fourth sparked by a costly error from La Rosa on a foul fly and later a solo homer from Juan Carlos Linares in the sixth.
In the top of the ninth Havana's star reliever Jose A. Garcia came on to try and preserve a one run lead. However, he ran into trouble giving up a double to Andy Zamora followed by a passed ball and a sacrifice fly from Ariel Borrero to tie the score and take away Yulieski Gonzalez' chance at a win.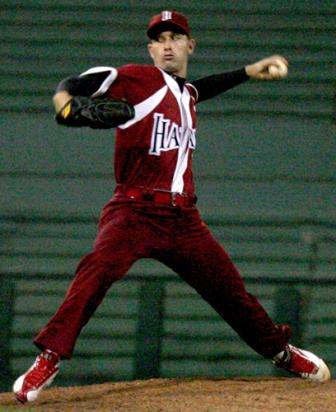 Then, with one out in the bottom of the ninth and with Villa Clara's top reliever, Yolexis Ulacia, on the mound, lead off hitter Ruby Silva legged out a bloop double followed by a long fly from Denis Laza allowing Silva to advance to third with two out.
After Ulacia intentionally walked Ernesto Molinet, he quickly got a two-strike no-ball count on DH Rafael Orta. But the count went to 3-2 after a controversial call on the 2-2 pitch that Villa Clara manager Eduardo Martin thought was an inning-ending strike. Orta then singled in the winning run.
Villa Clara starter Freddy A. Alvarez, who already has four wins in the playoffs, didn't pitch bad but the two-run error by La Rosa led to his being pulled in the top of the fifth with two runners on, after allowing only four hits and a walk while striking out three.
Yasmani Hernandez came on and pitched his way out of a bases loaded jam in the fifth, fielding a roller to the mound and starting a double play from pitcher to catcher to first. His only gaff in four innings of relief was Linares solo shot in the sixth.
Game two of the best-of-seven championship series is set for Sunday at 2:00 p.m. at the San Jose de las Lajas Stadium on the outskirts of the Cuban capital. The probable starters are right-handers Yadier Pedroso for Havana and Alain Sanchez for Villa Clara.
To see the game one box score click on: http://www.granma.cubaweb.cu/eventos/48serie/playoff/final/bf-1.html