Industriales loses bat protest, wins game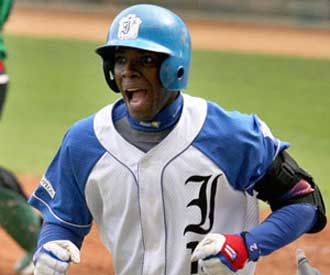 HAVANA TIMES — Industriales took a two game to one lead in the Western Division championship series on Saturday night defeating Matanzas 4-2 in a game prolonged into early Sunday morning over a bat controversy.
The game took place at the Latinoamericano stadium in the capital and the two teams were locked in a 2-2 tie until the eighth inning when Industriales managed the two runs that made the difference.
Antonio Armando (1.2 innings, no hits, no runs) picked up the win for Industriales in relief of starter Frank Montieh (6.1 innings, 2 runs and only four hits), and Pavel Pino (1.1 innings, 4 hits, no runs).
Allowing what appeared a routine fly by Rudy Reyes to drop opened the door to Industriales game winning rally. It was followed by a walk to Malleta.  Then pinch hitter Carlos Tabares bunted to the left side and Matanzas third baseman Gracial committed a horrendous throwing error that allowed Reyes to score from second.  A sacrifice fly by Tomas Yasmani brought in the insurance run.
The game took so long because of a protest in the third inning by Industriales manager Lazaro Vargas over a bat being used by Matanzas.
Luis Daniel del Risco, in charge of rules and umpiring of the National Baseball Commission said after the game that the tip of the bat in question had a split about two inches deep, however he said it was not filled, nor flattened and for that reason was not considered illegal, reported Juventud Rebelde newspaper on Sunday.
The rules expert explained: "In this case there was no violation of the rules and the protest was not allowed.  If the protest had been accepted then the batter would have been declared out and ejected from the game."
But the decision took nearly an hour and the over 50,000 fans were getting restless in the stands. What they wanted was for the game to continue.
When play finally resumed, Gracial Yurisbel singled in Matanzas second run.  However in the bottom of the prolonged third inning, Industriales tied the score on an RBI single from Rudy Reyes and reliever Yerra Yoani provided another when he hit Joel Suárez with the bases loaded.
The game then remained deadlocked at 2-2 until the fateful eighth inning.
Matanazas third hurler, Joel Suárez, took the loss for Matanzas after pitching 4.1 innings and allowing one earned run on four hits.
Industriales and Matanzas play game four of their best-of-seven series on Sunday.  In the Eastern Division contest, Ciego de Avila visits Grama.  That series is tied 1-1.