By Circles Robinson
HAVANA TIMES, April 21.- Havana fans saw their team's playoff hopes rekindled over the weekend when Industriales -having its worst season in years- swept it series over Isla de la Juventud. The favorite of the capital is now in fifth place two games behind Isla and the last post-season slot in the West. However, Industriales has its work cut out this week when it hosts the first and third place eastern division teams Ciego de Avila and Villa Clara.
Alexei Bell, last season's record breaking home run leader with 31, had a big three-blast game on Sunday to lead the defending champions Santiago who are now in second place in the East after spending most of the first half of the season below .500. Bell hasn't been the same since getting hit by a pitch at the beginning of the season but has come around to be part of the Santiago comeback.
Sancti Spiritus consecutive sweeps over Matanzas and Metropolitanos, finally equaled their wins and losses at 39-39 and moved them into third place in the West. The team headed by leftfielder Frederich Cepeda, third baseman Yulieski Gourriel and right-handed pitcher Ismel Jimenez are looking more like a sure thing to repeat in the playoffs, which didn't seem in the cards before the break in February for the World Baseball Classic.
With two weeks and 12 games left in the regular Cuban baseball season, the battle in both the Eastern and Western Divisions is for the fourth and last playoff spot. In the West, Isla de la Juventud, Industriales, Matanzas and Metropolitanos are still in the fight, while Holguin and Camaguey are the only two contenders in the East.
Ciego de Avila continues nearly unbeatable since the WBC break. Last week they swept their two series against Granma and Holguin. Second place Santiago de Cuba did the same facing Las Tunas and Camaguey.
Pinar del Rio continued to make waves in the West winning four-of-six last week to inch closer to the leader La Habana, still four games up, down from five after splitting its week's games with three wins and three losses. Pinar right-hander Yuniesky Maya won his 13th on Sunday against only 3 losses.
INDIVIDUAL BATTING LEADERS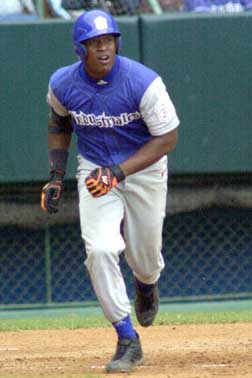 Yorelvis Charles (Ciego de Avila) heads the batting race with a .404 average, followed by Giorvis Duvergel (Guantanamo) at .394, Michel Enriquez (Isla de la Juventud) at .390, Yulieski Gourriel (Sancti Spiritus) at .388 and Yoandry Garlobo (Matanzas) is fifth at .386.
Alfredo Despaigne (Granma) leads the league with 29 homers and 84 RBIs. Yoenis Cespedes, also from Granma leads in runs scored at 76. Michel Enriquez has 27 doubles and Ruby Silva (La Habana) 9 triples. Leonys Martin (Villa Clara) leads with 17 stolen bases and Michel Enriquez with 80 walks.
PITCHING LEADERS:
Yunieski Maya leads in innings pitched (131.1) and ERA with 1.92, followed by Yadier Pedroso (La Habana) 2.07, Alfredo Unzue (Ciego de Avila) 2.31, Wilber Perez (Isla de la Juventud) 2.31, Mikel Folch (Ciego) 2.82, Pedro Luis Lazo (Pinar del Rio) 2.86, and Norge Luis Vera (Santiago) 3.22. Maya leads in wins with 13 followed by Ismel Jimenez with 12. Vladimir Garcia (Ciego) leads with 22 saves. Aroldis Chapman (Holguin) is tops in strikeouts with 114.
GAMES THIS WEEK:
April 21-23
Home Team – Visiting Team
La Habana vs. Villa Clara
Industriales vs. Ciego de Avila
Camaguey vs. Cienfuegos
Las Tunas vs. Sancti Spiritus
Holguin vs. Isla de la Juventud
Granma vs. Pinar del Rio
Santiago de Cuba vs. Matanzas
Guantánamo vs Metropolitanos
April 24-26:
Home Team  – Visiting Team
La Habana vs. Ciego de Avila
Industriales vs. Villa Clara
Camaguey vs. Sancti Spiritus
Las Tunas vs. Cienfuegos
Holguin vs. Pinar del Rio
Granma vs. Isla de la Juventud
Standings as of Monday April 20
| | | | | |
| --- | --- | --- | --- | --- |
| Teams (Western Division) | W | L | Pct | GB |
| La Habana | 50 | 28 | .641 | — |
| Pinar del Rio | 46 | 32 | .590 | 4.0 |
| Sancti Spiritus | 39 | 39 | .500 | 11.0 |
| Isla de la Juventud | 36 | 42 | .462 | 14.0 |
| Industriales | 34 | 44 | .436 | 16.0 |
| Matanzas | 33 | 45 | .423 | 17.0 |
| Metropolitanos | 32 | 46 | .410 | 18.0 |
| Cienfuegos | 27 | 51 | .346 | 23.0 |
| | | | | |
| Teams (Eastern Division) | W | L | Pct | GB |
| Ciego de Avila | 56 | 22 | .718 | — |
| Santiago de Cuba | 50 | 28 | .641 | 6.0 |
| Villa Clara | 48 | 30 | .615 | 8.0 |
| Holguin | 40 | 38 | .513 | 16.0 |
| Camaguey | 35 | 43 | .449 | 20.0 |
| Guantanamo | 35 | 43 | .449 | 20.0 |
| Las Tunas | 32 | 46 | .410 | 24.0 |
| Granma | 31 | 47 | .397 | 25.0 |