Playoff Surprises Define the East
Peter C. Bjarkman*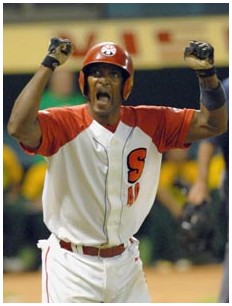 HAVANA TIMES, MAY 8 – With the Western Zone team assessments and personal prognostications now out of the way (see yesterday's diary entry), a few additional factoids related to the Cuban League playoffs may be of some interest. These mostly have to do with the structure and results of previous post-season play.
For starters, there is an elegant symmetry attached to the Cuban playoff system. Across 24 post-season tournaments (including the one now in progress), exactly half have involved the current quota of eight teams (the first 12 featured only four clubs) and nearly half (11) have also been played with wooden bats (the others, of course, with aluminum). Thus the post-season carnival splits neatly down the middle regarding both its size and its style of play.
Of the three most successful teams in post-season history, two are returning yet again this season, with only Industriales left on the sidelines. Santiago (seven titles) and Industriales (six crowns) have dominated the quarter-century of post-season venues, especially over the near-half-dozen years of the wooden-bat era. Pinar (including its earlier manifestation as Vegueros) has walked off with three championships, the last coming back in 1998 with the inaugural eight-team affair. Only three other ball clubs have ever worn the league crown: Villa Clara (three times), Henequeneros (twice, while representing Matanzas Province), and Holguín on a single surprising occasion in 2002.
On the managerial front, current league commissioner and recent WBC team skipper Higinio Vélez (Santiago de Cuba) remains the most successful bench boss in playoff history with four titles to his credit. Antonio Pacheco (Santiago), Rey Anglada (Industriales), and Pedro Jova (Villa Clara) trail with three apiece, and all have earned their titles in clusters of either three straight or three in four years.
Pacheco thus now has a chance to match his mentor Vélez as top post-season Cuban League manager with his third straight crown (which would also be the third "three-peat" in playoff history) and his fourth of the past five seasons. Villa Clara (under Jova in 1993-1995) and an earlier Santiago club (under Vélez in 1999-2001) also strung together a trio of uninterrupted titles.
Finally, of the eight entries on the scene this year, four have won titles under the current playoff system. Of the remaining four, both Ciego and Isla have yet to claim a league banner under any format whatsoever. It is in this last respect that any sprint all the way to the finish line by underdog Ciego de Avila (as some out in the central provinces, at least, are now predicting) would perhaps be this winter's biggest surprise of all.
There is one additional fact about the Cuban post-season that fans might find most intriguing, especially those fans fond of comparisons or parallels with the stateside major leagues. As with the USA pro league, individual player statistics (batting averages, pitchers' ERAs, home runs, etc.) are final at the end of regular season play and individual statistical leaders are thus based only on the 90-game National Series numbers. Michel Enríquez is this year's batting champion, no matter what he does in the playoffs.
Nonetheless (and unlike the MLB record keeping), a player's career totals do also include all the games and numbers compiled from all island competitions-National Series, Selective Series (the "second season" that was discontinued in 1995), Revolutionary Cups (1996-1997) and Super Leagues (2002-2005)-with the playoffs included. Orestes Kindelán's record 487 career homers include his post-season blasts. This leads to one inexplicable quirk in official Cuban baseball record keeping. It is traditional to list the winning and losing pitchers' records in playoff box scores with regular season and playoffs wins and losses combined. I have never found a good explanation for why this is still done. Pitching numbers reflect the full year's achievement, but batting statistics do not.
So now let us assess in finer detail the post-season situation across the eight eastern provinces. As with my reading of the western league during yesterday's essay, I for one am not looking for any major surprises to come our way out east.
Santiago Defends "The East"
The Oriental League race may be a bit more difficult to call than the one on the western half of the island, but Santiago should continue to hold the upper hand. For years now Villa Clara has often looked like the club to beat in early-season going and then has pulled its infamous disappearing act just in time for the post-season dance. This year has been no exception to the rule, the only difference perhaps being that this time around an expected late-year slide can not so easily be attributed to the unpopular managerial style of now-departed Victor Mesa.
Ciego de Avila has admittedly been the league's most consistent force all winter long, but Ciego simply doesn't have much of a playoff history to fall back on. The normally clawless Tigers never made the "final show" even once under the four-team playoff format, and they now own a lame combined 3-15 record in their five quick-exit post-season outings since 1998. Holguín represents the obvious long-shot selection among the eastern sector quartet, and yet in a short series the gritty Dogs (Perros) might indeed occasionally prove dangerous, especially with flame-throwing youngster Aroldis Chapman on the hill. Holguín's main problem is that Chapman can not pitch every day. Santiago, defending champion and pre-season favorite, has quietly loomed in the shadows all winter long and may now be ready to awaken (like Pinar in the west a year ago) at just the right moment.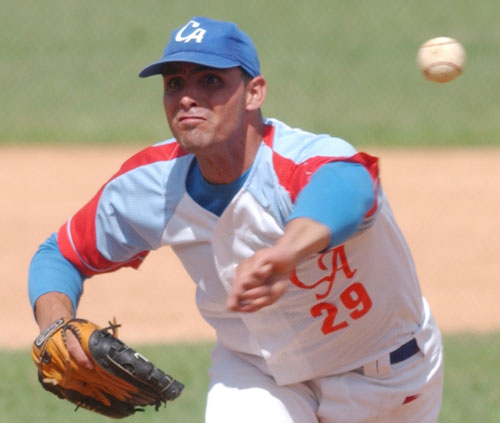 Ciego de Avila has to be the consensus favorite, at least on paper, but we all know that sporting events (especially baseball games) are never won on paper, but only on the unforgiving field of play. Ciego boasts great team balance in the form of six potent bats (Yorelvis Charles, Yoelvis Fiss, Adonis García, Mario Vega, Yordanis Pérez, and veteran Isaac Martínez) plus the circuit's strongest four-man rotation outside of Habana Province (righties Valeri García and Alien Mora, plus southpaws Maikel Folch and Alfredo Unzue). When it comes to the bullpen, there is no more dominant closer in Cuba than 20-year-old Vladimir García, whose 25 saves equaled a National Series record. Yet the current crop of Tigers is largely untested in playoff waters beyond the quarterfinal round, where they failed in 2004 (swept by Santiago), 2005 (swept by Villa Clara), 2006 (only one win against Santiago), and finally 2008 (edged 3-2 by Villa Clara).
Santiago de Cuba boasts almost the exact same team fielded in 2007-08 for a previous championship run. José Julio Ruiz (last winter's stolen base champ) has fled Cuba, but that is not itself a devastating loss given the strength of manager Pacheco's top-to-bottom lineup. Alexei Bell (who last year dominated the league with his 31 HRs and 111 RBIs, but this season slumped to 11 round trippers) has been suffering all year after being struck in the face with a fastball on Opening Day. But there is still abundant ammunition in a Santiago attack featuring five batters with 100-plus base knocks (Ciego actually boasts six) and last season's post-season MVP, Rolando Meriño. One element falling heavily on Santiago's side of the ledger is the Wasps' remarkable defense up the middle, with Luis Miguel Navas and Héctor Olivera providing the best keystone combo in the entire league and Meriño still unparalleled as a defender behind the plate.
Villa Clara looked like it would run away with things in the early going (winning 14 straight at the outset), but this is not the first time this has happened. Villa Clara has started strong a number of times in recent years and then predictably faded down the stretch, before unraveling altogether in the post-season. The five weeks following the WBC hiatus proved to be an unrelieved disaster for manager Eduardo Martin's Orangemen, who lost relentlessly down the stretch and were thus easily overhauled not only by steady Ciego but also streaking Santiago. Injuries didn't help any, with Eduardo Paret out of the lineup for half the season, and Pestano also gone for about one-third of the games. Paret is now lost for the duration of the year and veterans like Pestano, Andy Zamora, Ariel Borrero, and Leonys Martin will have to reclaim once-impressive but now-missing batting skills if the Orangemen actually expect to hang around long against potent Santiago.
Holguín has very few recognizable stars in its corner, but the no-name Dogs do claim a solid-enough lineup that managed to hit .297 overall and slug 81 homers. The problem is that all the offense comes from just three slots in the lineup: Lerys Aguilera (23 homers and the league's fourth-best RBI total), Yeral Sánchez (.352 BA) and Edilse Silva (.349 BA). With a top young southpaw phenom in Aroldis Chapman (the league pacesetter in strikeouts) and one of the island's craftiest veteran hurlers in Luis Miguel Rodríquez (a durable workhorse who inexplicably faded after the WBC interlude), the Dogs could potentially be a handful for any team that doesn't take them seriously enough entering any short series. And this team also displayed a lot of true grit during the April stretch run, when it held off a serious challenge mounted by Guantánamo and thus tenaciously clung to its hard-earned playoff berth.
Predictions
Ciego de Avila has to be the popular Oriental League pick, if only because of their dominance from the opening bell of National Series #48 and their near-record 64 regular season victories. Only Industriales (with 66 victories in 2003) has claimed more single-season National Series triumphs during the post-1985 "playoff era." Pinar also garnered an identical 64 games in NS #41 (2002) before slipping in the semis that year to surprising Sancti Spíritus, who in turn eventually succumbed to the season's true Cinderella squad from Holguín.
It is a nice piece of irony, perhaps, that Pinar earned an unwanted distinction in 2002 by being the first team in Cuban League annals to win 60-plus games and not claim a league title. Habana Province duplicated the unwelcome feat only last year. Pinar's 64 wins were identical to this season's Ciego total, yet the post-season success story back in 2002 belonged entirely to the underrated and overachieving Holguín team that pulled off the biggest upset in island history. It should not go unnoted that Ciego's opening round opponent this week is none other than another upset-minded Holguín ball club. Will history perhaps repeat itself? This writer, for one, is simply not convinced that Ciego de Avila is actually blessed with the intangibles that equate to championship material.
If there is to be a major upset in this post-season, then, it could well come in the opening week match between Ciego and Holguín, especially if Rodríguez and Chapman are at the top of their games in the opening two contests. If the favored Avileños do manage to survive intact against the pesky Perros, they will almost certainly next face dangerous Santiago in their first-ever trip to the semifinals. And that, I believe, is where Ciego's post-season dream will end rather abruptly. Bell is finally awakening from his year-long injury-induced slump, and if the heart of the Wasps lineup (Meriño, Pedro Poll, Navas and Olivera) is perhaps only a shade better that the corps owned by Ciego (Charles, Fiss, Martínez and Yordanis Pérez) it is nonetheless a good deal more experienced.
And then there is also the history of Santiago's post-season dominance over the Tigers. In two previous post-season meetings between these clubs in 2004 and 2006, the Wasps hold a lopsided six-games-to-one advantage. In brief, I foresee another Santiago showdown with Pinar for the coveted league title. And this time around Santiago is seemingly just enough weaker (with Norge Vera aging, Bell still not in top form, and José Julio out of the mix) and Pinar just enough stronger (especially if Maya's post-season form matches his year-long dominance) to guarantee a very different result from that of a year ago.
There will be no four-game sweep this time around. If Maya pitches as he should and Peraza and Duarte neutralize Olivera and Meriño on the offensive side of the equation, the long-denied Tobacco Growers may well be poised for their biggest harvest of the past decade. Pinar del Río should claim the 2009 championship (their fifth all-time) in six hard-fought games.
Summary: Santiago is pushed but not upset by Villa Clara and wins in six games games. Ciego de Avila also struggles in some close matches with Holguín yet comes out on top after five contests. In the best series of the month Santiago climbs into the finals after a seven-game struggle with Ciego. But the defending champions are ultimately no match for Pinar del Río during the six-game finale.
*To read more from Peter C. Bjarkman on Cuban baseball check out: http://www.bjarkman.com
For a look at how the regular Cuban baseball season concluded including the standings and top batters and pitchers see: http://havanatimes.org/?p=8128