Puerto Rico Upends Cuba at World Cup
By Circles Robinson
HAVANA TIMES, Sept. 18 – Puerto Rico scored three runs in the top of the eighth inning to break a 2-2 tie and hand Cuba its first loss in the 2009 World Cup Baseball Tournament.
Playing to an Amsterdam stadium with 1,600 fans on hand, Puerto Rico moved in to second place of Group F with a 4-1 second round record identical to Cuba.  The Netherlands, which shut out Great Britain 6-0, is in first place with a perfect 5-0 mark.
Puerto Rico got on the scoreboard first against Cuban starter Maikel Folch with a run in the third on a double by shortstop Angel Sanchez and a one out single by second baseman Irving Falu.
Cuba tied the score in the bottom of the fourth when Alfredo Despaigne hit his fifth homer of the tournament, a solo shot to left-center.  However in the top of the fifth Puerto Rico scored again on a single by Jose Valentin (DH), a fielders choice, a hit by Sanchez, and a bases loaded hit batsman (Luis Matos) by Cuban reliever Yadier Pedroso.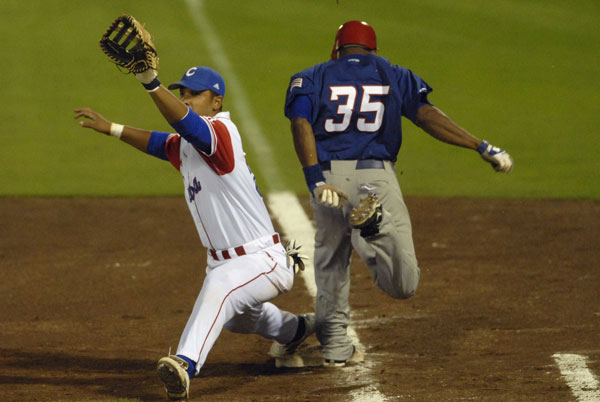 In the bottom of the fifth catcher Ariel Pestano, having an excellent series at the plate, opened with a solo homer to left center to tie the score at 2-2.  Later in the inning Cuba almost scored a go ahead run but Michel Enriquez was thrown out at the plate trying to score from second on a single by Frederich Cepeda.
Both teams went quickly in the sixth and seventh innings but Puerto Rico came out swining in the eighth.  Matos homered to left to take a 3-2 lead.  With one out catcher Raul Casonova doubled to right and manager Esteban Lombillo pulled Pedroso.   Vladimir Garcia the team's top closer was brought in and immedieately got into more trouble allowing a single to third baseman Ruben Gotay putting runners on first and third.  Jose Valentin then doubled in both runners to put the game at its final score of 5-2.
Puerto Rican closer Richard Rodriguez had no trouble with the Cubans allowing one hit in the final two innings, a lone double by Michel Enriquez.  Jonder Martinez came on to pitch the final 1.2 innings for Cuba allowing one hit and no runs.
In all Puerto Rico pounded out 13 hits to Cuba's 7.  The game's only error a catcher's interference by Ariel Pestano in the fourth inning, contributed to an unearned run.
In Group F, Cuba plays South Korea (2-3) on Saturday at 1:00 p.m. Cuban time (EST), The Netherlands plays Nicaragua (2-3), Puerto Rico meets Venezuela (2-3) and Great Britain (0-5) plays Spain (1-4).
In Group G, the United States leads with a 4-0 record followed by Chinese Taipei (4-1),  Australia (3-1) and Canada (3-2).
The top four teams from each group after seven games of round robin play go on to the quarterfinals.