Baseball Saga of Cuba's Carlos Yanes
Peter C. Bjarkman*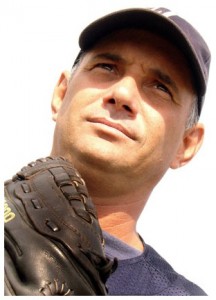 One of my favorite complaints involves the easy assumption of sports journalists and baseball historians that Major League Baseball is somehow the be-all and end-all of the entire diamond sport. One manifestation of this is the repeated claim that any record set in the American League or National League constitutes a new "baseball" milestone and is thus entitled to be properly labeled baseball's most-ever this or best-ever that.
One fitting example of such narrow perspective is the claim of historian David Fleitz (in his on-line biography of early-1900s American League hurler Jack Powell) that the one-time Browns-Cardinals-Highlanders right-hander alone holds one of baseball's most bizarre distinctions. Fleitz writes that "no other pitcher in history has won as many games as Powell while losing more games than he won." True enough, perhaps, for the major leagues in North America. But what about some other legitimate baseball universe?
I have not searched Japanese League archives or perused the history of North American minor league play to see if this Fleitz claim about the uniqueness of Powell's achievement actually holds up, but it will likely no longer pass muster once a few more seasons of the Cuban League National Series are written into the record books. Jack Powell's undisputed North American record is soon likely to fall by the wayside under the quiet onslaught of remarkably durable and also seemingly ageless Isla de la Juventud hurler Carlos Yanes-Cuba's most remarkable present-day pitching phenomena.
On April 11 the 44-year-old workhorse threw eight effective innings during a 5-2 victory over Holguín, lifting his season's mark to 7-6 (4.97 ERA) and his bizarrely steady lifetime ledger to a break-even 229-229 and counting. Five days later the Isla de la Juventud ace worked 8.2 frames and permitted only four scratch hits, yet suffered a 2-1 defeat at the hands of league-leading Habana Province. The loss returned Yanes' record for this season to his more familiar .500 post (now at 7 up, 7 down) but also once again dropped his lifetime résumé a few fathoms below sea level. On April 22 he pulled even yet again with another victory over Holguín.
That long-standing fifty-fifty record likely explains why Yanes has only once earned a spot on the prestigious Cuban national team and thus has remained without many opportunities to display his talents outside island boundaries.
His lone appearance in a major international tournament came in late 1999, when he performed as part of a largely watered-down Team Cuba-one dispatched to the Intercontinental Cup matches in Syndey minus such normal standbys of that era as Orestes Kindelán, José Contreras, Omar, Linares and company.
In that single outing the wily veteran (already with 16 National Series campaigns tucked under his belt) dropped his single international decision while nonetheless posting a credible tournament 1.59 ERA.  But if he has remained virtually unknown away from native shores, in domestic play Yanes has slowly built a considerable legend that has now left its indelible stamp on island baseball history.
Mediocre Team Doesn't Help Win-Loss Stats
Part of the explanation for the shear magnitude of losses suffered by such a top-quality pitcher likely lies in his fateful assignment with an Isla de la Juventud ball club that has often been rather mediocre over most of the past quarter-century. This year's Isla squad (despite hurricane damage to its home stadium in Nueva Gerona that has prevented any local night games) is still clinging desperately to a four-place slot (the final Occidental League playoff position) with little more than a week remaining in the campaign.
In 2005-06 Isla's Pine Cutters did finish a surprising 19 games above .500 (Yanes was 12-4 on the season) and claimed a rare first-place Group A finish before collapsing in opening playoff matches with eventual champion Industriales. But winning seasons have been anything but the norm for the ball club representing Cuba's least populous provincial zone.
The primary explanation, however, for Yanes's more than 450 pitching decisions spread over 26 seasons has been remarkable conditioning and also remarkable consistency by one of the island's most disciplined athletes. Yanes is hardly a junk-ball hurler (one who rarely tests his arm with hard tosses), yet he does own a remarkably smooth mechanical form that results in surprisingly little arm stress.
Hoping to Pitch 5 More Seasons
He also possesses an unparalleled work ethic and is thus always one of the best-conditioned among the league's 400-plus top-level players. In a rare interview before last Sunday's game with Industriales at Havana's Latin American Stadium, Yanes emphasized his strict training regimen and affirmed that he has no plans to hang up his spikes anytime in the near future.
The soft-spoken hurler also explained to a national Cuban television audience that he has never suffered from arm problems of any kind during his two and a half decades of league action. He once more stressed his stated goal to pitch the five more campaigns necessary to reach an unprecedented 30-season career mark.
If it happens-Isla's Ancient Warrior actually does reach the three decade level-Carlos Yanes will be 49-plus when he finally retires from active competition. He will also remain one of the classic examples to be found anywhere in baseball that heavy workloads of constant arm exercise can actually extend rather than shorten pitching longevity.
In the same Sunday interview Yanes affirmed that it has been his regular routine for years now to toss in excess of 200 balls daily, week-in and week-out. So much for widespread arguments about pitch counts being the primary and proven key to protecting a hurler's fragile physical health.
Remarkable durability and substantial talent has allowed Carlos Yanes to etch his name onto many pages of the Cuban League record book, where he currently resides at or near the top of career lists in more than a dozen different pitching categories.
Entering the current campaign he stood first in seasons played (25), games pitched (674), games lost (223, now 230), games started (468), innings pitched (3,637.2), batters faced (15,946), runs allowed (2,056), earned runs surrendered (1,813), hits allowed (4,035), doubles allowed (656), triples allowed (99), home runs yielded (440), walks given up (1,234), sacrifice bunts allowed (178), and sacrifice flies allowed (90).
He also ranked third on the career lists for victories (223, now 230) and intentional walks (87); he was fourth in complete games (182), and fifth in strikeouts (2,072). Yanes is the only Cuban Leaguer to lose more than 200 contests and one of only six to post 200-plus victories.
Cuban League 200-Game Winners (# active pitchers)
#Pedro Luis Lazo (Pinar del Río) 245-130 (19 seasons, through 2009)
Jorge Luis Valdés (Henequeneros) 234-166 (20 seasons)
#Carlos Yanes (Isla de la Juventud) 230-230 (26 seasons, through 2009)
Braudilio Vinent (Santiago de Cuba) 221-167 (20 seasons)
Lázaro de la Torre (Industriales) 208-139 (20 seasons)
Rogelio García (Pinar del Río) 202-100 (16 seasons)
Early next winter Carlos Yanes will undoubtedly surpass Jorge Luis Valdés (Cuba's only southpaw 200-game winner) for second slot on the all-time list, needing only five more victories to best the former Matanzas star (who accomplished his own total in a mere two decades of labor). Already 33 losses ahead of the closest challenger in that department (his former Isla teammate Gervasio Miguel Govin, with 197 amassed in 22 seasons), and with no active hurler currently owning more than 130 defeats (Lazo), Yanes is also on pace to build a truly insurmountable lead in that more dubious career category.
Cuban League All-Time Leaders in Games Lost (# active pitchers)
#Carlos Yanes (Isla de la Juventud) 230-230 (26 seasons, through 2009)
Gervasio Miguel Govín (Isla de la Juventud) 138-197 (22 seasons)
José Miguel Baez (Las Tunas) 143-172 (20 seasons)
Braudilio Vinet (Santiago de Cuba) 221-167 (20 seasons)
Jorge Luis Valdés (Henequeneros) 234-166 (20 seasons)
Adiel Palma (Cienfuegos) 139-165 (21 seasons, retired in 2008)
With Lazo's career now winding down at age 35, it is likely that the celebrated Pinar ace may have only a season or two remaining in his own storied tenure. Given that prospect, plus Yanes's announced decision to hang on for five more campaigns, it is not an unreasonable proposition that the indestructible Isla pitching machine might end up as both the winningest and losingest pitcher in Cuban League annals, while at the same time having posted more failures than successes.
This would not only be a feat equaling the odd case of much celebrated Cy Young in the majors (Young's totals of 511 and 316 are the long-standing big league records), but also one that would outdo the obscure Jack Powell (career 245-254 record). And how many pitchers in any league have been everyday starters for 30 consecutive seasons (or even for 26, where Carlos Yanes now stands)? This is but one further example that not all of baseball's most remarkable feats have been performed in the restricted universe that represents the North American "major" leagues.
*To read more from Cuban baseball expert Peter C. Bjarkman visit: www.bjarkman.com For Bjarkman's Havana Times World Baseball Classic Diary see: http://havanatimes.org/?p=5062