Santiago Feliu Concert at Pabellon Cuba
Irina Echarry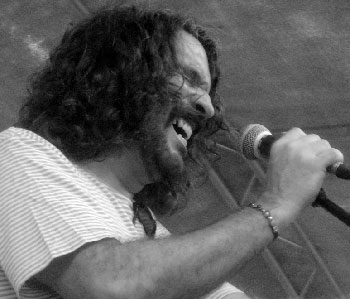 HAVANA TIMES — The hot afternoon sun was beating down on me and draining me of all energy as I arrived in Vedado a week ago Thursday. The thought that I'd be unable to get to the Pabellon Cuba facility in time had crossed my mind minutes before.
Everything worked out in the end, however. At six o'clock sharp, Santiago Feliu, accompanied by Roberto Carcases (piano), Oliver Valdes (drums), Roberto Luis (guitar) and Yandier Cruz (bass guitar), took the stage to talk to us about love, death, the meaning of life, the waning of love and war.
I'd been worried that Feliu's followers would fill the place to the bursting point and the concert would become a rather unpleasant experience. As it turned out, not that many people attended the concert. This is perhaps because news of the concert was spread by word of mouth alone.
To the surprise of many, we were able to enjoy Feliu's songs (some new, some classic) in an atmosphere of peace and good vibes.
It was a treat to again hear the lyrics of legendary 80s and 90s songs such as La illusion ("The Illusion"), Rocanrolito de Fulanito ("So-and-So's Rock n' Roll"), Ansias del alba ("Longing for the Dawn") and Alto al fuego ("Ceasefire"). The audience sang nearly all of these numbers in unison and some little girls even improvised a dance number.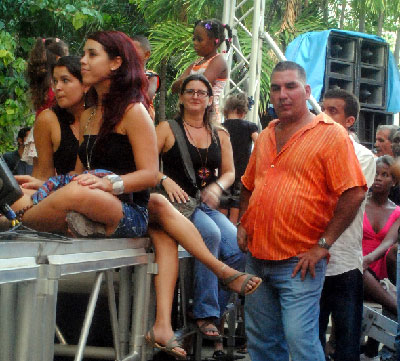 In addition to the artist, the best thing about the concert was how uninhibited it was: there was a dog playing nearby, people sitting on the edge of the stage and stairwell, people singing Para Barbara ("For Barbara") or avidly listening to Feliu's biographical piece Sin tanta soledad ("Without Such Loneliness").
I am perfect, I stutter
I'm left-handed, I'm lazy,
I am in the right,
I am rock n' roll's folk music,
a simple petite bourgeois,
a quiet young man,
a hollow sadness in my pocket,
a meeting between the devil and God.
And loneliness,
with more loneliness,
without so much loneliness.
I still don't understand why so few people showed up, as this was an opportunity to enjoy Feliu's music without having to pay the 100-Cuban-peso admission at Havana's Cafe Cantante, where the artist performs every Friday.

Click on the thumbnails below to view all the photos in this gallery. On your PC or laptop, you can use the directional arrows on the keyboard to move within the gallery. On cell phones use the keys on the screen.