This Week in Palestine (Oct. 5-11)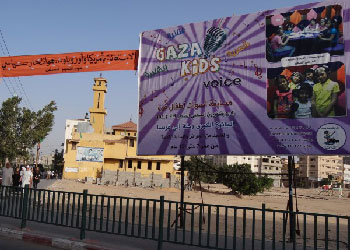 HAVANA TIMES — Welcome to this Week in Palestine, a service of the International Middle East Media Center, www.imemc.org, for October 5th to the 11th, 2013.
The Palestinian Authority voiced concerns this week due to Israeli reluctance of releasing political prisoners, while Israeli army attacks targeting Palestinians communities leave a number of injured civilians. These stories and more follow.
The Nonviolence Report
Let's begin our weekly report as usual with the nonviolent activities organized in the West Bank. Seven arrested, many were treated for the effects of tear gas inhalation when Israeli soldiers attacked on the weekly protests organized at the villages of al Nabi Saleh, Bil'in, Nil'in, central West Bank and Kufer Qadum in northern West Bank as well as Al Ma'ssara village in southern West Bank.
Israeli troops arrested on Friday four international supporters and three local activists as they attacked the weekly anti wall and settlements protest at the village of Al Ma'ssara.
Troops attacked the protest before leaving the village and used rifle buts and batons to force people back into the village.
At the village of al Nabi Saleh, Israeli soldiers used tear gas to suppress the villagers and their supporters before even leaving the village.
Later troops invaded the village and fired tear gas bombs into residents' homes. Many residents were treated for the effects of tear gas inhalation.
In the nearby villages of Bil'in and Ni'lin villagers and their supporters, managed to reach the Israeli wall built on local farmers lands.
Israeli troops stationed there fired tear gas and rubber-coated steel bullets at the unarmed protesters. As a result many civilians were treated for the effects of tear gas inhalation.
Elsewhere, Israeli soldiers surrounded the village of Kufer Qadum and did not allow journalists and international supporters to enter the village to take part of the weekly protest there.
Moreover troops attacked the protest before leaving the village and fired tear gas at residents. Many were treated for the effects of tear gas inhalation.
The Political Report
Palestinian President Mahmoud Abbas warns against Israeli reluctance regarding release of Palestinian prisoners. Meanwhile, unilateral Israeli actions across the occupied Arab city of East Jerusalem, continue.
Abbas says he would be willing to head back for United Nations if Israeli unilateral actions continue. Abbas stated that Israel has not yet committed to what had been agreed upon for underway peace talks between the Palestinian Authority.
He maintained that if Israel will not release Palestinian prisoners, detained prior to the Oslo Accord of 1993, he would consider going to United Nations for discussions. He also denounced Israeli unilateral actions in East Jerusalem, which the UN has recognized as part of future Palestinian state.
Palestinians and Israelis agreed, under patronage of United States, to resume their stalled peace talks after Israel agreed to release those prisoners.
Israel still holds more than 4500 Palestinian prisoners, including those held prior to the Oslo Agreement of 1993.
Also, Israel continues colonial settlement activities on the occupied East Jerusalem, something that is against international law and United Nations legitimacy resolutions.
In a related news, Arab states league warned the Republic of Cheique against the latter's intention to transfer the Cheique embassy from Tel-Aviv to the occupied Palestinian city of East Jerusalem.
On the intra-Palestinian situation, Khaled Mash'al, political leader of the Islamist Hamas party, called from exile for a unified national Palestinian position over Israel's actions in East Jerusalem, mainly attacks by armed Israeli settlers on the Palestinian population. Mash'al called on the rival Fatah party for discussions on the issue.
President Abbas of the Fatah party earlier said that there is no way Palestinians would further go into split and that he is seeking conciliation with Hamas, on basis of new democratic elections.
Hamas and Fatah have split since 2007, when Hamas took over Gaza .
Hamas won 2006's elections but since then , international community and Israel have boycotted Hamas unless it renounces violence , accepts past-signed agreements with Israel and recognizes Israel's right to exist.
The West Bank and Gaza Report
This week, Israeli forces conducted at least 51 military invasions into Palestinian communities in the West Bank and Gaza. During these attacks, Israeli forces injured at least five civilians and kidnapped at least 41 others, including 6 children. IMEMC's Salam Qumsiy with the details:
The Israeli army invasions and kidnappings in the West Bank this week were focused in the cities of Jenin and Nablus, northern West Bank, as well as Bethlehem and Hebron, southern west Bank.
On Saturday, a Palestinian civilian was wounded when Israeli forces invaded the central West Bank town of al-Bireh. Some boys gathered and threw stones and empty bottles at Israeli soldiers who fired rubber-coated metal bullets, sound bombs and tear gas canisters in response.
As a result, the civilian was wounded by a bullet to the back of his head and others suffered tear gas inhalation.
On Tuesday, a Palestinian child was hit by a sound bomb in the hand when Israeli troops invaded Beit Dajan village, east of Nablus city. Israeli soldiers stationed around the village's school and fired sound bombs into the school yards.
Also on Tuesday another Palestinian civilian was hit by a gas canister in the left leg when Israeli forces invaded the city of Jenin, and clashed with local youth.
Later in the Week, Israeli news sources reported that an Israeli reserve officer settler was killed, on Friday, outside his home in the Brosh Habika illegal Israeli settlement in the occupied Jordan Valley.
According to the report, the attacker hit the officer with an axe, and struck the man's wife moderately injuring her; the wife managed to escape and contacted the police.
In response the Israeli army closed all roads leading in or out of the Jordan valley and stopped and searched hundreds of Palestinian cars. Israeli army sources told media that the attack maybe criminally motivated.
Elsewhere this week, Israeli forces stationed along the northern Israeli borders with the Gaza strip opened fire on Monday and Tuesday targeting Palestinian farmers and workers. As a result of those attacks, the farmers fled fearing of being wounded.
Conclusion
And that's all for today from This Week in Palestine. This was the Weekly report for October 5th to the 11th, 2013 from the Occupied Palestinian Territories. For more news and updates please visit our website at www.imemc.org. This week's report has been brought to you by George Rishmawi and me, Ghassan Bannoura.