US Minor Leaguers Beat Cuba 5-3
By Circles Robinson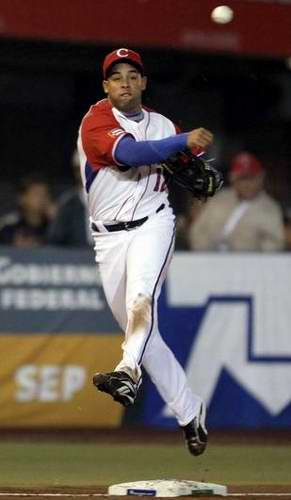 HAVANA TIMES, Sept. 24 – Cuba suffered its second loss Thursday in the 2009 World Cup Baseball tournament, at the hands of the USA -its eternal rival- by a score of 5-3.  The two teams will most likely meet again in the finals on Sunday.
The US, using a team of mainly AAA Major League prospects, got on the scoreboard early with a run in the bottom of the first on a two-out double by Ike Davis (RF) that drove in shortstop Plouffe, who had reached first on an error by Cuba's second baseman Hector Olivera.
Then in the third the US threatened to bust open the game scoring three times, with all the base runners coming with two outs.  First Davis drew a walk and then Terry Tiffee (DH) followed with a homer to left.  Right-hander Yadier Pedroso came on to relieve for left-handed starter Michael Folch and immediately got into further trouble.
Pedroso walked Pedro Alvarez (3B), gave up a single to Josh Kroeger (LF) and another hit by Buck Coats (CF) that scored Alvarez.  Daniel Descalso (2B) popped out to end the inning with the score 4-0.
At that point in the game Cuba's bats were silent; in fact heading into the seventh the strong lineup had managed only one hit against three US pitchers.  The only good sign at that point was that Yadier Pedroso had settled down after his rocky first relief inning and held the US in check to not let the game get further out of reach.
In the top of the seventh, Cuba's bats finally came alive, sparked by a lead off homer by Michel Enriquez against US pitcher B.J. Rosenberg.  Frederich Cepeda then drew a walk, Alfredo Despaigne singled, and Yulieski Gourriel doubled down the left field line to score Cepeda and put the game at 4-2.  Yoenis Cespedes then drew a walk to load the bases with still no outs.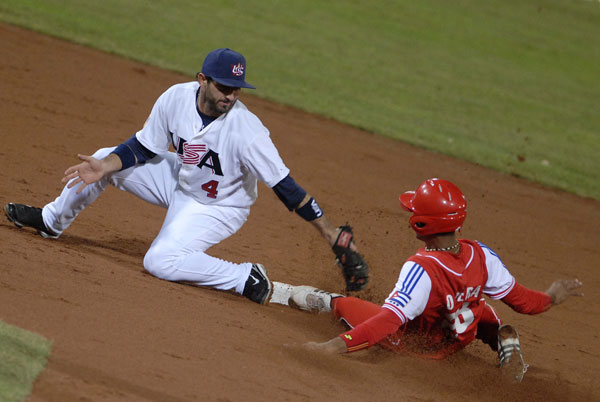 Cedrick Bowers was then brought in by the US to replace Rosenberg.  Cuba reacted by bringing in Yosvany Peraza to pinch hit for Ariel Borrero.  Peraza quickly grounded into a double play with Despaigne scoring Cuba's third run on the play.  Ehren Wasserman was then brought in to pitch for Bowers and Cuba called up Jose Abreu to bat for Ariel Pestano.  Abreu flied out to end the inning.
Pedroso continued to dominate the US hitters and retired the side with only a walk to Justin Smoak (1B) to close the seventh.  Then, in the top of the eighth, Cuba had another golden opportunity.
With Wasserman still pitching, Hector Olivera slapped a one out infield hit.  Michel Enriquez then reached first and Olivera second on an error by shortstop Plouffe.  Up stepped Cuba's Mr. Clutch, Frederich Cepeda, with two on and one out.  But Cepeda, who has not had a good tournament, grounded into a double play in what would be Cuba's last real chance.
Pedroso continued in the eighth but ran into trouble and gave up a run on a single by Kroeger, a sacrifice and another single by lead off hitter Coats to give the US an insurance run.  Reliever Vladimir Garcia was brought in by Esteban Lombillo, giving up a hit and a walk before finishing the inning without further damage.
Despaigne, Gourriel and Cespedes went down one-two-three in the ninth for Cuba to end the game.
Maikel Folch, who went 2.2 innings allowing three runs, two earned, took the loss for Cuba and Lucas Harrell, who pitched scoreless ball from the 2nd through 5th innings, got the win for the US.
Cuba was out hit eight to five and had two errors (by Olivera and Pedroso) to one from the US (Plouffe).
Canada Comes Back to Defeat the Netherlands
In the other World Cup games on Thursday, Canada erased a 5-2 deficit in the fifth to beat the Netherlands 11-5.  Puerto Rico had an easy time with Chinese Taipei 8-2 and Venezuela came alive to beat Australia 9-4.
Group 1 is now led by Cuba with a 4-2 record (11-2 overall) followed by Puerto Rico and The Netherlands with identical 3-3 records and Venezuela 1-5.
Group 2 is led by the US 6-0 (12-1 overall) followed by Canada 4-2, Australia 2-4 and Chinese Taipei 1-5.
The final round three games are on Friday with Cuba playing Canada, USA against The Netherlands, Puerto Rico meets Australia and Venezuela plays Chinese Taipei.
The winner of each group with meet in the finals in a day game on Sunday.