Venezuela, Endless Lines for Basic Products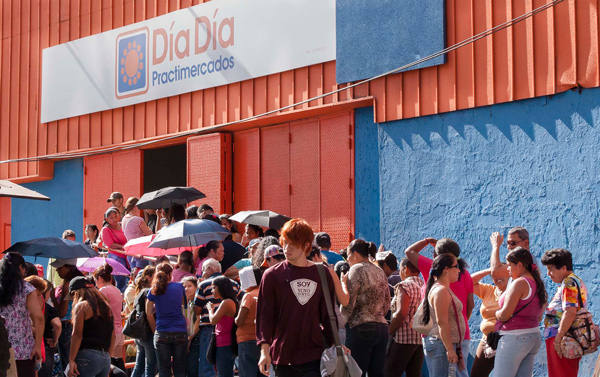 Photo Feature by Caridad
HAVANA TIMES — As I noted on another occasion, Caracas is divided mainly into East and West. Also at that time made it clear that the West is the least favored area of the Capital District in all aspects.
So I preferred to take pictures on Sunday of supermarkets in the less pretty side of Caracas, the side where, presumably, the majority are Chavistas; the side where, presumably, people wouldn't be swayed by false alarms of a national strike, much less join a call from the opposition to buy up everything you find in supermarkets. The West is the side where, presumably, there is less money to go shopping for food or other items that are not needed immediately.
I found people with more than five hours in a line; piled in the sun under umbrellas or pieces of cardboard, weary of waiting. National Guard troops and Police were on hand to avoid "irregular situations". People who "chose" to spend their Sunday browning in the middle of the street. Pregnant women or their children, waiting to enter a Pharmacy to buy diapers before they sell out, as happened to them in a line before.
And I mention Pharmacy, although the lines in them are primarily for toiletries and baby, because they also reflect shortages of many medications.
A lady with a baseball bat in hand – although not intending to use it against her husband or anyone in the queue or the market – asked me to publish the photos, to portray everything so outside Venezuela people can see what the government is forcing them to do.
Click on the thumbnails below to view all the photos in this gallery. On your PC or laptop, you can use the directional arrows on the keyboard to move within the gallery. On cell phones use the keys on the screen.