Which Currency Should I Take on My Trip to Cuba?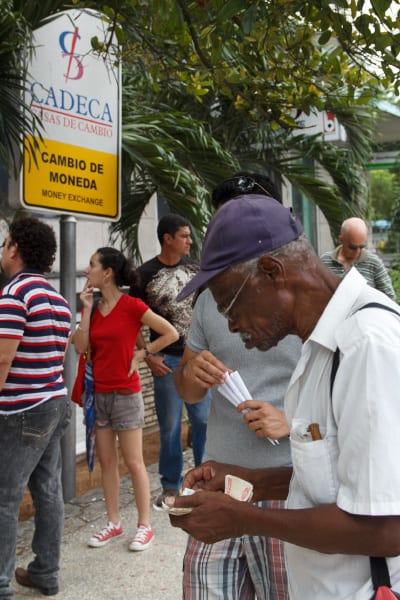 HAVANA TIMES – Would it be wiser to exchange US Dollars to another currency prior to traveling to Cuba or should I just exchange US Dollars to CUC (Convertible Cuban Pesos) when arriving in Havana?
Answer: It will be to your advantage to take Canadian dollars, Euros, or Swiss Francs instead of USD. Whether it is also advantageous or not to take Mexican pesos will depend on the exchange rate you get.
After the 10% penalty (surcharge) is subtracted and the commission (just under 3%), the USD is exchanged at a fraction over 0.87 cents CUC.
Here is the site for the latest exchange rates at the CADECA money exchange.
Taken from the official CADECA website on February 19, 2019
Fecha/Date: 19/02/2019
Las monedas EUR, GBP y USD se multiplican en la compra./The EUR, GBP and USD currencies multiply in the purchase.
En Casas de Cambio/In Exchange Houses:
Moneda/
Compra/
Venta/
Currency
Buy
Sell
CAD
1.36093
1.28808
CHF
1.03264
0.97737
CUC
1.00000
1.00000
CUP
25.00000
24.00000
EUR
1.10014
1.16236
GBP
1.25720
1.32830
JPY
113.72683
107.64031
MXN
19.79414
18.73361
USD
0.97250
1.02750
En hoteles, puertos y aeropuertos/In hotels, ports and aiports:
Moneda/
Compra/
Venta/
Currency
Buy
Sell
CAD
1.37150
1.27876
CHF
1.04067
0.97029
CUC
1.00000
1.00000
CUP
25.00000
24.00000
EUR
1.09166
1.17084
GBP
1.24750
1.33800
JPY
114.61187
106.85930
MXN
19.94813
18.59773
USD
0.96500
1.03500
Below is a list of currencies that can be officially exchanged in Cuba:
Country and acronyms
CAD – Canadian dollar
GBP – British Pound
MXN – Mexican Peso
CHF – Swiss Franc
EUR – Euro
DKK – Danish Krone
SEK – Swedish Krona
JPY – Japanese Yen
USD – US Dollar (a 10% tax is applied before the exchange)
CUC – Cuban Convertible Peso
Should I change my money at the airport?
Question: How do I ensure i don't get cheated when changing money.
Answer: The exchange rate is slightly less at the airport, ports and hotels. You can see the rates above. These are the only places that give a different (lower) rate. Therefore, to get the best rate stick to the Cadeca money exchange offices and avoid changing money at the hotel. At the the airport Cadeca we recommend you exchange a small amount so you can take a taxi and get to where you are staying in the city. Although the exchange rate difference from the airport Cadeca and ones in the city is less than 1%. The difference is similar for Euro or other currencies.