By Irina Echarry, photos: Caridad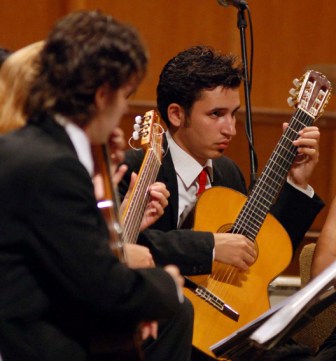 HAVANA TIMES, May 23 – Cubadisco is an annual event created to stimulate the production and quality of Cuban recordings.  Several categories are awarded, performances are given, discussions are carried out, and homage is paid to prominent figures of the music world.
Last Thursday at the Amadeo Roldan Theater in Havana, it was the guitar's turn to celebrate one of its most fervent lovers: maestro Leo Brouwer, considered as one of the greatest musical creators in the contemporary world. He is, in essence, a guide of the Cuban and universal guitar, and the winner of this year's National Cinema Prize for his soundtracks.
Also remembered at the concert were the 50 years since the founding of the Casa de las Americas cultural institution, whose doors have remained open to all Latin Americans and all types of cultural expressions, including the Havana International Guitar Competition and Festival.
The guests arrived along with noted instrumentalists of the tres, the cuartro and the lute, which allowed us to appreciate the multifaceted tonal range that can be achieved by this family of string instruments.
The orchestra Sonantas Habaneras opened the evening with a brilliant version of the Beatles Penny Lane, written by Brouwer. Starting from that moment no audience voices were heard – only the sound of strings and applause.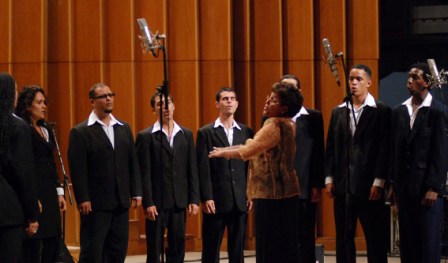 Included among the musicians were noted guitarists Rosa Matos and Yalit Gonzalez, professor and instrumentalist Efrain Amador, the duet Díptico 16 from Puerto Rico (with guitarist Jose Antonio Lopez, the director of the Guitar Center at the University of Puerto Rico) and Edwin Colon, a cuatro player and this year's winner of the Cubadisco International Prize for his latest recording Reafirmación.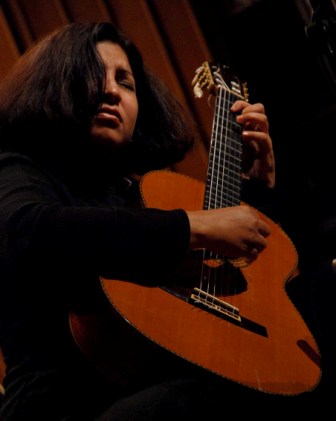 Also appearing were "Pancho Amat y su cabildo del Son"; the Maykel Quartet; the children's music group Estrellitas and the group Vocal Leo.
Works from Brouwer's repertoire were interpreted, as were several by Latin American giants such as Astor Piazzolla, Agustín Barrios, Abelardo Barroso and Noel Nicola.
The concert demonstrated the power of Cuban guitar movement. The players converged on the scene for two and a half hours, from the very youngest to the most experienced with accomplished works.  It was without a doubt a fiesta of the guitar, despite the lack of the air-conditioning and a scant public.
Click on the thumbnails to see all the photos in this gallery