Flag Bearers from Rione Bianco Treat Old Havana to Traditional Performance
Rogelio Manuel Díaz Moreno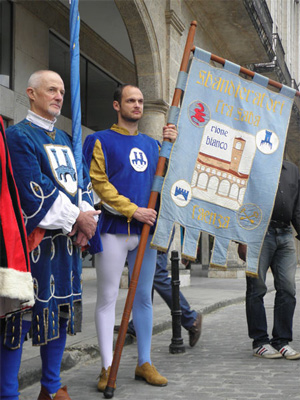 HAVANA TIMES — Old Havana residents and visitors are treated to agreeable surprises from time to time.
I'd gone to the launching of a book that I may write about on another occasion, at the entrance to the Palacio de los Capitanes Generales. The sound of trumpets and drums reached me from the other end of the square. At first, I thought it was a performance by the stilt-walkers, a group of artists that enliven the area often. When I approached the place, however, I came across a different performance altogether.
A group of athletic young men were performing a series of picturesque maneuvers over the pavement, in front of the Ruben M. Villena library. The pale faces and medieval uniforms worn by the artists spoke of a distinctively non-Cuban lineage. They held large flags which they waved about and hurled skyward with gymnastic maneuvers. There was an Italian, a Cuban and European heraldic flag. The rest of the procession, standing around their performing comrades, played music and bore another flag (the company banner, I assumed).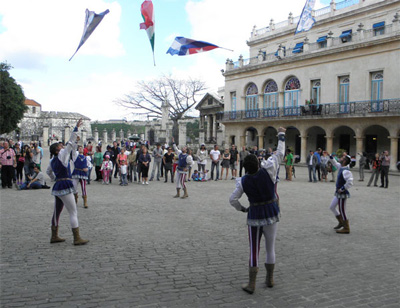 After the flag maneuvers had been concluded, the company formed a procession and advanced down Obispo street. I followed them some 150 meters, until they turned a corner and disappeared down Mercaderes, surrounded by an enthusiastic Cuban and international audience.
In the days that followed, I used the information I had to track down the company on the Internet and found out the following: the city of Faenza is a regular venue for the Torneo degli Alfieri Bandieranti di Faenza festival. The city's districts are represented by a group who perform this popular art, which combines dance, design, set décor and the traditions surrounding military standards. The sbandieratori companies offer this beautiful performance there and in other regions of Italy. Our city had the pleasure of welcoming a group from Rione Bianco. If I haven't done a very good job of explaining the tradition, it's because I read up on it on a Wikipedia entry in Italian, and I don't know the language.
At any rate, below are some pictures I took during this agreeable experience which I would like to share with readers and friends.
Click on the thumbnails below to view all the photos in this gallery. On your PC or laptop, you can use the directional arrows on the keyboard to move within the gallery. On cell phones use the keys on the screen.