By Jose Antonio Michelena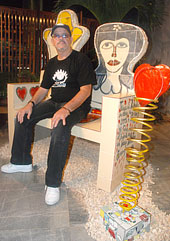 HAVANA TIMES, Aug. 25 (IPS) – Fortunately for Havana, the usual infringements against the natural or built environment and the poor use of urban spaces are counterpoised by a force of greater intelligence, a positive energy that is rebuilding harmony on the unquestionable cornerstones of beauty.
Around the time when the (still present) crisis reared its head in the 1990s, a series of community projects inspired and coordinated by artists started up in the capital.
The Muraleando project in Lawton saw many of the buildings close to the neighborhood's Porvenir Ave. receive facelifts of beautiful murals; while in Alamar the Omni-Zona Francaproject altered the cityscape with sculptures, works of graffiti and other artistic works.
Both projects were recognized by the organizers and curators of the Havana Biennale even though the work of each extends well beyond mere paintings, sculptures, carvings, and installation and performance pieces.
Both initiatives have some affinity with the work of Jose Rodriguez Fuster whose community project also grew out of the 1990s, although with marked differences.
Muraleando was undertaken, in general, by professional painters, Omni-Zona Franca was created by poets, sculptors, painters, musicians and theater artists linked to the local cultural center.  Both were organized and carried out by groups, while in the case of Fuster the work is more a personal project that has grown to involve others from inside and outside the community.
Painter and ceramic artist Jose Rodriguez Fuster's work was already well-known by the time he began his expansive community project. Born in Caibarien, a seaside village in Villa Clara, Fuster moved in 1975 to another seaside village, Jaimanitas, with 18,000 inhabitants and slightly northwest of Havana.
A Cosmos Built by Jose Rodriguez Fuster
In Jamanitas, Fuster threw his anchor and planted his roots, opening a workshop and feverishly building his artistic identity: a profoundly mixed uniqueness with appropriations from diverse artists, for the most part Cuban.
National folklore, mythology, legends, religious syncretism, the world of plants and animals, humor, irreverence, mischievousness, lack of inhibition, and wild abandonment all mixed together on a neo-baroque palette, sums up the essence of Fuster.  In his studio-workshop in Jamanitas, he has built his cosmos combining all of these elements.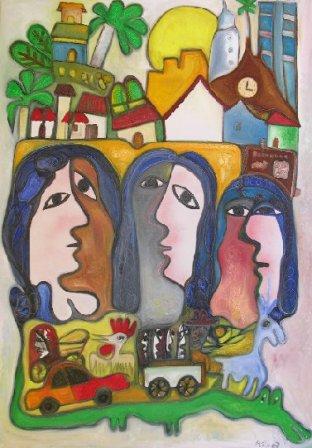 Fuster has said that some of his greatest inspirations have sprung from the flora and fauna of the Sierra Maestra [of eastern Cuba] he admired as a youngster, and from the first time he saw the work of Constantin Brancusi in 1974.
Impressed by Brancusi's The Gate of the Kiss and The Endless Column at the entrance of the city of Targu-Jiu, Fuster promised to some day build a tribute to the Romanian sculptor.  With the construction of a sculpted door in 1994 at the entrance of his house in Jaimanitas, Fuster began to fulfill his dream, his promise.
The visual impact of the doorway together with its semantic plurality is shocking.  Designed around the shape of the entrance to a medieval castle, it is crowned with battlements and bell towers.  Its mosaic supports are covered in figures from the Fusterian universe.
In the entrance the artist has amassed a collection of his ceramic works as if it were a giant public catalogue placed on the street for all to see, functioning as a gallery, prelude and invitation card.
At once it is an installation, marketing and performance work.  A comic strip or book cover, but also a seductive narrative draws you in, inviting you to keep reading.  Above all it is the work of a seasoned expert who, a few meters to the right, invites you to a game of chess, and then, with the dazzle of a king, proclaims his game to be the best.
Just like Alice's rabbit, Fuster's doorway is an invitation, a provocation to enter a world of magic.
Neighbors Homes are Part of the Project
But the world of Fuster does not only lie behind the door to the artist's house and workshop; it also extends outside.  Enveloping the neighboring buildings, homes, and several public institutions, we find further signs of his project.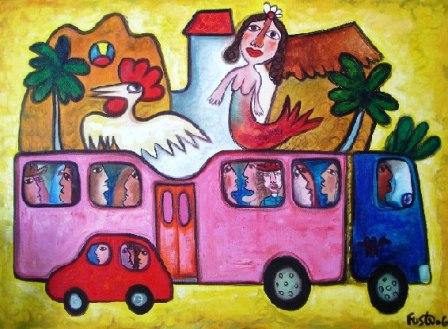 One of Fuster's neighbor's house is called Maria Bonita, another, Princesa Diana; one with a Fuster roof the other with a decorated facade.  At the family doctor's office, Giselle and Miriam are accompanied by roosters, suns and palm trees born in the Fuster workshop.  The local maternity center is awash in the works and signatures of Fuster, Zaida del Río, Agustín Bejarano and other Cuban painters, and a unicorn grazes in a nearby park.
Architect Raul Navarro once said of Fuster's Project, "The realization of artistic-environmental activities in the heart of a certain community is an extremely important factor in raising the quality of life of its inhabitants."
These artistic-environmental activities are made to last and are linked with symbols of the identity created and recognized by the residents creating a cultural act that, in its expression of public art, reaffirms its role as social activator.
"The Fuster Studio-Workshop Community Project has gained a recognized prestige throughout the costal community of the town of Jaimanitas through its urban and architectural developments.  By transforming the facades and entrances of homes and public institutions, this project has contributed to the esthetic-environmental development of this town, an act without precedence in this country," Raul Navarro writes in an article posted on Fuster's website.
The figures that surround both sides of the entrance to Fuster's home and workshop continue to multiply.  Evocations and tributes to Pablo Neruda, Alejo Carpentier, Onelio Jorge Cardoso, and Ernest Hemingway greet the visitor, while close by the patron saint of Cuba, La Caridad del Cobre, blesses the new arrivals. Above, the syncretism saints Santa Bárbara-Changó and San Lázaro-Babalú Ayé guard the upper heights.
Public Art and the Worlds Largest Ceramic Mural
In every nook and cranny roosters, suns, palm trees, horses, fishes, flowers, guitars and farmers are bursting with color and joy, transmitting a unique philosophy and way to look at life.
As Fuster's creations continue to expand throughout Jaimanitas, the inside-outside and artist-community dialogue will take on new dimensions favored by the artist's ability to integrate genuine elements of Cuban identity.
The plurality of styles and figures drawn upon in this baroque artwork are openly celebrated. One can appreciate Mariano, Abela, Víctor Manuel, Feijóo, Amelia, Eiriz and Portocarrero, but also present are Picasso, Gaudí, Brancusi and postmodernism artists.  A trip to Jamanitas is like a trip to the Fine Arts Museum.
While Fuster is not the only Cuban artist to offer public art, there is no other that comes close to the sheer magnitude of his endeavor.  The scope of his community project has brought him national and international acclaim, and his house-studio-gallery is constantly besieged by people from all over the world.
But instead of being bothered by the constant intrusions, Fuster has taken advantage of it.  In stead of Brancusi's 30-meter high sculpture, Fuster is working on the Largest Ceramic Mural in the World with the help of artists from all five continents.
The mural has really started to grow and, since Jaimanitas is only 11 km², at some point the mural will have to jut out of the seaside town -when a Leo takes hold of an idea there is no stopping him.  Anyways, Cuba is a big island.  Maybe someday the mural will reach Caibarien, where Fuster was born and from there who knows.