Los Papines Continue to Please
By IRINA ECHARRY, photos by CARIDAD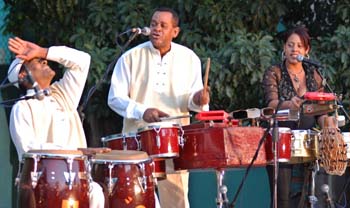 HAVANA TIMES, January 21-The Abreu family brings their rumba to the Casa de la Cultura in the Havana municipality of Plaza the third Sunday each month and everyone is invited with no charge.
I went last Sunday and Los Papines, comprised of Luis, Ricardo, Jesus, Luisito and Juliet Abreu managed to get everybody's shoulders and hips moving. The chorus of one of their songs said it all: Even the palm trees move with the wind and the earth shakes.
The audience knows that in other places you have to pay a lot to see these masters of Cuban percussion. The "family reunion" (as they like to call it) begins around 6:00 p.m.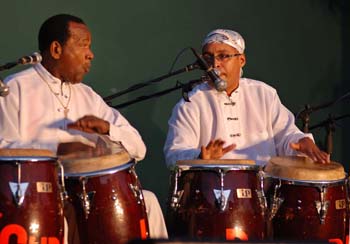 Anyone who wants to come is welcome be it to dance or simply enjoy the rhythm of the drums while the last rays of the sun shed a new light on the musicians.
Rum and beer is sold for those that need to break down inhibitions, as well as boxed rice and pork dinners and a peaceful atmosphere.
It's a shame that the recorded music played before Los Papines played was only Reggaeton, and that there isn't better lighting for when the sun goes down in the large, very clean patio, with a lack of chairs to receive the visitors.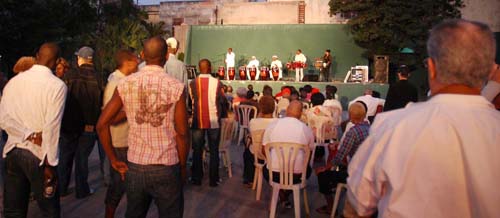 The MC noted that Los Papines are some of the country's best diplomats since with only five musicians they have gotten people dancing in 62 countries, transmitting the energy of a big band and showing the strength of Cuban music. Many years after the group formed, they continue to be a reference point of Afro-Cuban and Afro-Caribbean percussion.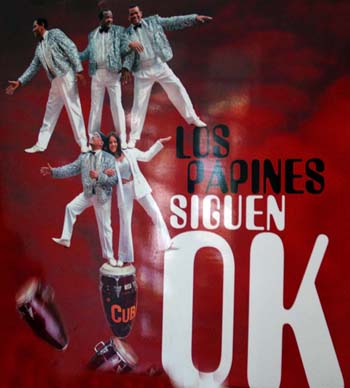 It's a unique opportunity that this famous group has a fixed space where anybody can enjoy their music, in an open-air atmosphere, and where they dialogue with the audience, dancing, playing rumba while they sing "vamo a goza" (Let the good times roll).
The next Los Papines peña is scheduled for March 21st.
To confirm the holding of the monthly peña you can call the following telephone numbers at the Plaza Cultural Center: 831-2023 and 833-8815.