Xiomis: A Cuban Rapper and MD
By Glenda Boza Ibarra (El Toque)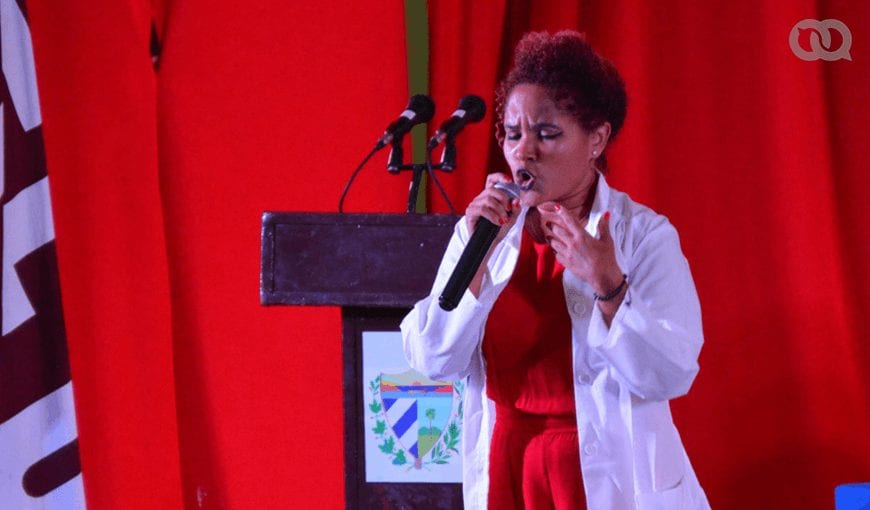 HAVANA TIMES – The Terry Theater in Cienfuegos is completely packed, everyone is standing up. Raul Paz is singing "Carnaval" and turns the microphone to the audience so they can repeat the chorus. At the foot of the stage, a single voice stands out among all the others. Raul Paz is taken aback. He calls her up to the stage. Xiomis sings the chorus with him, but this isn't her first or the most important "concert" she's ever had.
Xiomis L. Navarro Collado is a doctor and rapper. She imagined being the former growing up, but not the latter, although she started out like nearly every artist: as a child.
She used to write stories and poetry, she learned how to play the piano with private tutors and, after her mother passed away, she moved away from the arts. She changed activity and started playing soccer, to let go some of her rage maybe. She returned to the arts later because she could never shake it off.
Cultural centers, amateur festivals, solo artist on the 35th anniversary album by Ismaelillo. Bolero, salsa, romantic ballads… theater. They all formed part of her performances and her repertoire.
"I began taking composition seriously during the Sessions at the Velas Theater," she tells us. "Folk singers, writers, actors used to go there and they had an influence on me."
She entered the world of beatbox and Latin American hip-hop by chance, as a game almost, with her Chilean friend.
"During a New Year's party, we were singing and my friend Alen Amaro began to beatbox. We adapted our voices to each other and we sang all night. We liked it and formed the duet "D'Arezzo".
Xiomis recognizes that it was this experience that led her to have new concerns. She became interested in Latin American rap. She began to shape her own style with US R&B and the influence of French-Chilean rapper Ana Tijoux and Cuban rapper Danay Suarez.
She isn't afraid to admit that she knew very little or nothing about rap, hip-hop. Her stories include the time she flew under the radar because she didn't seem to be a "tough chick", or "look like a rapper". She is only 1.55m tall, 23 years old and she has chubby cheeks that seem to inflate because she always has a big smile on her face. She speaks quietly and doesn't really gesticulate.
"My first performance outside the province was in Havana, at the "Suena a hip-hop" night by El Profugo. I met several artists there who then invited me to other rap events and they slowly opened up many doors for me."
El potaje urbano in Colon, in Matanzas; Holguin; Artemisa; Santa Clara… Xiomis names all the places she has been invited to, all of the MCs, DJs and projects she has collaborated with or got to know about, without stopping. She smiles as she says every name.
"The 'Raperias de Mayo' were a litmus test for me," she remembers. "I had to perform after a cockfight and that really builds up the atmosphere. Just imagine, me and my songs afterwards and people began to split. Luckily, a girl in the audience began to dance and people became engaged again, they liked what I was doing. The next day, I "ate" the stage."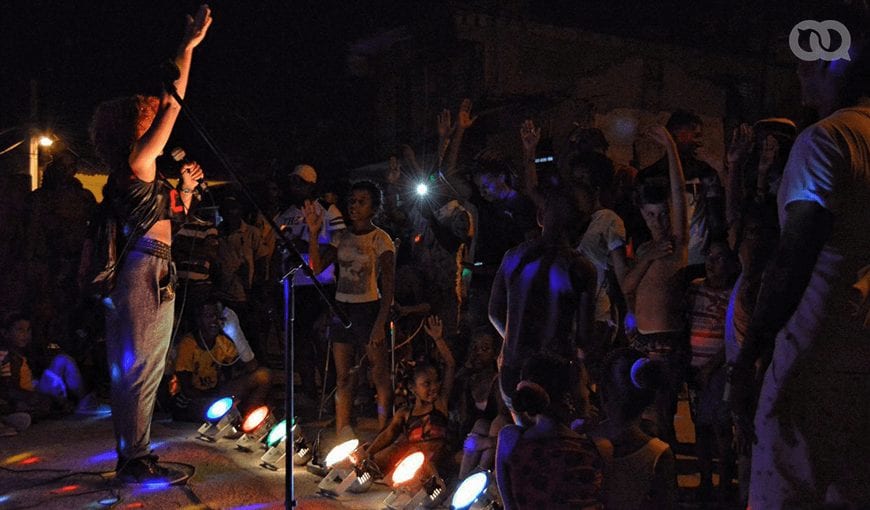 Feminist and Latin American Rap

Xiomis raps and sings about women and their struggle for equality. She might still have a lot to learn in terms of feminism, but there are recurring messages in her music to get rid of stigmas and preconceptions.
"Black women have suffered a double discrimination: because of their gender and because of the color of their skin," she says. "I want to express myself with my songs so that we can be entrepreneurs, successful, independent, fighters, free, so that we aren't the weak beings they have always called us."
During the Second Latin American Hip-Hop Summit, she was one of the youngest guests who attended. It was there that she learned, on March 8th this year, that International Women's Day isn't a day of celebration, but that women take to the streets in many countries to demand equality and the end of gender-based violence.
As well as the concerts she performed in Colombia, she got to know a lot of great people making hip-hop music; she got to take part in community events, workshops, radio programs and even add her voice to the event's theme song… All of this marked her as an artist.
"When I was invited to form part of the Latin American Hip-Hop Movement (MELAH), I knew that my adventure in this world was just beginning, that good things lie ahead."
HIPPIE LIMPIA
She didn't always rap. In order to find her style, she had to give up singing because when she was composing and singing for a cabaret, she felt like she didn't want to perform the same show over and over again.
"I didn't like what I was doing and that moment marked me professionally and spiritually," she says. "It was great financially-speaking, but money isn't everything. I told myself 'let it be God's will and let's hope the audience like it' and I began to compose."
Xiomis goes by the name "la hippie limpia" (the clean hippie). Her relaxed style, calm manner, her way of accepting life are very much like this counterculture and peaceful movement that was born in the US in the 1960s.
"I have always had an adventurous, peaceful spirit, based on love, like hippies," she explains. "And I added "limpia" (clean) because I am a solitary woman, with a very pure soul, always smiling to be free as much as I can."
She firmly believes in transparency, in dreamers, who enjoy themselves and try to be free. There are people who think that this is a naive attitude to have at her 23 years of age, but it's worked well for her up until now and it makes her happy.
So, she named her album "Somos hippies limpios" (We are Clean Hippies), which includes original tracks. She spoke with DJ Lapiz to be her producer and she received collaborations with several musicians from Cubalayo.
"You have to go to Havana to have opportunities," she admits. "However, I can't deny the fact that I have received a lot of support from cultural institutions in Cienfuegos and the Asociacion Hermanos Saiz, which I have been a member of since 2017."
One of Xiomis' ambitions is to rescue hip-hop in her native city. When the K'bola jam disappeared (where she began performing), the rap movement was delivered a death blow almost. However, there are logistics (mainly) that exceed her wishes and other fans of rap.
"We now have an alternative night on Thursdays at Casa de la Musica, where I perform with some guests." This is how they are slowly "seeping" rap back into the city. She collaborates with other groups such as Clandestinos and she goes wherever she is called, whenever she can.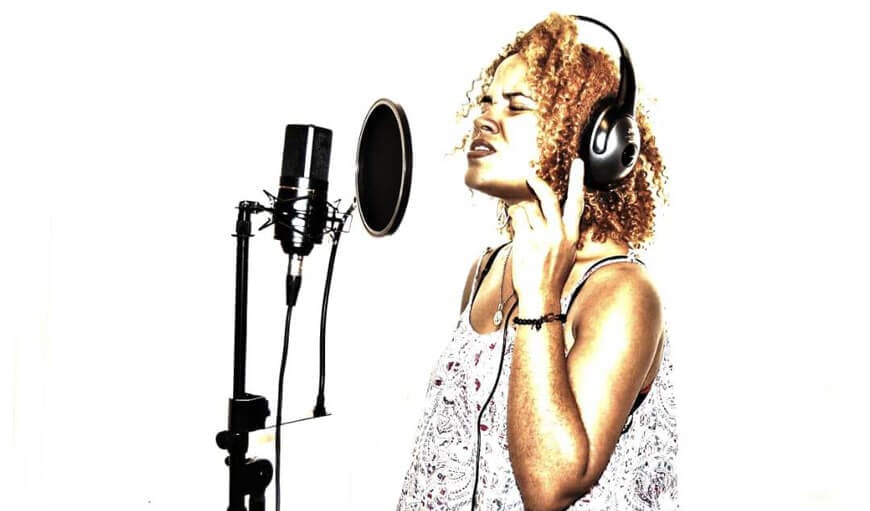 Woman with a Mike and Stethoscope

There's word that Xiomis finishes her doctors' shift and runs to the bus station. She barely has time to change the clothes she was in all night, in the hospital's emergency room. She sleeps the four hours it takes to get from Cienfuegos to Havana. She's tired but that's the only sleep she'll get.
People find it hard to believe that she is a doctor. Her musical style and dress "aren't fitting" of a health professional. But, Xiomis doesn't believe in stereotypes. She does whatever she wants and likes, even if these two professions seem to clash.
"Sometimes, I've been at events and several artists have approached me because they are worried about some symptom or illness," she says.
So, whenever she gets off the stage, she becomes the doctor. Xiomis says that she has written many of her songs when she was surrounded by Medicine books.
"I wrote Somos hippies limpios the day before my final Surgery exam in my 4th year," she remembers. "I think the adrenaline of studying gets my flow going," she jokes.
Her ability to take on medicine and art at the same time, was something her father taught her. "He told me that if I wanted to do something outside of studying, I'd have to make twice the effort."
She always wanted to be a doctor. She isn't afraid of doing many different things at the same time, no matter how hard it might seem, however it has reduced the shut-eye she gets.
"I make the most of my time when I have class and practicals," she says. "Up until now, one job hasn't jeopardized the other. I have had to turn down offers to perform because of school, but I always tell myself that there will be other opportunities, better ones I'm sure."
On the day of this interview, she only had 36 hours before her state exam. However, she prefers not to think what will happen now that she has graduated as a Doctor of Medicine and that her career as an MC has just taken off. If she manages to get onto a course in Venezuela, she even has the contacts she needs to make her music there.
Her friends insist that she will have to choose between the two at some point because it's humanly impossible to do both. She patiently answers, sure and happy: "I don't have to decide yet. I can do both at the same time for now: be a doctor and rapper."