Alfredo Fernandez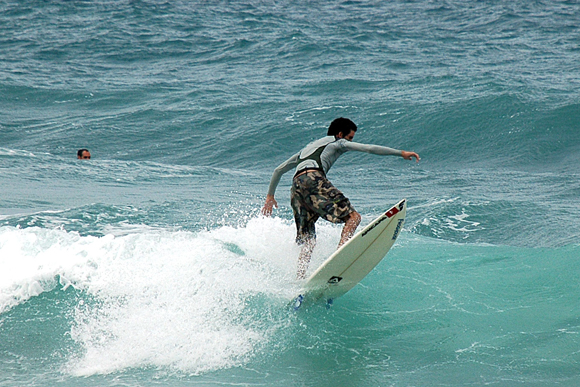 Not everyone in Havana is completely stressed out over the impending mass layoffs.  You can look, for example, at a narrow stretch of beach just off 12th Street where it runs into the Malecon, in the seaside Vedado neighborhood.  Here you'll find a group of bohemians who daily —from 9 a.m. till dark— get together for the sake of dominating the greatest possible number of waves under their boards.
These youngsters are faced with only one inconvenience: the police, who continually try to collar them to make them explain what they're doing on a wave at the very time when they should be on the job.
There, they spend the work-day in a society that up to now has practically but one single employer, the State, so naturally they feel surfing is a better alternative to being under employed under that same State.
Their infinite series of waves and tides has become captivating to other youths, who are increasingly adding themselves to the numbers of surfers, without them so much caring that the waves of Havana are not quite world class or that they have to surf almost atop reefs. They also turn their backs on the opinions of some people in society who speak of them as irresponsible types without futures.
The fact is that these dreamers are seduced by the overwhelming sensation produced when gliding over the water on a mere piece of fiberboard.  Obviously they find this experience more exhilarating than any other in the city.  Outside of the water, none of the emotions that these youths can embrace are comparable to the excitement of surfing.
On the other hand, there those like me —not even knowing how to swim— who live in a past perfect world that prevents us from having such a liberating experience as the free displacement experienced by the Havana surfers.