Message Received, Over and Out
Alfredo Fernandez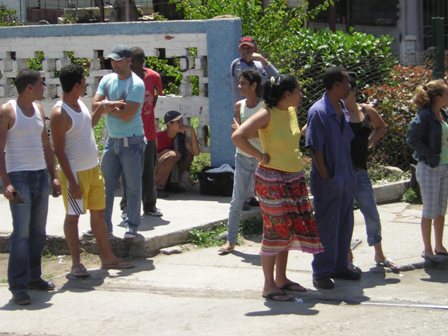 No, this is not the sign-off call from a Cuban police officer from their checkpoint, but the guarded voice of a generation that is seeing the culmination of an entire era of sterile sacrifice crowned always with the yearning for what's basic.
This is a question that has disabled generations of Cubans from building a balanced and healthy existence, ethically speaking.
Here in Cuba, lying and deceiving are the norms; all you have to do is go to any Cuban market to find someone trying to cheat you in the quality of the product sold or when returning your change, to cite only two cases out of the wide range of ploys used in swindling across the country these days.
The response of the youngest and most qualified sector in the nation (university graduates) in the face of so much mediocrity has been emigration.  Now, in continuing to look at the situation, I would have to ask: Are young Cubans are being irresponsible when they leave the country without having previously done something to change it?  But it would seem to be a lack of seriousness if I responded to such a tough question in such little space.
Presently the nation is not fostering improvement.  The high hopes and expectations created by Cuban President Raul Castro in his July 26, 2007 speech have vanished.
At that time the leader thrilled us all with the possibility that each Cuban might have breakfast that included a glass of milk.  At the same time he encouraged a campaign against the Marabou (a weed that blankets and strangles a good part of the Cuban countryside).  Likewise, he spoke to the need eliminating unnecessary prohibitions, which he saw as unworthy of Cuban socialism.
What is certain is that after almost three years since that particular speech, the black market continues to be the main supplier of milk on the island, the Marabou has not suffered a significant reduction, and —what's worse— the unnecessary prohibitions continue.
Some months ago, in a student protest around the horrendous food services for students at the Superior Institute of Art (ISA), the youths concluded their statement presented to the administration with a sentence that was obviously directed to the historical leaders of the revolution: "Thank you for the past, but the future is ours."
I would like to enrich the message of the young artists with a euphemism extracted from the language of the Cuban police force: "Message received, over and out."