The Shoring up of Old Havana Extends to Vedado
Alfredo Fernandez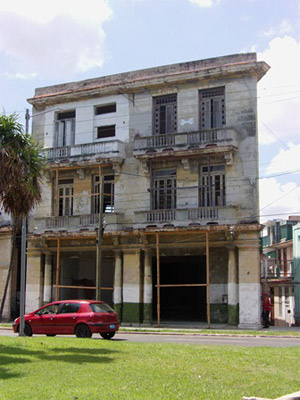 HAVANA TIMES — The shoring up of buildings for years while waiting some construction miracle to return them to their former glory was a procedure that was first put in use by the revolutionary government in the early 1970s in the Old Havana district.
The leaders of the Revolution were so busy constructing socialism that they barely had time to establish a culture in which they returned the elegance of a cornice or prevented the deterioration of a grand capital city.
It was not until 1994 that the Office of the Historian of the City became operational. This is an institution led by Eusebio Leal which has been operating as a legal entity almost independent of the Cuban government.
Since that time projects have been undertaken to restore numbers of buildings in Old Havana. Given the delay in making that decision and the immense size of this part of town, no more than a third of its structures have been restored.
Likewise, the buildings in the relatively modern Vedado district — which were in fact conceived by architects with a quality that continues to amaze anyone who passes through this area — for years lacked essential maintenance for any building.
This lack of maintenance has resulted in the existence of dozens of braced buildings in Vedado. The worst part of this is that almost all are occupied by residents waiting for a miracle, one that will allow them to move into a house in standard physical condition or, at least, to be away from their "home" when its collapse occurs – which apparently is the fate of  "buildings" in which they live.
The shoring up of numerous buildings shown here evidences itself as an inescapable reality, the arrival of bracing has come to the most important residential area of Havana: Vedado.

Click on the thumbnails below to view all the photos in this gallery. On your PC or laptop, you can use the directional arrows on the keyboard to move within the gallery. On cell phones use the keys on the screen.