Pirated Disks: A Ubiquitous Commodity
Alfredo Prieto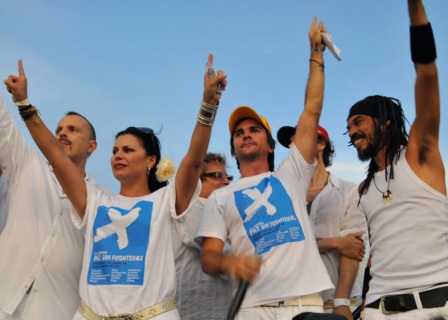 In Cuba, the origin of pirated movies and music goes back to the 90s, when these first entered the country in a somewhat coordinated manner.  VCR players took the place of the old Beta-format recorders, which could be found here since the 1980s.
Moving to the rhythm of new circumstances, various individuals -usually organized at the family level and with an initial capital investment for the purchase of tapes and other supplies- began movie rental services offering what are generally considered junk movies in the United States.
These films, typical of "mass culture," are basically an extension of what is shown on State-run television as "Saturday night movies."
During their age of splendor, these new small business enterprises -emerging from the initiative of civil society- wound up offering a considerable number of films.  They even employed bicycle messenger services and catalogs for their customers, who had to pay five Cuban pesos (about 25 cents USD) to rent a film for 24 hours – and a corresponding late fee.
Film premieres and exclusives were quoted at ten pesos, in this way marking a new step forward toward market culture on the island.  It turned out that people could rent movies (like "Titanic") even before they were available for commercial distribution in the United States.
This fact was explained by the practice of family or friends who would film the movie with a digital camera in some Miami cinema and then send it back to people in Cuba involved in this micro-business. These illegal rental services have now moved into films on DVD.
In the case of music, the import of CD burners also made possible the appearance of a system of CD sales in the street and even within State-run stores.  Employees in these shops sometimes offered this service in a "parallel" fashion, tolerated by the management.
Business as Usual Follows Raids
In this informal market,  whose counterparts exists in places like Tepito in Mexico or El Rastro in Madrid, the customer has the option of buying as much national music as foreign music.  This matter takes on interesting connotations because, contrary to international practice, piracy in Cuba is not classified as an offence in the criminal code.
Raids are occasionally carried out on those engaged in this activity, but they return to business as usual as soon as "the foot from above is removed."
The first advantage of this market is its access to music at a price appreciably less expensive than on the official market where a CD costs between 15 and 17 CUCs, while on the informal market it ranges between 2 and 3.
The second advantage is that the buyer has a varied stock of foreign music (which is not sold in Cuba's ARTEX music stores), and it goes for equally moderate prices.
These informal salespeople of music function like such people everywhere: they are democratizing agents of culture battling against oligopolistic prices. This situation has sparked the classic discussion on pirating, here led by Cuban musicians who have now entered the market and are seeing their incomes increasingly affected.
Likewise, it has created concerns among executives and specialized personnel on the damage this it's causing to the Cuban recording industry.  However, without specific legislation they don't seem to have a lot of room for action, though this problem has been raised in various public forums.
What Can you Find
As for selections, a list of those available on the racks in numerous doorways around town would reveal the presence of "salsero" groups like Van Van, Adalberto y su son, and Rojitas, accompanied by Ruben Blades, Tito Nieves, Gilberto Santa Rosa…  In addition, there's Latin pop: Juanes, Maná, Shakira, Paulina Rubio, Ricardo Arjona…
And -of course- reggaeton is abundant, especially Daddie Yankee and Don Omar.
From Miami the main dishes are Willy Chirino and Gloria Estefan (still Cuban music, wherever it's made); as well as the jokes of comedian Guillermo Alvarez Guedes, "the columnist of the conquest of Miami," but also an exponent of a Creole identity and down-to-earth quality that always steers away from bad taste and vulgarity.
From "Anglo" music, there's everything from contemporary rock to the musicians of yesteryears (groups like Kool the Gang, the Bee Gees, and Air Supply), as well as pop idols such as Madonna and Michael Jackson.
For fifty-year-olds, selections include Spanish rock from the 60s, which was broadcast on the radio in the days when US-British music was forbidden in Cuba and was only heard in alternative circles and teen parties.
Who doubts it, this commodity -like the Holy Ghost- appears any and everywhere.