Lakes & Volcanoes Chronicles (Part I)*
Armando Chaguaceda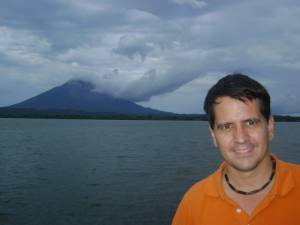 I went into one of the customs and immigration booths at the Augusto Caesar Sandino Airport in Managua, and while the official reviewed my documents, stamped my passport and collected the tourist tax, my eyes were struck by a colorful wall.  On it was a mural with political motifs — not very different from those that saturate my dear old Havana — though it contrasted with the pastel shades of the airport's tourism advertisements.
Both forms of publicity project the image of Nicaragua as a country where stability, happiness and the common good are perennial, the fruit of the government of the "People's President," yet, at the same time they offer the visitor exotic adventures.  Once I completed the process, I left through the waiting area and I went outside onto — for the first time in my life — Nicaraguan soil!
To travel to Nicaragua had been an enduring dream, one I had yearned since childhood when my parents left me in the care of my grandparents to go to that Central America to offer internationalist support, first to the Sandinista Front guerrilla movement and later to the revolutionary government.  Although from 1977 to 1983 I found myself deprived of parental warmth, owing to that distant land that I craved, through some mystery of the human soul I don't harbor any resentment toward the country that "robbed me of my folks."
To the contrary, my childhood memories treasure the chords of Quincho Barrilete y Comandante Carlos, the sensual images of Palo de Mayo and the colors of Barricada y Soberania, which from time to time came to our home in my parents' letters.  When I was grown I heard the cry of my mother, who told me by phone: "It's over; the Sandinistas have lost" (though it was a long time before the Cuban news reports — so fond of secrecy and triumphalism — shared the information with my astonished fellow citizens).
Because of this, the song "Nicaragua Nicaragüita" was for me a sort of long-distance sweetheart, one of those that we ourselves create — and love — with the secret tenderness of adolescent passion.  It was the kisses we imagine without experiencing them and from which we often lose our direction.
Paths diverge after we finish school and enter into the marathons of professional life and family responsibility.  That's why though I have followed the "Nica" situation all these years and chose it as part of my research agenda.  I had certain fear of what I would find there, knowing that Gardel lied to us when he sang "twenty years isn't anything" and aware that my memories were inevitably charged with a full dose of affection.
Now, in this "chron-nica," I offer a reflexive exercise to give certain order to my ideas and knowledge, as well as to share views born of my amphibious nature (as a researcher-activist).
Stuck as I was in a "tight academic agenda" — a horrible but accurate phrase — this forced me to run around like a madman, going from seminars to courses and interviews.  I finally slowed down for a few days to hang out in the streets, since I was traveling without a good map of Nicaragua…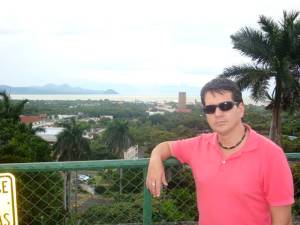 Fortunately, my camera and notebook became a part of my body, and I was never without them.  They were ever ready to record what captured my attention and all the subtleties of "nica" life that seduced my inquiring eye.  These — and not the lurid tourist prints — are my vivid postcards of Nicaragua.  I thank the Inter-university Center of Latin American and Caribbean Studies (CIELAC) for inviting me to share a month with their team at their facilities.
In my condition as a foreigner, I always received kind and open treatment, with no one feeling intimidated or servile towards me as an outsider.  My being a Cuban probably influenced this.  I associated with circles from the high-browed middle class but also with those from popular sectors on street corners, buses and in grocery stores.  When hearing in the market "What do you want my love?" — sung with same naturalness that Cubans perform it around the world — I realized that we share many things.
Our tastes unite us; a dish of their gallopinto is the brother of congri, an ethnic mixture or rice and beans that gathers together in a wonderful stew of our Indian, black and Spanish elements, along with courage and the distinctive sensuality of the Caribbean character, capable of transcending a geographical anchorage that gravitates toward the Pacific…
All of this differentiates Nicaraguans and Cubans from the taciturn slowness of the American highlands as well as the dryness and pragmatism of northerners.  "Nica" hospitality has sheltered a vast community of Americans and Europeans — among them the lovers of the mystical Sandinistas — who cast their lots in these lands.  In fact, studies reveal Nicaragua to be the leading place where former-officials and aid workers remain after they conclude their official commitments abroad.
No less important are the bonds between people, forged in the fraternal characters of our revolutions in the 1980s and sanctioned in a sort of "sexual contract", by means of a mattress, between numerous bi-national couples, with several of whose children I had the pleasure of sharing time.
We also share the "weight" of a revolutionary legacy, but that will be topic of the next chronicle.
* This is part of a report that assembles travel chronicles that will be published in the December 2010 edition of the Nicaraguan magazine Envio.