An Encounter with Youth Intellectuality
Daisy Valera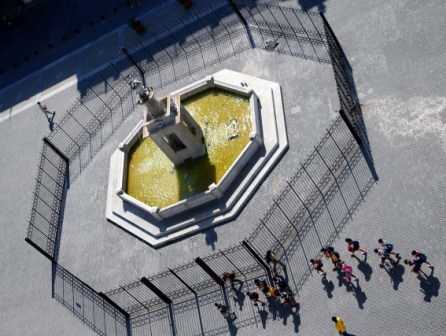 I ended up in Old Havana's Plaza Vieja almost by chance last Friday afternoon.
A friend happened to comment that a visual arts exhibit of would be opening there, and there I was.
Though I've lived in Havana for five years (the only place in Cuba where artistic presentations are plentiful), I'd never taken time to attend an opening of any type.
I've always showed up days after to view the exhibits.
There, in that plaza inherited from colonial times now long-gone, I discovered a spectacle that was absolutely new for me.
If I were to say that the opening of "Tipografiando" or the presentation of "M+L" was what caught my attention that Friday evening, I'd be lying.
The reality was that I couldn't stop looking at a group of young people who were also attending what we could call some form of cultural soiree.
The group I was gawking at was made up of both that sector of Havana youth who study the arts and also by those who are already members of the Cuban art scene.
Among them were painters, sculptors, designers, photographers and even writers.
Someone might ask why I was so impressed by a handful of intellectuals, and I would respond to them saying, "For the contrast."
I'm used to walking through the poor neighborhoods of Havana and meeting students in the sciences, so it was impossible for me not to know where I was that evening: surrounded by a very refined sector of youth from this very same island.
I noted their faces of serenity, the smiles and kindness everyone showed, along with the clothes and expensive accessories they wore, many of them imported.
I listened to their topics of conversation, not at all infantile, and the patience with which they appreciated the works.
I was reminded of the other group of young Cubans who talk loudly and brashly, who wear clothes that in many cases are expensive but pretentious and gaudy; those who consider their cell phones indispensable.
In that group are females who put on makeup starting at dawn; they wear fake fingernails as well as tight clothes to better show off their breast and hips, and their sole source of enjoyment is dancing salsa and reggaeton.
But here I was, mixed in with that sector of youth who dream of Europe while thinking of the other group who practically aspire to achieve zero intellectual development.
I was left only able to conclude that Cuban education has been increasingly unable to fill the intellectual hole stemming from years of slavery and capitalism, and that much is lacking for the majority of youth to reach a higher cultural level.
The problem has not been solved with international book fairs or film festivals.
I believe the problem is deeper.  It's related to the purchasing power that some have and with the impossibility experienced by the poorest to center themselves on studying.
Education is within arm's reach of everyone in Cuba, but some arms are closer than others.