Cuba Hosts World Art Deco Congress
by Daisy Valera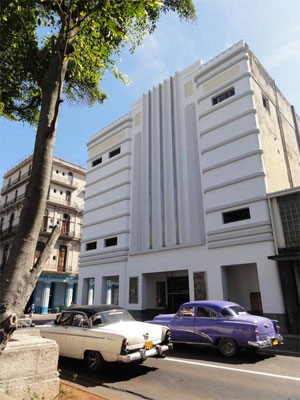 HAVANA TIMES — The 12th edition of the World Congress on Art Deco begins today in Havana and will run through March 21. Parallel to it will be a week of activities focusing on that theme here in the capital, where one can enjoy lectures, exhibitions and film showings.
In Havana, this style's eclectic and bygone (or nearly bygone) character is reflected in elements of neoclassical, baroque and rococo buildings. In the middle of chaos, the Art Deco style hangs on, most adeptly concealing the category of ruin while allowing one to say goodbye to a city to which it arrived late.
It pays tribute to simplicity and functionality, to Cubism and the Bauhaus style. It says "Enough with angels, muses and balusters." Ochre, green and brown are the main colors of Havanan Art Deco, which also uses images of stars, rays and beams.
Unfortunately these structures don't stand up to time equally. While the Bacardi Building looks completely restored, and allocations have been made to at least repair the facades of the America and the Fausto theaters, other buildings — especially those that have been turned into homes — are almost completely abandoned to their fate, ones such as the Suarez Building in Central Havana.
In the end there's something held in common by these Havana buildings, aerodynamic or hidden on narrow streets: they're provocateurs. They remind us how many people have piled into those one-time mansions of the elite, later turned into Yugoslav-style housing for the masses, though these structures won't hold up for another 30 years.
Hopefully this Congress will sound the appropriate alarm. It's not enough to safeguard and protect properties or turn them into mere tourist attractions, it's also necessary to create a new city, one in sync with economic realities but — like Art Deco — championing comfort and the practical use of space.

Click on the thumbnails below to view all the photos in this gallery. On your PC or laptop, you can use the directional arrows on the keyboard to move within the gallery. On cell phones use the keys on the screen.