Daisy Valera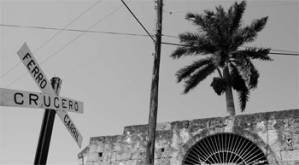 HAVANA TIMES — My mother called me on the phone at my job to tell me that I don't love her.
She told me that she had been sick but that I didn't go see her this past Mother's Day.
She said that it's been more than six months since I've gone back to my hometown and that one of these days she's going to die and that I won't even know about it.
She added that my brother was going to start college within a year and that then he'll leave too.
She asked me how I was doing, adding that she gets a little bothered by my anxiety and tantrums.
"You already know how it is here," I said, "with the low wages, the long working hours, paying the rent, always trying to come up with a meal.
My mom's a doctor and says she's expecting me to have a heart attack by 40.
I told her that I loved her, but that the bus fare is 6 CUCs while my monthly salary is less than 13.
She mentioned the train, which would cost me only 13 pesos in national currency (.55 CUCs).
But that's the same train that terrifies me; it's the one that takes over 12 hours to travel the 365 miles that separate me from Sancti Spiritus.
My mother asked me to make the sacrifice and then instantly reminded me of the leaders of this revolution.
"You're young and you can make sacrifices," she said.
She never understood my reasons for moving away. I wanted to live in Havana. I'll see when I decide to have a baby.
I reminded her that in our family's Yugoslav-style apartment building there in Sancti Spiritus, my husband Eddy and I would have to sleep out on the balcony.
I hammered home that point that I wasn't going to have any child while in this vicious circle of deprivation where one day the vitamin-rich Noni fruit is supposed to pull us out of poverty and the next day it's the protein-packed Moringa tree.
It was sad that she asked me if I had ever gone hungry here.
Of course I didn't tell her about those seven days when all I had to eat was mashed plantains.
She said that it was OK, that I didn't have to come and see her, that I should buy food instead.
Now she's having doubts. It's not that I don't love her; it's that I don't have a single peso in my pocket.
I told her that we would see each other soon and that she knows I always keep my promises.
The conversation made me bitter, since even within the family that word "sacrifice" crops up.
And my mother, at 46, has sacrificed as much as anyone.
I'm toying with the idea of taking the train there, which would mean spending a whole day in the terminal to get the ticket, and then another 12 hours battling the heat, the flying cockroaches and the guys leering at my breast.
I'll talk to my mother in a few days. I'll see if I can really get her to understand my situation.
I'll try to clear up the love-sacrifice relationship.