My Last Interview in Havana
Daisy Valera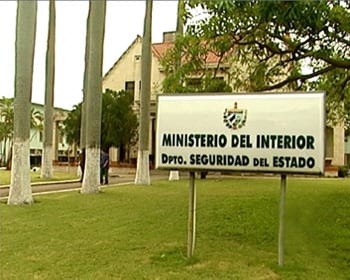 HAVANA TIMES — To come back to Cuba after arriving in Mexico, I waited the two years they give you to not lose your residency rights on the island. There was so much to learn about, the city, a new culture, my Masters in paleosoils.
You don't go back to the place you escaped from, or where they make you escape from, with a big smile on your face. Islands have this inevitable sense of a jail.
If I tried to remember my last months in Cuba, I would first think about my friends, and later, almost immediately about Osiris; my meeting with Osiris had been, without a doubt, the most important occurrence in my last moments in Havana.
My interview with the Egyptian god of death turned teenage looking State Security official marked my mood and my way of looking at Cuba when it came for me to say goodbye.
Maybe all interviews with State Security members begin in the same way; I think they managed to strike the perfect balance in the end: "I'm the one who is dealing with you." A phrase which falls somewhere between being paternal and scientific. I am the person responsible for monitoring this defect, of dealing with this illness you have that has moved you away from the "Revolution".
The second, the third and the rest of his phrases were centered around one subject alone: my zero future prospects in the world of science. I was about to finish my social sevice and Osiris had shown up to tell me that I wouldn't be able to continue working because I wasn't to be trusted.
The interview took place in a dusty library, full of books written in Russian, at the CUBAENERGIA company.
There was Osiris (who must really be called Yasmani, Yunieski… I know I'd be able to guess it) with a chain around his neck, his snug sweater and his gold tusk. There was Minint's (Ministry of Interior) reward of his lying on the table, the beautiful key to a Yamaha.
That member of the Caribbean version of the KGB had come to tell me that he had read my articles on Havana Times and that he knew that I had my passed the exam to study a postgraduate degree at UNAM. Maybe he had come to encourage me, to confirm that it would be better for me to not stay on the island anymore.
He accomplished what he had come to do. It isn't easy to tolerate the fact such an idiot is the person responsible for keeping an eye on you until God knows when; looking to put the "dissident" stamp on you at the first sign they have.
I returned to Cuba two years after that interview.
I spent six depressing days in Cuba (a story for another time), a morning in Havana and some hours at Jose Marti airport. I couldn't help but feel that Osiris could come at any moment and make me lose my flight.
I managed to calm myself down when that Interjet flight finally took off.
Or maybe later, sitting down and cold at a taco bar in a Mexico City neighborhood, when my order of four tacos al pastor came.