The Latest CD by Cuba's Buena Fe
Daisy Valera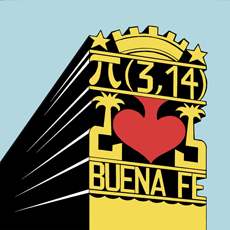 The latest CD by the duo Buena Fe (titled Pi 3.14) made it into my hands just a few days ago.
I had heard the songs on the bus and in cafeterias, but because so many people had been around me talking, I was never able to pay it close attention.
I began to listening to these musicians only recently, last year, on the CD Extremistas Nobles that they made with trova musician Frank Delgado.
I found Extremistas Nobles to be an excellent collection and my door to the music of Buena Fe.
Almost to my surprise, Pi 3.14 turned out to be a disk that continues in the line of Extremistas; it takes up the challenge of revealing the reality of Cuba today.
In songs like "Lo que un dia fue y no es" (What was one day but now isn't), they invite us to dispense with the speeches of past glory and to center ourselves on the shortages and dogmatism of the present.
"Dos emigrantes" (Two emigrants) is a song that speaks to us of the two fundamental positions that Cuban emigrants exhibit when they return to visit to the island: those who believe they now live in a democracy and those who understand the problems of capitalism.
The song Libre (Free) is an appeal for us to reflect, to be objective and increasingly less easy to manipulate, and to exercise thought – which is often opposed to obedience.
"Despedidas" (Farewells), a song performed in the company of the magnificent voice of Pablo Milanes, is a dialogue between a father and his son, one that strips bare the generational conflicts and pain of Cubans when losing family and friends as a product of emigration.
The disk includes the song Marti, recalling the phrase of this Cuban thinker of the 19th century: "With all and for the well-being of all," referring to Cuban society.
"Miedo" (Fear), sung together with Los Aldeanos (a hip-hop dual censored by the officialdom) enumerates the fears that cause people not to act.
In the CD's title track, "Pi 3.14," they express opposition to exploitation and plead for respect and love.
They close the list with the songs "Serpiente y Paloma," "El Puerco," "Contracorriente" and "La sospecha."
As a whole, these songs make up a critical collection with demands that demonstrate the commitment of these artists to people — especially to the youth of Cuba — in these days of momentous changes to the island's economic and political model.