The Messages on Cuba's Billboards
Daisy Valera
In the many trips that I make around the city in our articulated buses, I've noticed something that always catches the passengers' attention: billboards.
These enormous signs are kind of like informational murals.  I think that if anyone is interested in knowing about the current situation in the capital, or even across the entire island, a good way to find out is to read the messages appearing on these signboards.
Billboards provide information about the beginning of the school year, some ballet or theater festival, or anything else, but most frequently you'll see the ones that seem to be giving people something similar to directives.
Who puts up the billboards? – I don't know.  It seems that they're plastered on or changed in midnight hours; because I've never run into anyone putting them up who I could ask them to what agency they belong.
However it doesn't take too much effort to figure out that these are State messages.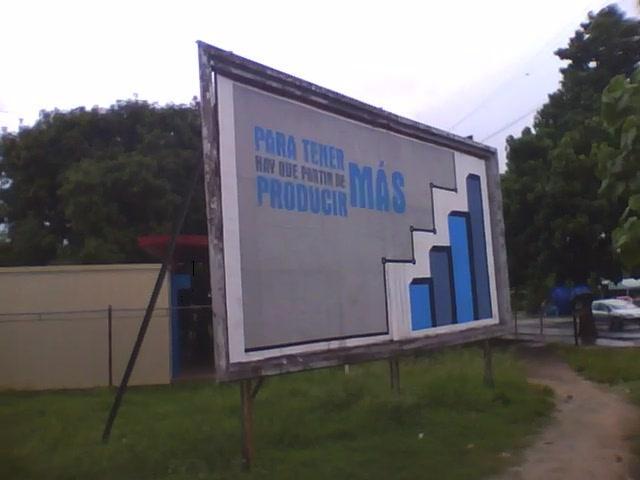 A few days ago I began seeing an extremely interesting billboard.  It's repeated in a ton of locations across the city, where you can read: "To have more, it is necessary to begin by producing more."
I first thought that I was missing something, or that I was the victim of a not so funny joke.  This is because around in July or August, there began a plan for massive job cuts across the entire island.
Practically all workplaces have been absorbed in this reduction plan that will mean cuts of from between 12 percent to as high as 30 percent of all workers.
Currently, it's estimated that approximately 1.3 million workers will be laid off.  Even if it was only 300,000 it's still unknown what will happen to these breadwinners.
So, it seems like those billboards have been transformed from instruments of information into Daliesque canvases.
Are we going to have to produce more to have more – but with less workers?  That's what the billboards are telling me.
But they don't tell me anything about the unemployment rate in Cuba, or about the prospects of those soon-to-be sidelined workers.
Nor do they mention how or who will distribute the increased future wealth that will be obtained with less people working.