A Strategy Designed for Failure
Dariela Aquique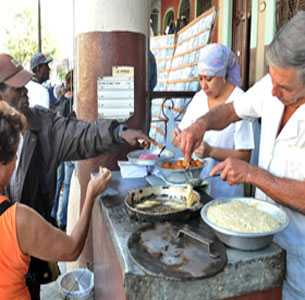 I admit that I'm a neophyte when it comes to personal finance, but I do know how to figure out when things don't add up.
As a result of the expansion of self-employment opportunities for Cubans — and supposedly with this the beginnings of privatization — great expectations were generated.
The inability of the government to employ the masses, stemming from insufficient funds to pay their wages, brought about the call for self-employment.
Hundreds of thousands of people are making determinations as to what might be their best alternative to sustain themselves economically, while others have begun the paperwork and some people have their operations up and running now.
The sale of light foods is the most common.  One can see stands set up every so many yards apart with people selling ice cream, churros, pizzas, sodas, snacks, etc.  Curiously, one will note that their prices don't vary; in fact, private and government venders sell for the same price.
The only difference lies in the fact that the private ventures have to come up with their own equipment and supplies, as well as justify the sources of those inputs before the rigorous control of inspectors, those who in the face of any irregularity will thankfully accept a bribe to prevent their having to levy a fine or take away the vendor's license.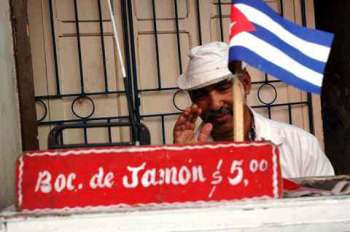 Subsequently, when it comes time to do the math, this new group of workers will have to divide up their proceeds for the following:
– the payment of their registration fee
– payments to their helpers or assistants
– payments into Social Security (for themselves and their assistants)
– tax payments (10 percent of sales) on the monthly revenues
– the payment of an income tax, according to the declared revenues
– rent payment for the sales area or premises.
– rent payment for the place where they keep their sales cart or stand.
– payment for electricity
– union dues (which is optional, though we know this is always a wise choice)
At the end of every month they'll receive a wage that is exactly the same or perhaps even less than the basic government wage, with the only difference being that they pay it to themselves.
It is undeniable that the economists who had such a brilliant idea should get paid a pretty good wage for not having to make much personal effort, except for the hours that it took them to design this strategy where two plus two should equal five.