The Iris Jazz Club in Santiago de Cuba
Dariela Aquique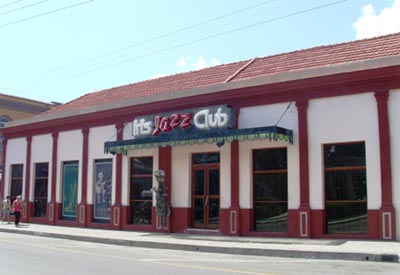 HAVANA TIMES — Most large cities around the globe feature at least one Big Band and a jazz club. And my Santiago de Cuba, is not the exception. The Iris Jazz Club, a newly created locale, opens its doors every night to those who like to listen to this music of virtuosos.
An initiative of the leading plastic artist Alberto Lescay Merencio, with its design and presentation of a piece of sculpture that alludes to a jazz instrumentalist, greets us at the entrance welcoming place.
A café, mini-bar and a club with a sleek interior and exterior decoration, invites locals and visitors to spend a night out on the town where jazz culture is now being promoted.
Before the jazz groups here did not have a place of their own. Last month marked the first encounter of jazz music in this city, where prominent figures from the island performed.
We heard and appreciated Blues, Ragtime, jazz-fusion, acid jazz and Latin jazz.
Live music or recorded. From the newest creations of regional talent, or any piece by Ella Fitzgerald, Billie Holliday, Louis Armstrong, Bessie Smith, Betty Carter, John Coltrane, Dizzy Gillespie, Miles Davis, Herbie Hancock, Chick Corea, Keith Jarrett, Benny Goodman, or Puerto Rican Tito Puentes Spanish or Tete Montoliu. Cubans Chucho Valdes, Cesar Lopez, and Bobby Gonzalito, Carcasés and Ruvalcaba, are heard at the new club.
Our Iris Jazz Club, with no claim to resemble the Blue Note or the Cotton Club in New York, is a nice place for Jazz, which hopefully will begin to be frequented by youth who are sick of the reggaeton pandemic.
The Iris is located on Paraíso St. between Aguilera and Enramada (Facing the Plaza de Marte).