Dmitri Prieto
When Obama won the elections in the United States there were great hopes and expectations.  It was not only because he was the first Black person to occupy the White House, but also because he clearly transmitted the image of a dynamic and charismatic leader.
He appeared as a man who was frank and hard working, and who had an excellent command of language and the public; a man who travels with his beautiful wife Michelle and their two girls.
Undeniably, we here in Cuba are not accustomed to associating that type of person with the post of the "President of the United States."
Barack Obama has become a paradox for political analysts, and even more so for "average Americans."  Last year, I was happy to appreciate hope in the voices and looks of US colleagues.
It pleased me greatly to see that they sincerely felt their country had arrived at a key moment for distancing itself from its ill-fated imperial geopolitics, as well as the dubious honor of being the only First World nation whose laws do not contemplate the universal coverage of basic social rights for its residents.
It also felt good to have a sense of solidarity with those colleagues, though doubt still gnawed at me on the inside.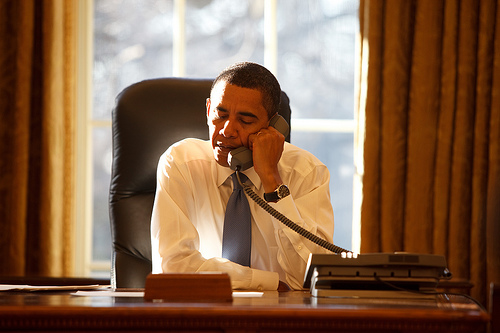 A year since the elections, reality is something different.  And in Cuba, other airs also blow. Unfortunately, the news that we Cubans have received about Obama is not encouraging.
The Guantanamo naval base -with its torture center- still remains and another seven new US military bases installed in Colombia.  We don't know if they've considered placing torture centers in these, but there's nothing to prevent us from thinking so.
In Honduras, a coup d'état ousted a liberal president who had meekly embarked on forming political alliances and instituting social reforms, yet the US is offering to recognize the outcome of bogus elections in that country.
It's not clear what Obama's position will be towards possible dialogue with Cuba; but in the latest responses that he offered a blogger from the island, he showed no sign of such a decision, nor the courage that political leaders need to exercise true leadership.
It seems we've been hostages of certain preconceptions; we associated the simple change in the color of leaders' skin with historic change in a nation (a new issue for the theoreticians of race and exclusion).
In reality, though, we continue being the hostages of multiple bureaucratic-capitalist and military establishments that enter into shady deals between themselves to maintain the status quo.
As for the issue of Cuba and the blockade, Obama's hope for "gestures" (from Cuba) seems a timid and conformist position that favors the most backward political elements.  It would be better to say that Cuba is of no interest to Obama… because without sweeping initiatives on his part, everything will remain the same.
It's a shame. Several months ago, several members of Cuban academia would go to public events wearing t-shirts and caps with the picture or name of the recently elected president.  It was undoubtedly a challenge to the prevailing standards of my country.
Nonetheless, those messages crystallized in my heart as mixed feelings of compassion, ingenuousness and pain.  Today I realize that my pessimism had a basis.
Obama has also now won a Nobel peace prize, and fortunately it seems that his health care reform initiative is moving forward.  Health care reform in a country like the US is a notable achievement, certainly deserving of a Nobel Prize; but "peace" in the world and in "Our America" continues with the dynamic and liberal Obama under the same precarious conditions as those of the gray-haired and fundamentalist Bush. There has been no progress.
Today Barack reminds me of the fare collectors on Havana buses, or the automatic soda machines in London: "Sorry, no change!"