Dmitri Prieto
HAVANA TIMES — One afternoon, I was walking near the old Tallapiedra thermoelectric plant, a place close to where I normally catch the bus home, and also near a primary school where I was once doing an ethnography study, about Anthropology in Education.
Something with a white outline really caught my eye on the pavement. Remotely related, I remembered those outlines of dead human bodies which forensic police draw out on the ground in foreign movies and series.
I walked closer, and it was in fact a human silhouette. However, it didn't have any signs of a police investigation; rather, it was mystically executed: traces of a sacrifice, clearly a feathered animal, and recipients which seemed to have been used for homeopathic magic, like a roll of surgical tape, and other accessories. A display of artefacts, seemingly to induce an action from the spiritual world onto somebody. And there were traces of blood there too.
In Havana, a city full of Afro-ancestral spirituality, this kind of magical set up is, without a doubt, rare. You can often see the remains of ritual sacrifices under trees, and a lot of magical objects being carried around by believers who walk along Havana's streets; as well as a drum here and there, and the clear signposting of places where ceremonies are held.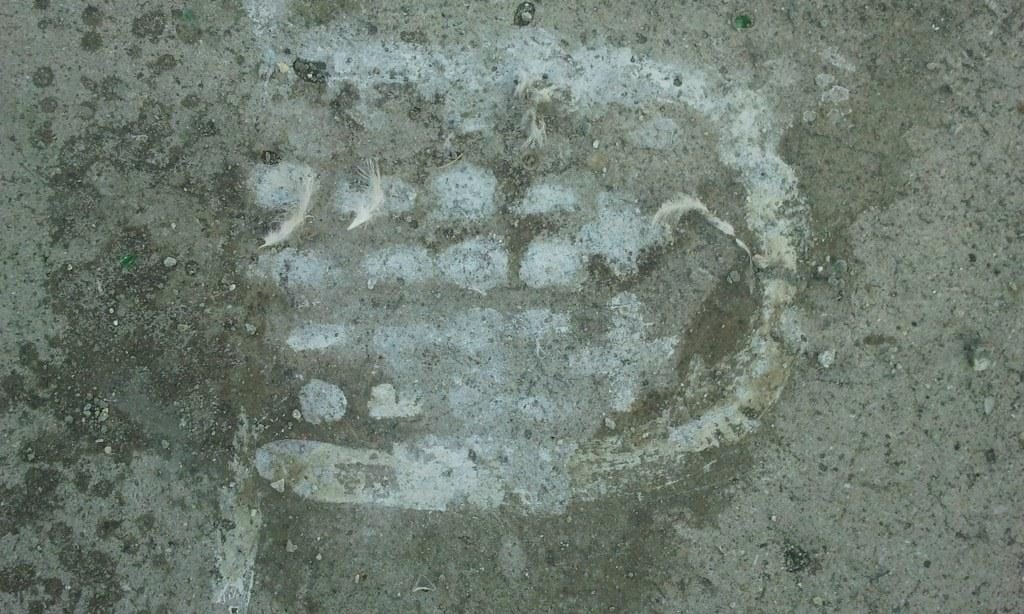 Not too long afterwards, when I passed by this place again, I noticed that where the head of the humanoid drawing was painted on the pavement (the spatial arrangement of the set up had been scattered over time), there were sketches which corresponded to what seemed to be some signs from Ifa's afro-ancestral prophetic system.
This system uses binary symbology; however time, passers-by and maybe some rainfall had already spoiled the design of the symbols, and so it was difficult to identify what each of them were. I realized that I hadn't seen these symbols the last time I was there, because they had been covered by the remains of the animal sacrifice. In the Ifa faith, every believer has their own symbol…
It continued to look like an attack, maybe I'm mistaken in interpreting it as such?
It's an interesting remnant of a spiritual war, of mystical conflict, which God willing, won't be transformed into a war between all of us here in Cuba.