Dmitri Prieto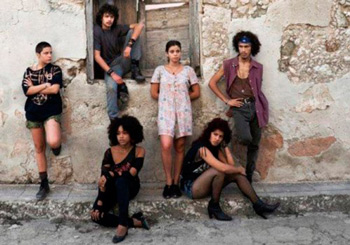 HAVANA TIMES — Reading a recent Cuban sci-fi fanzine, I was very much surprised to find out that people referred to as frikis (or friquis) are the ones who take an interest in (and, in some cases, become obsessed with) science fiction, fantasy, Manga comics, anime, videogames and comic books in general, and that there is even a "Friki Pride Day" in Cuba, celebrated every May 25th through different activities, commemorating the date in which George Lucas' Star Wars was first released. The date also coincides with "Towel Day," a tribute to Douglas Adams, the author of the Hitchhiker's Guide to the Galaxy.
I had a look i my old, offline Wikipedia and came to the conclusion that that is the Spanish concept of "friki."
This definition of the term is close to what, in Russia, is known as a "hipster of the social network Leprosorium," one of the groups that impelled the Muscovite demonstrations staged in the winter of 2011 and 2012 during the protests against Putin's government, sparked off by an alleged act of electoral fraud during Russia's legislative elections.
But, in Cuba, the term "friki" is used to describe a different kind of youth!
Down here, the word "friki" is commonly used to describe someone who listens to rock music – generally heavy rock, that is to say, the different modalities of heavy metal – and can be identified by their long hair, black clothing and, many a time, the ideological and spiritual preference for beliefs people generally associate with the use of psychedelic drugs and "Satanism" (with or without quotation marks).
Even reggaeton songs make use of the word "friki" in the sense of a "rock aficionado" (contrasting these to "mikis" and "repas", other urban youth cultures).
In 1989, a girl who was into rock and roll told me that she thought the word "friki" came from "free kiss", an etymological account different from the classic one, which derives it from the English word "freak."
I later found out that, in the 70s, "frikis" in Havana were not necessarily rock-and-roll fans, but people who attended folk music (trova) get-togethers and were, to a certain extent, social outcasts (I hear they ate left-overs at restaurants). This information comes from third parties, I have no way of knowing whether it's true or not. Perhaps those "frikis" of the 1970s had more to do with hippies, I don't know…
At any rate, in the 90s, the term came to mean those young people who almost always wore black, listened to heavy metal and gathered at the Patio de Maria ("Maria's Backyard, a cultural institution that promoted rock at the time) and at G street, in Vedado.
It would seem another sub-culture is seeking to appropriate the term for itself. Will the concept of "friki" change?
It would be alright, provided the history behind this is clear to us (many testimonies can be gathered in this connection), and freedom of expression and organization against all types of censorship and monopolization is promoted.