Erasmo Calzadilla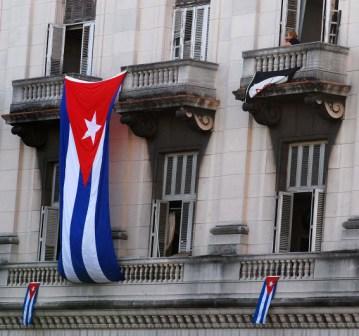 I've expressed my doubts on other occasions about the legitimacy of the process that in 1976 led the people of Cuba to approve what is now our current constitution.
To what level of gullibility, madness, stupidity or fear can lead a nation to approve a non-democratically elected party acting as the supreme guiding institution of society (as is required in our constitution's sadly celebrated Article 5*)?
However despite this colossal mistake, our citizenry was granted a breath of fresh air with the creation of three legal instruments that validate and invite the direct participation of citizens in the most vital of matters of social life.  BUT, 35 years after having approved the constitution, two of these instruments have never been applied, and the third presents serious problems.
I learned out about these reading the talk given by well-known essayist Julio Caesar Guanche at the beginning of July at the Feliz Varela Cultural Center, an event sponsored by the magazine Espacio Laical, a periodical put out by the Cuban Catholic Church.
The two legal instruments for the exercise of direct democracy that, according to the lecturer, have never put on into practice are:  
–  The law that grants the National Assembly the power to organize referendums (Article 75, subsection u*), and,
–  The famous Law 88 (subsection g*), according to which 10,000 signatures from Cuban citizens are enough to propose a new law*.
As for the third instrument, elections, they fail to facilitate direct participation a great deal. The author proposed a few reasons for this.  
–  Local, provincial and national government programs are not defined through the electoral process.
–  One type of citizen's vote is not counted, therefore there is an underrating of spoiled ballots and those left blank.
–  Voting is not encouraged among citizens who live abroad with legal permission for residence granted by the Cuban government.
It was a pleasant surprise to read the comments from the audience and to see who the people in the room were. Under the same roof were assembled activists from the most diverse political tendencies (often conflicting), people who had never or rarely shared the same setting for discussion.
I'm referring to everyone from the young people of the Critical Observatory, the organizer of Estado de Sats, to the blogger Dimas Castellano (as well as other participants with whom I'm not familiar).  All were parties interested in the promotion and rescue of citizen's participation.  Dialogue between these people had never previously occurred.
While I was reading what arose in me was a pertinent concern: How to promote deeper processes of direct democracy in Cuba than the "consultations" employed by the current president of the republic?
Of the participants, Dimas Castellano was the one who came closest to that question, but to me he approached it from an elitist and voluntarist point of view that I don't completely share: How to make Cubans citizens? (this is a synthesis of his question).
We will have to see if Cubans prefer being citizens or continuing to practice their way of understanding and experiencing politics: assuming it sometimes as a family matter and other times leaving it in the hands of specialists and "illustrious patriarchs."
—
*ARTICLE 5. The Communist Party of Cuba, a follower of Martí's ideas and of Marxism-Leninism, and the organized vanguard of the Cuban nation, is the highest leading force of society and of the state, which organizes and guides the common effort toward the goals of the construction of socialism and the progress toward a communist society,
*ARTICLE 75. The National Assembly of People's Power is invested with the following powers: … u) calling for the holding of a referendum in those cases provided by the Constitution and others which the Assembly considers pertinent;
*ARTICLE 88. The proposal of laws is the responsibility of: … g) the citizens. In this case it is an indispensable prerequisite that the proposal be made by at least 10,000 citizens who are eligible to vote