Scoring Goals for Capitalism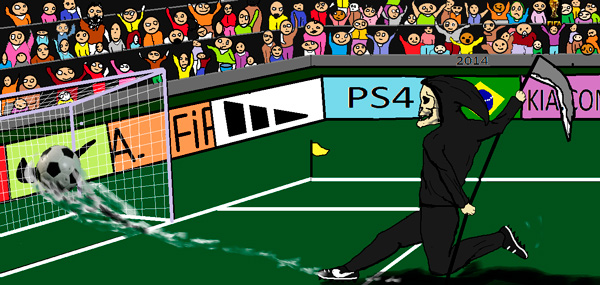 Erasmo Calzadilla
HAVANA TIMES — Goooooooooooooooooooal by Adidas and McDonalds, by Hyundai and Coca Cola, by Sony, FIFA and TeleSur.
The gold medal goes to neo-liberalism, the IMF and all big banks, to exponential growth, industrialism and the policy of pillaging countries for raw materials, to those who are razing the Amazons to the ground and polluting the oceans, to lobbies that finance the fossil fuel industries.
A goal by the nation-state and the elites who run them, goal by Israel in Palestine, by colonialism in any of its forms, by Angela Merkel, Cristina de Kirchner and Dilma Rousseff and the powerful people they represent.
A major goal by the West and westernization, a victory of indifference over sensitivity, of egoism and competitiveness over kindness and solidarity, of the spectacle over reality, of consumerism and conformity over utopia and social activism, of business as usual over alternatives, of stupidity over awareness.
The triumph of death over life. What can we do to revert it?