What Finally Happened in Viñales
By Erasmo Calzadilla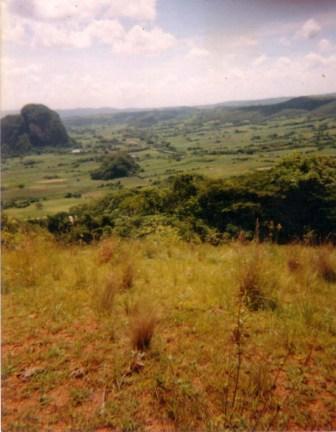 Since I've spent such time narrating this, and for fear of becoming tiresome, once and for all I'll finish the story of my trip to Viñales.
So, I finally arrived at my friends' country house in the pretty but not so touristy little town of Pons.  In that village lives a family that awaits my annual visit as if I were a close relative.
That's how I would describe these almost aunts and uncles, who live in a simple pinewood tin-roofed house, semi-isolated and near a mountain transformed into a strip-mine.  The community where my friends live on the outskirts of the village had still not received electricity, which had almost become a dream, until one day it appeared that it was very close to coming true.
Nevertheless a tidy school is situated there, outfitted with solar panels and a computer amid this arresting spot.
Hopefully they'll receive electricity soon, but meanwhile I try to make them see the positives of their situation.  I warned them that their evening gatherings of the whole family under the intimate glow of a kerosene lamp are the type of things that will disappear, especially with the arrival of TV.
There, leaning back on stools, with the thick darkness and mysterious noises of the night outside, occurs what is unimaginable in urban homes: amusing conversations that touch on everything from daily gossip to memories of those who have passed away, almost always concluding with intriguing stories about baffling episodes that have occurred in the area.
In this way, the rich and healthy traditions of this family are transmitted.  Yet when I try to convey to them how it is at my house – where the only one who speaks is the TV, and everyone else stares silent – I believe that they would still prefer that and cold water in the refrigerator over preserving what they have.  Few people value what they have before they lose it.
After having spent a few days with this family, one morning I filled up my backpack with everything I would need and headed out for the wild.  I went alone because I was alone and couldn't convince anyone to go with me.
The family told me how to get to a remote town by crossing a mountain, warning me that it was easy to get lost. But as I like those kinds of challenges, that was exactly what I did.
By nightfall of my first day, I was set up in my tent on a plateau among the imposing mesas, when it began pouring down raining.
There I was inside, feeling very small and very alone, I was at the same time contented amid this spectacle that touched my soul.
Unable to resist getting out of the tent, I took a shower in the cloudburst, in the middle of the dark night, running through the grasslands as if it were a public square.  When it cleared up, all around became filled with fireflies, like something out of a dream, leaving me a bit sad for not having had anyone with me to share such beauty.