Havana's San Rafael Blvd: Between a Nightmare and a Miracle 
Photo Feature by Esther Zoza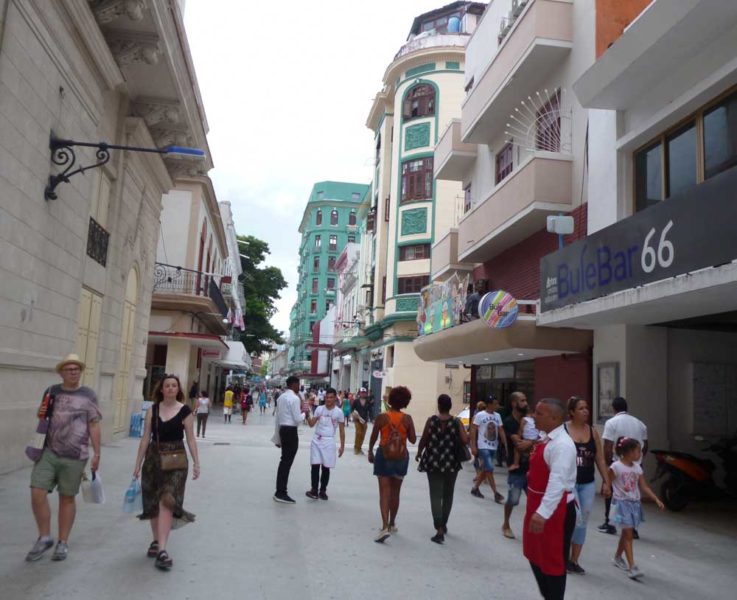 HAVANA TIMES – San Rafael Boulevard is one of Havana's busiest avenues. It is finally undergoing major repair works! Stores, markets, new galleries, cafes, all surprise passers-by who venture down this main street, dodging builders and piles of rubble here and there.
The streets that make up this boulevard are like stamps in many city residents' memories, which they jealously treasure. My generation grew up visiting Cinecito, and the majestic movie theaters Rex and Duplex, with their regal mirrors and furniture. It's hopeful to think that children today will be able to enjoy watching cartoons in a place full of so many happy memories for their parents and grandparents; the Duplex and Rex movie theaters will have to wait a little longer, who knows they might open their doors one day as a beautiful art complex.
It is no wonder that Havana residents who are used to watching their city fall into ruin year after year, wondering without the words: how long will these new repair works last?
Santa Clara and Cienfuegos, considered to be the cleanest and best conserved in terms of urban landscape, have managed to keep their respective boulevards among some of the most attractive in the country. I have walked down their streets myself and I felt like I was being transported to another dimension. Are locals in these provinces more disciplined and more refined than people from Havana? Are their leaders more competent and make more effective use of their resources?
If there was one thing I was able to verify, it was that both locals in Cienfuegos and Santa Clara have a boundless sense of belonging and love for their city. Nobody would think of throwing a glass, a soft drink or beer can onto its streets, much less lean against a wall and leave the dirty mark of their shoe behind. It goes without saying that their garbage sits in dumpsters and garbage cans. Do residents here come from a nearby galaxy and have they colonized the center of our country?
We can only hope that a miracle takes place for Havana residents, who are moving further and further away from the center, so they can finally understand that the City of Havana isn't a pig-sty, that it deserves the respect of every Cuban who walks down its historic streets every day. Preserving it for future generations is not only the government's responsibility, it is up to each and every one of us.
(Click on an image to display the gallery.)
[edge_gallery id="158812″]