"To remember is hard.[…] It's like,
dammit, to want to be myself again,
when I was. […]"
– Testimony of Francisco Pineda Rodriguez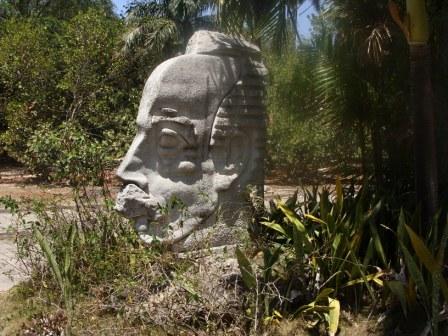 I have never dreamed of matching the pen of Cintio Vitier. He's one of the most important Cuban poets, essayists and narrators, and also one of greatest experts-along with his wife, poet and essayist Fina Garcia-Marruz-on the life and work of Jose Marti.
Like I said, I would never think of emulating Vitier, owing to the fact that his talent and sensitivity have allowed me to write about what I'm about to. This could be taken as heresy, but I can't repress the commanding need to share my impressions of a "prodigious event."
That is how Vitier describes the book Marti a flor de labios (Marti with lips of a flower) by Froilan Escobar Gonzalez, published this year by the Casa Editora Abril publishing house in Havana.
The book is a collection of seven testimonies, fruits of a long and passionate research effort carried out by its author between 1973 and 1983. It traces the backland route that Marti traveled beginning with his 1895 arrival on the eastern Cuban coast at Playitas.
After having prepared in exile, he disembarked there to participate directly in the war for the liberation of our island nation from Spain. The book's accounts conclude with Dos Ríos, the site where Marti died in the prelude to his first armed conflict.
To guide us along Marti's journey, Escobar benefited from the Campaign Diary, the same book that, years earlier, carried me back to the Marti of my childhood.
The testimonies published in Escobar's assemblage are those of people who had actually met Marti during his passage through those backwater areas. Despite having been brief, it was enough time to leave them with lifelong impressions.
The clarity with which these venerable witnesses recollect Marti's visit commands one's admiration. It is exceedingly moving to find in those natural voices the vastly human man that he was.
They give you a sense of his active desire to know the names and characteristics of everything that surrounded him, wanting to absorb all of Cuba in only minutes, and trying to compress into a single day the entire time that he was away from the island. They recount his childlike thrill of once again stepping onto the soil of his homeland, of being completely surrounded by the Cuban spirit, smothering him with joy.
That same sensation of asphyxia is the one that these seniors are able to transmit with their profound testimonies, abounding in wisdom. They were infinitely proud to find out-when Escobar showed them passages from the Diary where Marti spoke of them-that they had been remembered by the man.
That is my Marti, the one who these aging onlookers knew as a man in their childhood. He was a person they saw tired, wounded, laying nude in the sun after bathing in the river, someone attentive to the infiniteness of the Cuban countryside. To them he was an individual who was scratched by the thorns along the path, a friend always willing to help with any task, to learn from whoever could teach him, to teach anyone who wanted to learn, eternally human, simply a man.