Reviewing My First Year in Cuba
Graham Sowa
Recently I passed the one year mark of living in Cuba as a medical student. This anniversary, of sorts, was cause of more frustration and angst than celebration. I'm disappointed of how little I have learned about Cuba.
Upon short reflection I atribute the cause of my frustration to two things: first, the incredibly time consuming career of the medical student and two: the complete isolation of the school from my Cuban peers.
Because of the latter I am constantly on the lookout for ways to meet Cubans of my age who also happen to spend most of their waking hours in a classroom or a book. Given that criteria our encounters are not frequent. Thankfully in Cuba there exist two things that pretty much any university student around the world can relate to: a national student organization and student forums to present academic works.
My first exposure to the University Students Federation (Federación Estudiantíl Universitaria or FEU) was last year when I was surprised to see a group of Cuban students at the medical school campus. I was a bit hung-over (which oddly puts me in a more extroverted mood than usual) and ended up spending a day with some genuinely great people.
This Saturday, some 6 months later, universities from the Provincia de La Ciudad de La Havana came to ELAM to participate in the Provincial Student History Journal Forum. And because I had a bit more notice about this event I was sure to retire early and avoid that tempting night cap.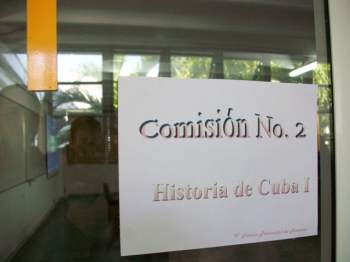 But my discipline on Friday night didn´t serve for much, as I made the mistake of showing up for the forum at the advertised starting time. I found a few sleepy looking, but busy, professors making preparations and, fortunately, only waited an hour or so for things to get under way.
Despite the late start everything went perfectly fine and I saw presentations covering the history of Chinese medicine and its role in the west, go-carting in Cuba, the illegalization of marijuana in the United States, cardiology in Cuba, and female genital mutilation (or cutting or circumcision or whatever politically correct term that can describe the act of removing pieces of someone's reproductive organs against their will).
At one point I was looking for a particular presentation and was amazed that there were three panel forums dedicated to works on Cuban history. Given the importance of Jose Martí and Fidel Castro in Cuban history I made a passing comment to a friend that Fidel Castro and Jose Martí probably had their own respective forums. This turned out to be true.
The forum culminated in a prize ceremony. Two students from ELAM took a first place prize in their category for the work on Chinese traditional medicine and its uses in the west; two other ELAM works received honorable mentions. The University of Havana and The University of Medical Sciences took a lot of awards.
Considering that the event was held at the ELAM campus I was completely disappointed that attendance from our 3,000 student campus was probably less than 50 throughout the day.
Perhaps fellow ELAM student's lack of enthusiasm for academia is also part of the frustration I feel upon reflection of a year spent in Cuba.